Excursions in New York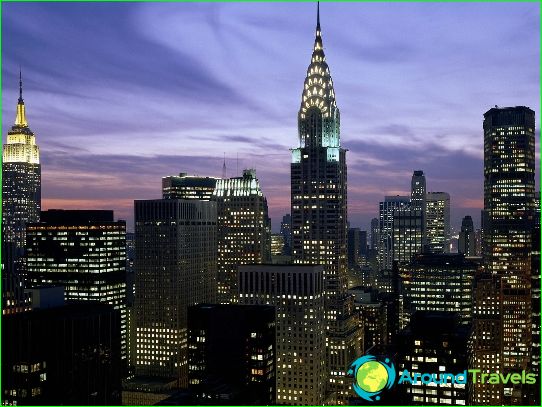 New York is the largest city on the east coast of the United States. This metropolis is the business, political and cultural center of the country. A variety of excursions in New York allow you to see the multifaceted nature of one of America's finest cities. Take advantage of your chance to see the sights, visit interesting museum centers and fully enjoy the walks.
Sightseeing tour - the first acquaintance with New York
All sightseeing tours in New York include acquaintance with the most famous sights. You will be able to visit Manhattan Island, which is the central area of ​​the metropolis. Take the opportunity to visit Battery Park overlooking the Statue of Liberty, the symbol of the United States. The tourist program should include a walk along Wall Street, this street is the heart of the city's business life. New York City will also captivate with Broadway Theater District, Times Square, Fifth Avenue, Upper Manhattan, Central Park.
What sights of New York attract tourists?

The Statue of Liberty is the symbol of the United States. The height of the statue reaches 46 meters (with a pedestal - 93 meters). The idea to create a symbol of independence was born in 1865. The concept of the statue was developed by Frederic Auguste Bartholdi, a famous sculptor from France, in 1870. Currently, the Statue of Liberty is one of the most famous landmarks not only in New York, but throughout America..
The Brooklyn Museum is an amazing museum center, where you can see Egyptian antiquities, works of talented French impressionists, sculptures of the late XIX - early XX centuries. Each room is distinguished by the furnishings corresponding to a particular era. The Brooklyn Museum is open from Wednesday to Friday from 10 am to 5 pm, on weekends from 11 am to 6 pm. The first Saturday of the month is a unique day when the museum center can be visited free of charge from 11.00 to 23.00.
Central Park is located on Manhattan Island. Many locals and tourists come here, trying to admire the picturesque nature, see musical clocks, beautiful sculptures, visit the zoo, the Delacorte open-air theater, the puppet theater, the Belvedere castle. In the central park, fascinating performances and concerts are regularly held, which are organized by both street performers and well-known groups..
New York is an American metropolis that deserves the attention of every tourist.
Photos of excursions in New York