Washington metro: map, description, photo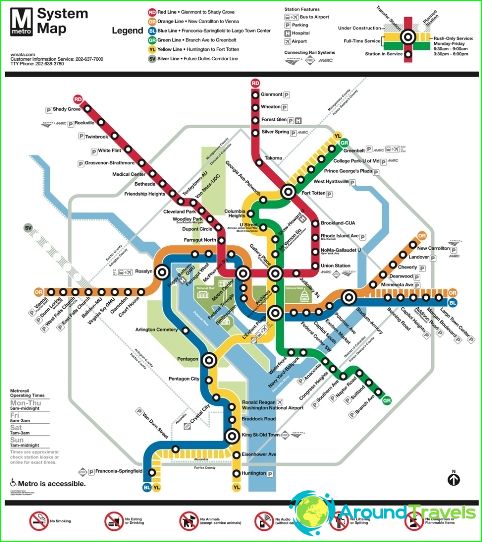 Washington metro map
The Washington Metro serves the US capital as well as the surrounding suburbs. The system is operated by the Washington Metropolitan Area Transit Authority (WMATA) and since opening in 1976 has grown to five lines (one line under construction), 86 stations and 171.1 km of track.
The Washington Metro is the second busiest rapid transit system in the United States after the New York City Metro. In 2008, there were 215.3 million trips, an average of 727,684 trips on weekdays. In June 2008, the Washington metro set a new monthly passenger traffic record of 19,729,641 trips, or 798,456 on average on a weekday. Fares vary depending on distance, time of day, and the type of ticket used by the passenger. Tickets are cards of various denominations with a one-time or rechargeable magnetic stripe.
Many metro stations were designed by Chicago-based architect Harry Wiz (1915-1998), and are examples of late 20th century architecture. Stations. built in recent years, have a different architecture, but in their design there is an influence of the original ideas of Harry Weese.
About 80 km of all lines and 47 metro stations are underground, mainly within high-density areas. The lines passing on the surface are about 74 km, and 14 km of tracks pass above the ground.
At 60m below the surface, Forest Glen is on the red line, the deepest station in the metro system. There are no escalators on it, high-speed elevators are brought to the platform. The time for lowering / lifting to the platform takes 20 seconds.
Wheaton Station, next to Forest Glen Station on the red line, has the longest escalator in the United States and the Western Hemisphere at 70 meters..
The unofficial metro center is located at the intersection of the busiest lines: the red, orange and blue lines. The station is appropriately named Metro Center and is the headquarters of the Washington Metropolitan Area Transit Authority (WMATA) sales office. The other five "main stations" with high passenger traffic: Gallery Place, L'Enfant Plaza, Union Station, Farragut North and Farragut West.
In order to ensure the most comfortable transfer process from station to station, the Washington Metro is exploring the possibility of building pedestrian links between nearby stations. For example, the 230-meter walkway between Metro Center and Gallery Place stations will allow passengers to transfer between the orange, blue, yellow and green lines. Another tunnel between Farragut North and Farragut West will allow a quick transition between the red, orange and blue lines and will relieve the Metro Center station by 11%. The SmartRIP system now implements the ability to transfer from one line to another within the same trip.
Photos of the Washington metro