Streets of Washington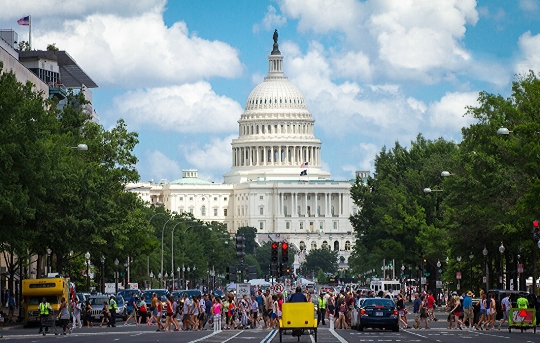 The main settlement of the United States is Washington, located in the District of Columbia. After the unification of Washington with Georgetown in 1871, the city officially ceased to exist. The capital of the state is the District of Columbia. Locals refer to it as Washington DC. This city-county is subject to congress and is not included in any state.
Urban planning
In the very center of the city is the Capitol Hill, on which the Capitol rises. It is there that the meetings of the US Congress are held. The building looks solemn and majestic. In the evening, its dome is illuminated by spotlights. A green alley begins near the hill - the Mall. Many buildings in Washington DC are built in the Victorian style. The city has a regular rectangular layout. Avenues intersect with streets. The names of the avenue are dedicated to the states of the United States. Streets dividing Washington into 4 districts depart from the Capitol in different directions: Northwest, Northeast, Southwest, Southeast.
Washington DC looks different from other American cities. There is a spirit of prosperity, stability and tranquility here. There are no skyscrapers as buildings should not overshadow the Capitol dome. The city has many well-kept parks, museums, monuments and squares. Business life is concentrated in the northwest region.
Pennsylvania Avenue
Pennsylvania Avenue is Washington's main avenue. It connects the White House to the Capitol. This is the main street in the United States as it hosts official parades and processions. Protest marches take place here. The White House overlooks Place Lafayette on one side.
Pennsylvania Avenue runs from Maryland to Georgetown. In Washington, its length is 11 km. The most important part of the avenue, from the Capitol to the White House, stretches for 1.9 km. This street is the location of Freedom Square - the cultural center of the city. The theaters of the American capital are concentrated here. Further on Pennsylvania Avenue, you can see the Journalism and News Museum, the Naval Forces Memorial, the FBI headquarters, John Marshall Park and other sites. Pennsylvania Avenue, along with Constitution Avenue and Northwest 15th Street, forms the federal triangle. The main government offices are located there..
Georgetown
There are many interesting architectural monuments in this area. Cobbled streets descend from the banks of the Potomac River. Here are the buildings that have survived from the 19th century. Georgetown is known for its expensive boutiques, upmarket restaurants and bars. Embassies are located in the mansions.
Photos of the streets of Washington