Zoo in Washington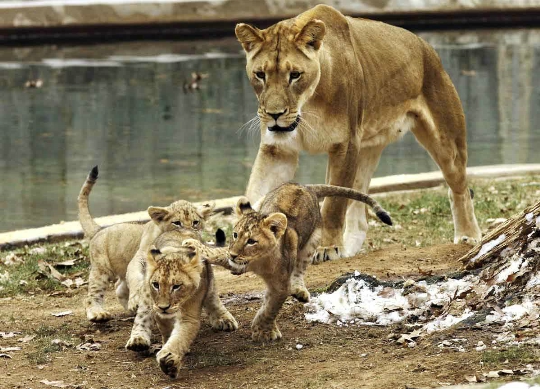 The Smithsonian Institution of the United States was founded in 1846 as an educational and research institution dedicated to the "development and dissemination of knowledge." Within its framework, several museums, exhibition halls and a zoo in Washington, consisting of two campuses, are organized. One of them is public, and the second is dedicated to research work..
Smithsonial's National Zoo
The name of the zoo in Washington is synonymous with an organization that collects and protects many rare and endangered plant and animal species. In total, the park contains 1,800 guests representing more than 300 species, and every fifth is endangered..
Pride and achievement
Among the huge number of animal species in the zoo in Washington, there are such rare species as the giant panda and the white tiger, the American bison and the maned wolf. The park is home to mammals and birds, reptiles and insects.
The most interesting expositions of the Washington Zoo are Asia World, Elephant Trails, Lemur Island, Great Ape House, Amazon, Big Cats and Bird House. Young visitors are happy to spend time at the children's farm, where a contact mini-zoo is open. Goats, donkeys and alpacas are not the only guests who can be stroked and fed at certain times..
How to get there?
The Washington Zoo is located in the center of the northwest part of the city. The exact address is 3001 Connecticut Ave NW, Washington, DC 20008, United States.
The easiest way to get to Smithsonial's National Zoo is by metro. Woodley Park and Cleveland Park stations are just a few minutes' walk from the main entrance.
For those who prefer personal transport, there is a parking lot on the territory of the park. The size of the parking is limited, and therefore the administration strongly recommends using the metro. It is prohibited to move around the territory on skateboards, rollerblades or bicycles..
Helpful information
Opening hours of the park's exhibition pavilions, shops and the visitor center depend on the season:
In winter (from the beginning of November to the end of March), animals can be seen from 10.00 to 16.30, walk through the park from 06.00 to 18.00, shop at souvenir shops from 10.00 to 17.00.
The rest of the time, the exhibitions with animals are open from 10.00 to 18.00, the territory of the park is open from 06.00 to 20.00, and shops - from 09.00 to 17.00.
December 25 - Washington Zoo's only day off.
The ticket price for car parking is $ 22, but the entrance to the zoo is free for all visitors. Amateur photos can be taken without restrictions.
Services and contacts
The Washington Zoo hosts a variety of themed events for both the animals and the nation's national holidays. Details are available on the official website - www.nationalzoo.si.edu.
Phone +1 202 633 4888.
Photos of the Washington zoo