New Year in Washington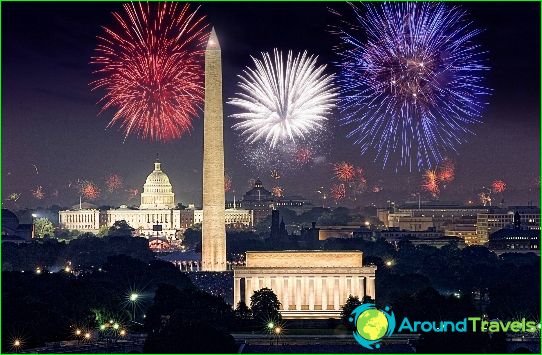 The American capital is a city that every citizen of the United States seeks to visit. This is the cradle of democracy and the place where the most important monuments of the country are concentrated. The Declaration of Independence is kept here and significant monuments and memorials have been opened. And the New Year in Washington can be an excellent occasion to get acquainted with these important sights, to understand the spirit of America and the character of its inhabitants, to feel their sincerity and disposition towards guests..
Striving to the sky
The main attractions of the American capital, which should be included in the list of important things to do on New Year's in Washington, are located at the National Mall. This is an open memorial in the city center, the main monument of which is the obelisk of George Washington. The height of the marble stele is 169 meters, and it is the largest in the world among such monuments. To the west of the mall is the Lincoln Memorial, and a little to the side is the Museum of History, which, in addition to the Declaration of Independence, contains the Constitution of the country. The tallest building in the capital is the Capitol. By law, nothing can be built in Washington that exceeds its height..
On New Year's Eve in Washington, it is especially pleasant to walk through its many parks, which are planted with many evergreens. One of them houses the residence of the President of the country. You can visit the White House with a guided tour and see with your own eyes the place where the President himself and his family work and rest..
Cultural values
New Year's Eve in Washington DC is a great time to visit the Center for the Performing Arts. J. Kennedy. Here you can visit a ballet performance or an opera performance, listen to the performance of the national symphony orchestra. On the eve of the holidays, these creative teams present their best works on the Christmas theme. Washington museums will not remain aloof from the general festive mood. They will warmly open their doors to fans of painting and sculpture..
Photos of New Years Celebration in Washington DC