USA Holidays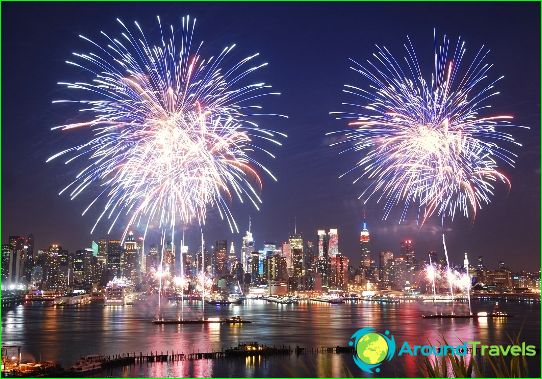 US holidays are not only official celebrations, but also dates that, although they are not days off, are very much loved by Americans..
USA Holidays and Festivals

US Independence Day: On July 4, festive events are held for citizens of the United States, accompanied by parades and fireworks. But some on this day prefer to go on picnics accompanied by friends or relatives..
Thanksgiving: on the fourth Thursday in November, Americans attend church, and in the evening they gather at a festive table, which must include turkey with cranberry sauce and pumpkin pie.
Halloween: on the night of November 1, Americans dress up as witches, vampires, ghouls or the dead, going in this form to city streets or nightclubs.
Portland Beer Festival (end of March): This event lasts 2 days. By purchasing a ticket to the event, you will get 10 tasting coupons and a souvenir glass (if you come to the event among the first 500 people, the entrance will be free for you). At the festival, everyone will be able to taste about 80 types of beer, as well as cheese, chocolate and other goodies..
Mardi Gras Festival (February): Celebrated on a grand scale in Louisiana, this event is accompanied by costumed processions. The Indian and Bacchus parade deserves special attention. Since the festival is characterized by three official colors, tourists are advised to wear something from the purple, green or yellow palette..
Event tourism in the USA
Tours to New York are very popular on New Year and Christmas holidays. To immerse yourself in the atmosphere of celebration, it is worth strolling along the streets of New York, taking a picture against the background of a Christmas tree in Lower Square, admiring skyscrapers and buildings in Manhattan, illuminated by illumination, and also visit the enchanting New Year's shows where you can meet Santa and Mrs. as nice to the Russians as Santa Claus and Snegurochka). In addition, New Year's festivities are accompanied by performances by show business stars, fireworks and other interesting events..
As a souvenir, you should definitely take a picture with Santa Claus, elves, New Year's reindeer. Also, don't miss out on the ice skating rink in Central Park or Bryant Park. Don't forget to visit the Christmas markets too. So, for example, at your service - a fair in the building of the Grand Central Terminal (by visiting the Vanderbilt hall, you can see the laser show).
And for motorists, tours are organized to visit the Auto Show in Detroit (mid-January). At the exhibition, which lasts about 10 days, everyone can admire the latest models of cars, concept cars, electric vehicles.
Despite the fact that the United States is a country of emigrants, there are many purely American holidays here that unite all citizens of the country, regardless of their faith and nationality..
Photos