US wines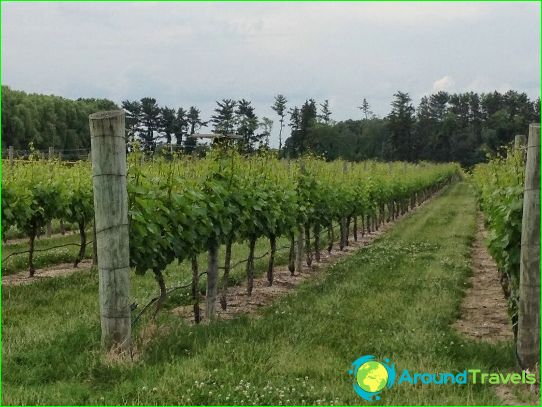 The United States of America is home to many pleasant and useful inventions and goods. They gave the world jeans, Ford and Coca-Cola cars, and tours of American cities and national parks are the dream of many Russian tourists. But there is another tourist route in the United States, which means getting to know US wines. They are very popular not only at home, but also abroad. The reason for this demand is very simple - the optimal combination of reasonable price and decent quality, and therefore the average American at the exit from the supermarket certainly has several bottles of local red or white dry wine in his cart..
California - Wine Mecca
The largest and most extensive vineyards in the United States are located in the state of California. It is the undisputed leader of the American wine industry and 90% of the country's vineyards are concentrated here. The volume of wine production in the United States is considered the most significant in the world outside the Old World.
The dry and warm climate of California bears little resemblance to the traditional European conditions for growing grapes, and therefore the local wines are very fresh and pronounced fruity notes. Winemakers in the USA feel strong support from the UCLA Science Center, which develops technical innovation in production.
What to choose
USA wines is a rich list in which every gourmet can find a drink to their liking:
80% of all production in the California wine industry is devoted to the production of table wines. They are obtained by fermenting the wort without adding alcohol. US table wines include dry and semi-dry reds and rosés and whites..
Sparkling wine is produced and is in great demand in the United States. As analogues of champagne are pink, white and red sparkling dry and semi-sweet wines.
Fortified wines from the USA are traditional Madeira, port and sherry.
Vermouth Martini type.
Only a fifth of all wine produced in the United States is red, another 15% is rosé, and the rest of the bottles shipped from California wineries around the world are white wine. Every tenth liter of US wine is a high quality product.
With a relatively small list of cultivated varieties, California winemakers get a wide range of decent drinks. Blending Chardonnay and Riesling, Semillon and Sauvignon Blanc, adding oak barrels as aging containers, they create a unique product that even the French love to buy..
Photos