Traditional cuisine of the Canary Islands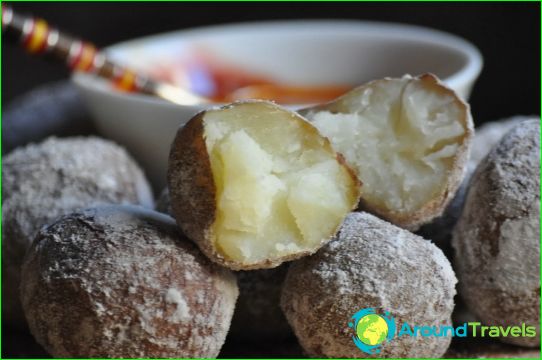 Food in the Canary Islands is characterized by the fact that you can get acquainted with real Canarian cuisine by going to establishments whose names contain the word "tipico".
Food in the Canary Islands
The diet of the inhabitants of the Canary Islands consists of fish, meat, seafood, vegetables, fruits. Local cuisine is influenced by Spanish culinary traditions, which is why chicken and seafood paella and potato tortilla are popular here. But Canarian cuisine has its own inventions, for example, you can taste boiled fish (sardinas), dried fish with sweet potatoes and garlic (sakonho), roast tuna, squid and octopus meat..
In the Canaries, you should try cream soup with almonds; huge king prawns fried in garlic (gambas); pickled pork or beef (carne de fiesta); ragout based on apples, beef, pears and corn (buchero); moray eel, fried until crisp; cold sauce "moyo" (it goes well with meat and fish dishes, as well as potatoes, boiled or baked in their uniform).
And those with a sweet tooth will surely like all kinds of exotic fruits; palm honey; egg yolk cream with cinnamon and almonds (bienmeabe); flan pudding with sugar and eggs.
Where to eat in the Canary Islands? At your service:
restaurants of European cuisine;
fast food establishments (McDonalds, KFC, Pizza Hut);
tapas bars, where, in addition to all kinds of drinks, you can order light snacks - tapas (as a rule, they consist of a variety of salads, olives, olives, ham, smoked sausages, cheeses).
When dining in a cafe in the Canary Islands, it is more profitable to order set meals ("menu of the day") - you will be served 2 main courses, dessert and soft drink at a very attractive price.
Arriving on vacation in the Canary Islands, if possible, go to the island of Lanzarote to visit a unique restaurant "El diablo" - here, for cooking, a real active volcano is used, made in the form of a huge barbecue, emitting volcanic heat from the bowels of the earth.
Drinks in the Canary Islands
Popular drinks in the Canary Islands are milkshakes, fruit juices, coffee, wine, sangria, honey rum, beer, banana liqueur.
Gastronomic tour to the Canary Islands
On a gastronomic tour to the island of Tenerife, you can plunge into the gastronomic world of the Canary Islands: here you will be introduced to the technology of cheese production (you will visit a cheese factory), taste the freshest organic products, fruits and vegetables, and also taste wine by visiting a Canarian winery.
In addition, you will be able to learn how to cook Canarian and Spanish dishes under the guidance of a chef.
The Canary Islands are famous not only for their mild climate, valleys immersed in greenery, picturesque beaches and quaint rocks, but also for delicious, original and exquisite dishes..
Photos of national dishes of the Canary Islands