Rest in Guangzhou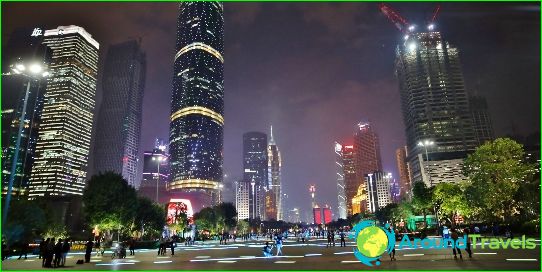 Rest in Guangzhou is a great opportunity to see ancient temples and architectural monuments, visit an orchid garden, buy goods at wholesale prices at local fairs, visit the Flower Festival and the Festival of National Cuisine.
Main activities in Guangzhou

Sightseeing: on excursions you will be offered to see the Hualin Temple, the Church of the Sacred Heart of Jesus, the Guangxiao Temple, visit the Sun Yatsen Museum and Yuexiu Park (there is the Zhenhai Tower and the Five show at Bai-E-Tan) Pearl River cruise.
Active: everyone can go on a day or night safari by visiting Xiangjiang Safari Park; do bungee jumping; ride a bike through the streets, alleys or parks (in the city they provide such a service as 4-hour bike tours); have fun in nightclubs "True Colors", "Cave" (exotic musical performances are held here, such as dancing with live pythons), "Union"; play tennis or golf.
Family: vacationers with children should visit the Guangzhou Zoo (in addition to the fact that here you can see giraffes, Asian elephants, the South Chinese tiger, birds, insects and reptiles, here you will be offered to watch circus performances with monkeys, tigers and lions, visit the exhibition complex "Dinosaur World", look into pavilions with rare species of butterflies and artificial lakes), Oceanarium, Chime Long water park, Chime Long Paradise amusement park, Crocodile farm (you can not only take pictures with crocodiles, but also feed and touch them).
Beachfront: tourists should take a closer look at Dameisha Beach (you can surf, ride the Waterslide, relax in the barbecue area, spend time actively in the sports area) and Xiaomeisha (during the day you can join water sports, and in the evening you can watch the spectacle with dances, performances of magicians or acrobatic shows).
Tour prices in Guangzhou
For recreation in Guangzhou, it is advisable to set aside the autumn months. It is worth noting that at this time the cost of vouchers to Guangzhou increases by about 40-60% (this also applies to May and New Year holidays). To save money, it is worth buying tours in the spring (rains at this time are not uncommon) or in winter, when prices become quite attractive.
On a note!
Since the city ply "fake" taxis (they are painted in the same colors as the official ones, are equipped with meters, but you will pay 2 times more for travel in such taxis), it makes sense to ask the hotel administrator to give you the official taxi numbers.
Tourists should take into account that in many museums and temples it is impossible to take photographs and videos (in some of them this can be done, but for an additional fee).
Chinese tea, silk and leather goods, jewelry with pearls, jade figurines should be brought from Guangzhou.
Guangzhou
Guangzhou holiday photos