What to do in Guangzhou?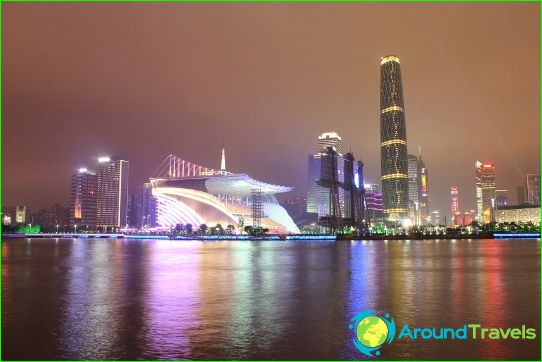 Guangzhou is a modern metropolis in southern China with many historical landmarks. In addition, in Guangzhou, you can buy anything you want, as there are markets, shopping centers, streets and entire neighborhoods..
What to do in Guangzhou?

Take a walk in Yuexiu Park to admire the vegetation and beautiful flowers, as well as the symbol of the city - the sculpture "Five Goats";
Take a night cruise on the Pearl River;
Look at the collection of Tibetan carpets decorated with Tantric and Buddhist texts, as well as visit various thematic exhibitions at the Guangzhou Museum of Art;
View the Michael Jackson sculpture at Diao Su Park.
What to do in Guangzhou?
To get to know Guangzhou, you should see its main attractions - visit the Temple of the Five Spirits, the possession of the Chen family, the Catholic Cathedral of the Sacred Heart of Jesus, see the Guangzhou TV Tower (its height is 610 m), take a walk in the Parks of Culture, Orchids and Haichuan.
Be sure to go for a walk along the busy day and night of Beijing Pedestrian Street (the old center of Guangzhou). This street is not only a shopping center (for shopping you can go to shops such as Only, Vero Moda, Giordani), but also a place of folk festivities.
Arriving in Guangzhou, you will have the opportunity to take part in the celebration of colorful festivals. For example, at the end of January, the Flower Festival takes place here (the city turns into a living garden), and in May, Chinese rowers compete on dragon boats..
Children should be taken to the Culture Park, where there is an oceanarium. Also, here you can watch the performances of popular acrobats and various extreme shows. There will be no limit to the joy of children if you go with them to the Chimelong Water Park with 15 large slides, various attractions and an artificial river, the length of which reaches 5 km!
If you wish, you can go to the night zoo, whose animals sleep during the day, and at night they arrange incredible circus shows for visitors. You can go to Xiangjiang Safari Park in the afternoon or evening program to see wildlife. Here you can also take a tourist train and ride through the mini-jungle. Or you can go to a crocodile farm, where about 100,000 crocodiles live, which you can not only feed, but also watch their shows.
You can take a break from the noisy metropolis by going to Shamen Island, which is located in the center of Guangzhou: here you will see the abandoned building of the former USSR Embassy, ​​and you can also go to a cozy restaurant or a tea house.
Clubbing should be included in the evening recreation program. For example, in a club "Cave", you can admire exotic dance performances (dancing with live pythons), and in the club "Nana" - take part in noisy parties, carnivals and hip-hop shows.
You will not regret if you decide to spend your vacation in Guangzhou - the city offers a lot of opportunities for a great time..
Guangzhou
Pictures of where to go in Guangzhou