Holidays in Shanghai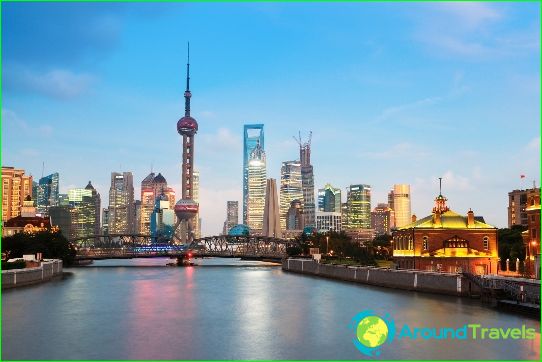 Holidays in Shanghai are futuristic architecture, huge skyscrapers, gardens (Yuyuan Garden of Joy, Purple Autumn Clouds Garden), nightclubs and countless shopping malls..
The main activities in Shanghai

Excursion: on excursions you will be shown the TV tower "Pearl of the East", Pushkin Monument, St. Ignatius Cathedral, Longhua Pagoda, Jinan Monastery, Jade Buddha Temple, offer to walk along the Bund, Sizhou Creek Street, Shanghai Sculpture Park, look into Shanghai and the Automobile Museum, admire Shanghai from the observation deck of the Jin Mao skyscraper.
Active: Shanghai invites active travelers to visit the indoor complex "7 silver stars", to go skiing (they have an equipped ski slope at their service). You can also go snowboarding and sledding here. Those interested can go on a bike ride, go go-karting (visit the pavilion "Disc kart"), play tennis or golf (Shanghai has huge and small golf courses, as well as golf schools), spend time in a water park "Playa maya" (pay attention to the slide "Big wasp") and an amusement park "Shuzhou Amusement Land" (there is a water park, panoramic platforms, original carousels).
Beach: if a beach holiday is important to you, then you can relax on the Jinshan City Beach (part of the sea is fenced off and filtered) - here you can spend time on sports fields and massage parlors, ride a water scooter or bike.
Prices for tours to Shanghai
The best time to travel to Shanghai is March-May and September-November. At this time, tours are being implemented, prices for which increase by 15-25% on average. It should be noted that during the May and New Year holidays there is a noticeable increase in prices for vouchers to Shanghai.
Economy tourists can go to this Chinese city in winter (it is quite cool at this time) and in summer (very hot and often rains), when the cost of vouchers decreases slightly..
On a note!
Regardless of the season, heavy rains can start in Shanghai, so it makes sense to pack an umbrella in your suitcase.
Since the information boards and signs are reflected in hieroglyphs, it will be quite difficult to navigate in Shanghai, but do not hesitate to ask the locals for help - many, especially young people, speak English well. In addition, it will not be superfluous to have with you the name of the hotel and any place with the address where you need to get, written in Chinese..
Memorable gifts from Shanghai can be Chinese tea, silk products, jade figurines, woven straw products, Chinese porcelain, sea pearl jewelry, decorative lamps of original shapes.
Shanghai
Photos of the rest in Shanghai