Things to do in Beijing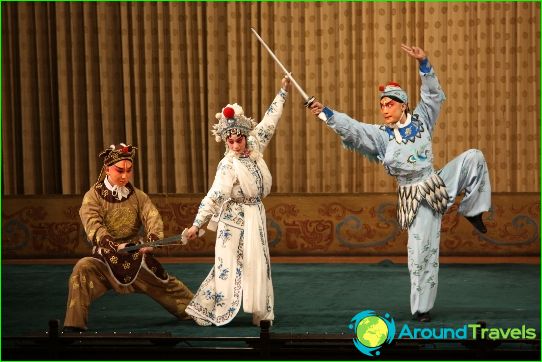 Entertainment in Beijing is not only trips to elite restaurants and clubs, but also visits to tea houses (here you can taste different types of tea and become a participant in the tea ceremony), and an observation deck on the Beijing TV Tower (from here you can admire the panorama of the city).
Amusement parks in Beijing

Water park "City seaview": Here you can spend time in the wave pool, fishing and massage pools. In addition, there are water slides, water rides for children and a launching ball.
"Shijingshan": in this amusement park you can spend time in the zones "Adventure World" and "Fantasy world". Guests of this park will be able to ride 40 attractions, take part in the celebration of traditional carnivals, accompanied by carnival processions and shows, meet Disney characters, have a snack in a restaurant made in the style of oriental fairy tales.
"Beijing Happy Valley": this park offers its guests a ride on 100 rides (giant swings, roller coasters and water slides), visit such thematic areas as "Atlantis", "Mayan Empire", "Wild fjord", "Ant country", and also in the IMAX cinema.
What entertainment in Beijing?
While on vacation in Beijing, you should plan a visit to the Museum of Science and Technology - here you will be offered to walk through the sections dedicated to high technologies, transport, energy, aviation, and visit a 4D cinema. In addition, there is a children's park, where interesting exhibitions are held for young visitors..
Another way to have an interesting time is to visit the Peace Park: here you can admire the Red Square, Easter Island, the Taj Mahal Palace, the Eiffel Tower, or rather their reduced copies (to navigate the park and see the desired miniature sights, it is recommended to take a map at the entrance).
And you can immerse yourself in the city's nightlife in nightclubs. "Tango" (famous for incendiary parties, as well as competitions between beginner and professional dancers taking place here), "Angel club" (guests will find magnificent dance floors and equipped VIP rooms), "Baby face" (popular music bands and DJs of different styles regularly perform here).
Fun for kids in Beijing

Beijing Zoo: here your child will see various animals (about 450 species) and visit "The house of the golden monkeys", on the "Waterbird lake", on the "Hill of tigers and lions" and in other thematic areas.
Beijing Aquarium: Children will surely enjoy the opportunity to visit exhibitions that introduce them to cetaceans, sturgeons, jellyfish and corals. So, they will be able to see monkfish and sea angels, Japanese carp, blue sharks, as well as shows with dolphins..
Not sure how to entertain yourself in the capital of China? Go on a guided tour of popular attractions and museums, or a stroll along Wangfujing Street (they sell exotic snacks at the night market in the dark).
Beijing
Photos