Beijing shops and markets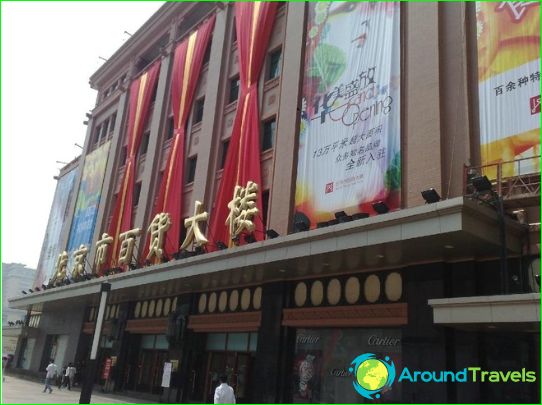 There is an opinion that shopping in Beijing is extremely profitable. Probably, it is connected with cheap Chinese goods of dubious quality, which flooded all flea markets in the world. However, going to Beijing, a tourist is unlikely to buy anything for their own needs in bulk quantities, hoping to save a little. Original items of world brands are quite expensive in Beijing and are also not the target of buyers. Rather, in a shopping race, a tourist will try to find a decent copy of a well-known brand or just a beautiful and functional thing. To do this, you will have to work hard. And even having found what they are looking for, for example, a good fur coat, a tourist will understand that the savings are not so great. However, if you have some free time, why not take a stroll through the shops and markets of Beijing.
Popular shopping places

Factory stores. In Beijing, any travel agency includes a mandatory program to visit factories owned by the state - silk, jade pearl, cloisonné enamel. Nobody takes tourists to the factory halls. The production processes are illustrated on special exhibits. On a live oyster they will show you how to extract pearls from it, they will give you a try to stretch a small circle from a silkworm cocoon to the size of a blanket, they will tell you how to distinguish fake pearls, jade, silk. After a fascinating excursion, tourists find themselves in the trade halls, where they are invited to make purchases. The goods there are of excellent quality, but it is better to treat them as museum exhibits, since the prices are too high and are clearly intended for tourists. It will be cheaper on the market. However, it is not a fact that such a high quality thing will come across in another place. So decide for yourself whether or not to buy. And in terms of cognition and aesthetic pleasure, such excursions will definitely not disappoint.
Beijing markets. There are a lot of markets in Beijing: Silk, Yashou, Yabalou, Pearl, Hidan, Shiji. Most of the guests buy them with those very solid fakes or other Chinese goods. You can not lose money only by being able to haggle hard. Another way to save money is to unite on «shopping - interests» with comrades from the tour group. In the case of even small bulk purchases, traders are more likely to discount the price. In any of the listed markets, you can buy goods of all kinds of groups, that is, the Silk and Pearl markets will offer much more choice than silk and pearls, respectively..
Wangfujing and Xidan Streets. On these shopping streets, you can see the goods of all well-known world brands in branded boutiques or shopping centers. In Russia, such goods are also expensive, so there is an opportunity to find something cheaper than at home. This is especially true of high-quality fur in special departments of shopping centers..
Panjiayuan Market, Liulichang and Dazhalan streets are sites for selling souvenirs, small art products of local craftsmen, and antiques. The streets are of great tourist interest and are well worth a visit to experience Chinese culture..
Photos of Beijing shops