Holidays in Beijing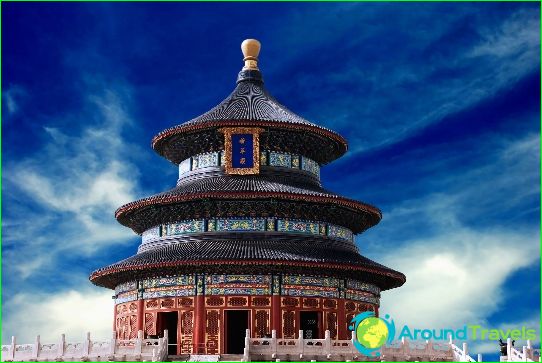 Rest in Beijing is a great opportunity to see unique monuments of architecture and history, taste Peking duck and other dishes of national cuisine, relax in parks and gardens, and visit exciting shopping..
The main types of recreation in Beijing

Sightseeing: when going for a walk, pay attention to Tiananmen Square and the Botanical Garden. Sightseeing tours include visiting the Temple of Heaven, the Great Wall of China, the Summer Palace, the Gugong palace complex, Gongwangfu (Prince Gong's Palace), the Beijing TV Tower, a visit to the Mao Zedong Mausoleum and the Old Beijing Observatory. For those wishing to organize a trip to the Valley of the Tombs and the stalactite caves "Shihuadong".
Active: everyone can have fun in the nightclubs "Angel club" (has VIP rooms, dance floors and a bar where you will be offered to try original cocktails and signature snacks), "Baby face" (here you can dance to the music of various directions), "Tango" (guests are entertained here with bright discos and interesting cultural programs), in an amusement park "Happy valley", visit the Beijing Zoo and Oceanarium, watch an acrobatic show at the Chaoyang theater, go go-karting, ride a horse.
Eventful: if your plans include a visit to Beijing during festive events, it is worth considering that most of them are celebrated on different dates from year to year (check the Chinese lunar calendar). So, for example, you will be able to attend the celebration of the Chinese New Year (January-February), the Lantern Festival (5th day of the 1st lunar month), the Beijing International Festival of Culture and Tourism (September), the Sakura Blossom Festival (March-April).
Prices for tours to Beijing
It is best to plan a trip to the capital of China during the spring and autumn months. To save money, you can go to Beijing to purchase vouchers in June-August, because at this time the rainy season lasts here, and prices are reduced by about 40%. Inexpensive tours to Beijing are implemented in winter, with the exception of New Year and Christmas tours.
On a note!
Since local drivers often do not comply with traffic rules, you should be extremely careful when crossing the road..
To travel around the city with ease, it is advisable to learn the names of the main attractions and metro stations. You can visit local excursion sites and museums from early morning, but it is worth considering that many of them close at 18:00.
On vacation, it should be borne in mind that it is not customary for service personnel to leave tips.
From Beijing, you should bring jewelry and jewelry with pearls, silk and porcelain products, elite teas, jade figurines, clothes of international brands and local designers, electronics and appliances, Chinese cosmetics, ginseng tinctures.
Beijing
Photos of the rest in Beijing