Hangzhou metro: diagram, photo, description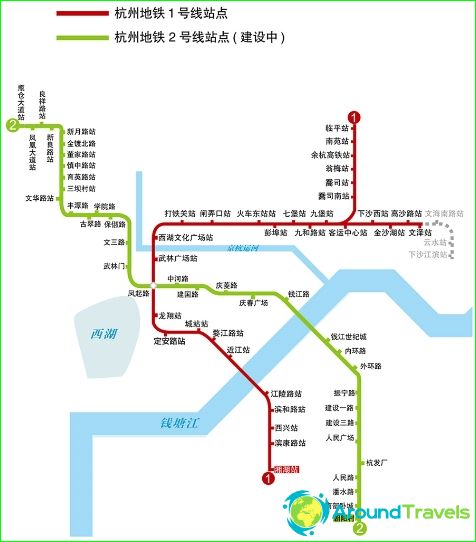 Construction of the subway in Hangzhou, China, began in 2007, and its first section was commissioned in November 2012. So far, there is only one line in the Hangzhou metro, which starts in the south of the city, rises up and in the western direction, where it turns to the east. On the eastern outskirts, the branch turns south. In the city center, the Hangzhou subway line has a northbound branch.
The total length of the existing Hangzhou Metro line is 48 kilometers. On the route of its trains, 31 stations have been opened for entering, exiting and transferring passengers to ground transport. Most of the first line of the Hangzhou Metro - 36 kilometers - runs underground. The rest of the tracks are laid by elevated and overhead ways..
The second line of the Hangzhou metro, which is under construction, will connect the northwestern districts, the central quarters and the south of the city. Its length will be 12 kilometers, and the Hangzhou subway will be able to carry at least 300 thousand passengers per day. In the future, the total length of all Hangzhou metro routes will exceed 270 kilometers.
All Hangzhou metro stations have a typical view. They are closed-type stations with no side platforms. The openings on both sides of the hall are closed by doors, separating the tunnel from the passengers. Upon arrival, the trains stop in such a way that their doors are opposite the doors to the waiting room. The doors between the tracks and the hall in the Hangzhou metro are made of glass, and you can go down to the platform or ascend to the city both on the escalator and on the elevators, which allows people with disabilities and people with disabilities to use this type of transport comfortably.
Hangzhou Metro tickets
Subway fares are paid in Hangzhou City using specialized ticket machines. Travel documents must be activated in the readers of the turnstiles at the entrance to the platform and saved until the end of the trip. The vending machine menu has an option "Select the English option", so that when paying for the Hangzhou metro, guests of the country do not have any problems.
Hangzhou Metro Pictures