Holidays in China in August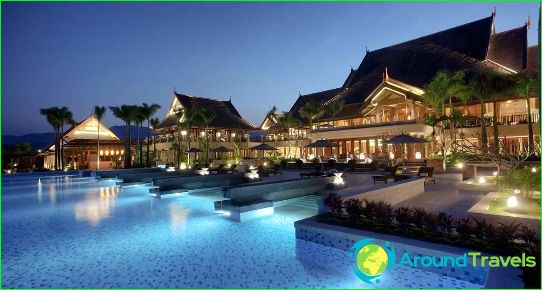 Many tourists who decide to visit the Celestial Empire discover a vast world of rich Chinese nature, history and culture. They fall in love with this exotic country forever, associate with it all the further pastime of the vacation period, finding more and more unknown white spots.
In order for a vacation in China in August to leave the best impressions, you should be especially careful when choosing a place for your future stay. In many parts of the country, there are either high heat and humidity, or typhoons and showers, or sudden changes in temperature..
The most suitable vacation spot can be the island of Hainan, where the beaches resemble exemplary vacation spots, there are thermal springs for improving health, and the weather conditions in July are quite acceptable..
Weather in Hainan in August
You can absolutely safely plan your vacation on this island. Average daytime temperatures in August are between +30 ° C and +33 ° C. Bathing will take place in a very comfortable environment, at a temperature of +27 ° C. Of course, precipitation cannot be completely ruled out. But the short duration of the rains is one of the main advantages..
Treatment on the island
Hainan resorts can provide treatment services based on local hot spring water, traditional Chinese practices and methods, natural natural complexes.
Chinese souvenir
Many tourists are at a loss what to bring from China to surprise their relatives and colleagues. Classic souvenirs are those where the Chinese were the first or reached unprecedented heights, silk and porcelain, wood crafts decorated with skillful carvings, souvenirs from a Buddhist shop and in style «Feng Shui». In addition, you can bring more valuable gifts - products made of rock crystal or pearls. And, of course, you cannot do without real Chinese tea, black or green, but very tasty and aromatic..
Chinese lovers' holiday
In this vast country there is a celebration similar to the European Valentine's Day, called the Qi Xi holiday. Like many other sacred dates, it is calculated according to the lunar calendar. For this holiday, the magic number is «7», that is, the seventh day of the seventh month has come, and you can celebrate.
Of course, many traditions and rituals of this holiday have already sunk into eternity, however, the romance has survived. Chinese couples in love try not to miss the date, tourists are happy to join. On this magical day, girls can cast a spell on their betrothed and make one wish that will surely come true.
Photos of holidays in China