Brazzaville - the capital of the Congo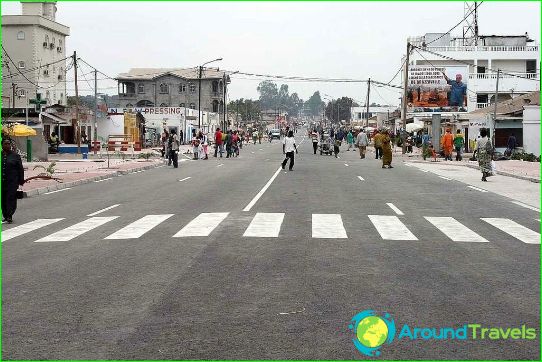 The capital of Congo, Brazzaville, was once just a small village called Ntamo. It received the status of a city only in 1880. The founder is the French explorer Savornyan de Brazza, who gave his name to the future capital.
Modern Brazzaville is a rapidly developing city with a typical «European» person, but living by the rules of Africa. The respectable central part smoothly flows into residential areas. The outskirts of the city are traditionally occupied by huge slums.
Where to go?
Brazzaville is a very beautiful city with many world famous sights.
Be sure to see the Church of St. Anne. It is located in the Poto-Poto quarter, the oldest place in the entire city. In 1936, a decision was made to build it here, and Roger Erell took over the development of the project. The building was completely finished in 1943.
The next attraction of the capital is the municipal gardens, which adorn not only its territory, but also its surroundings. The area where the city is located belongs to «successful» climatic zone. So, here you can see representatives of conifers, bamboo, acacia, palms. It is they who «give» the city has amazingly clean and fresh air.
You will also like the national theater, on the stage of which the next premiere is presented weekly. In the city, in its own mausoleum, rests its founder - Pierre Savornyan de Brese. Attracts the attention of tourists and the Museum of Crafts.
There are cultural attractions in the capital. In particular, the University of Marien-Ngouabi, the building of the National Museum.
Brazzaville is well developed in terms of the educational sphere. Therefore, if you are interested in this area, then you can visit various educational institutions of the city. The National Institute, located in the capital, is considered almost the main attraction of the whole country..
While walking around the capital, it is simply impossible not to pay attention to the Nabemba Tower. This is the tallest building in the entire city. The project belongs to the French architect Jean Marie Legrand, who built it from 1982 to 1986. The skyscraper borrowed its name from the mountain, also the highest in the entire country. The tower is completely given over to the offices of various companies.
Numerous tourists visiting the city like a magnet are attracted by the city market. Here, in a relatively small area, you can find the most beautiful goods that only exist in Brazzaville. These are hand-sewn clothes, the work of local craftsmen, fruits, spices, herbs and many souvenirs that will always remind you of visiting this unusual city..
Photos