Water parks in Sevastopol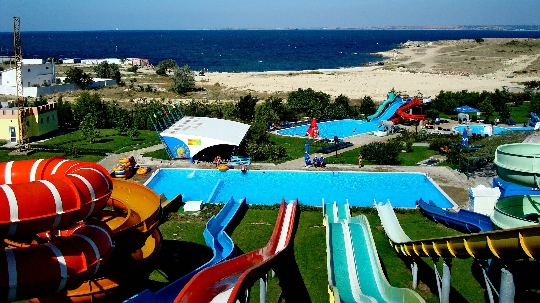 In addition to its rich history, a considerable number of attractions and clean sea, Sevastopol is famous for its water park.
Water park in Sevastopol
Aquapark "Zurbagan" has:
children's, teenage and large pools, including a round pool (its diameter is 30 m) with a fountain, the water jets of which can reach 3 m;
fountains and water curtains;
8 slides for adults "Bodyslide", "Black hole" (length - 130 m), "Multislide" (5 imposing stripes), "Kamikaze", "Free fall", "Wave" (sliding from side to side resembles the movement of a pendulum); 7 slides for little guests (for them there are "Snake", "Rabbit", "Elephant", "Rainbow", "Bodyslide", the height of which reaches 1-2.5 m);
4D cinema;
3 cafes ("Burger Burger","Peel", "Raisin").
In addition, here you can shoot at a shooting range and play air hockey, and in the evening you can spend time at discos and parties, in which the best DJs take part (there are 2 dance floors). For example, on weekends, guests can have fun at a foam party. Adult ticket: 2 hours - 1000, 4 hours - 1100, all day - 1200 rubles. Children's ticket (height 90-140 cm): 2 hours - 800, 4 hours - 900, all day - 1000 rubles. Important: students are given a 30% discount, and birthday people - a 50% discount (at the box office, you must provide a photocopy of the documents). The cost of renting a luggage room - 100 rubles, renting a safe - 300 rubles, a fine for losing a key - 300 rubles.
Water activities in Sevastopol
Going to Sevastopol, if you wish, you can rent a room in a hotel with a swimming pool, for example, on "Villa Venice", in "Fort Hotel" or a guest house "Riviera".
Guests of Sevastopol should look into the local dolphinarium (there are performances with animals that perform funny numbers and complex tricks, and those who wish are offered to swim in a special pool with dolphins; purchasing a ticket for 5-14 year old children will cost 300 rubles, and adults - 700 rubles) and the Aquarium Museum (for visitors guided tours of 4 rooms: the first shows representatives of coral reefs, the second houses the tropical and Black Sea sections, the third presents the inhabitants of the Pacific, Indian and Atlantic oceans, and the fourth is home to freshwater and reptiles ; the cost of entrance tickets: adults - 400 rubles, 6-16 year olds, students and pensioners - 200 rubles).
For a beach holiday, it is recommended to head to the beaches "Uchkuevka" (the coastal strip is represented by several zones - a landscaped area where various water activities are available, a wild beach and a space for nudists), "Crystal" (there are equipment rental points, a rescue station, changing cabins, but visitors should take into account that the depth near the pier is 2 m) or "Sand" (interesting for vacationers with children - the beach is famous for its smooth entrance into the water, smooth and safe sandy bottom, and there is also a rental point for beach accessories).
Photos