Alpine skiing in Crimea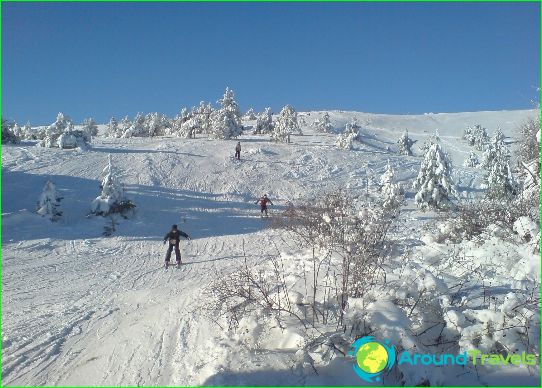 As strange as it may sound, you can go to Crimea not only for a beach holiday, but also in winter, for practicing any kind of sports. The southern peninsula is famous for its ski slopes, comfortable hotels, hospitable people and excellent leisure opportunities.
Equipment and tracks
The main ski resort of Crimea is Ai-Petri. The season on the famous mountain begins at the end of December, when a reliable snow cover is established on Ai-Petri. You can continue skiing until the end of April, which allows many thousands of their fans to come to the Crimea on the ski slopes. Ai-Petri is called the snowiest point of Crimea.
The slopes are located at an altitude of one kilometer, and the depth of the snow cover makes it possible to ski and fans of traditional alpine skiing, and freeride fans, and fans of snowboarding. Climatic conditions on Ai-Petri are quite suitable for comfortable gliding: the air temperature rarely drops below +5, and the wind speed does not exceed 6 m / s.
The glory of the creation of the resort belongs to the "Ai-Petri" club, whose members have invested a lot of effort and money in the equipment of modern tracks. Today in Ai-Petri there are nine tows, which bring athletes to the starting points at a speed of two thousand people per hour. The slopes in the Crimean resort have different markings of difficulty, their length exceeds 200 meters, and it will be pleasant and safe to use them even for beginners..
Another Crimean ski Mecca is the Angarsk Pass. The resort is located near Simferopol, and therefore has long become a favorite vacation spot for local residents. There are three lines of the yoke at the pass, and there are no problems with lines. The difference in altitude at the Angarsk Pass is only 750 meters, athletes with an initial and intermediate level of training feel quite confident here. However, the advanced ones also have where to catch the adrenaline: the second and third stages of the Angara slopes presuppose excellent possession of ski equipment. Here you can find rocks, and a slope of up to 60 degrees, and a ski track laid in a beech forest..
Entertainment and excursions
The ski resorts of Crimea provide an excellent opportunity not only to spend time playing your favorite sports, but also to get acquainted with local sights. In winter, the peninsula is not filled with crowds of tourists, and therefore it is possible to visit all the museums and famous places with special comfort. Moreover, the compactness of the peninsula and small distances between cities allow you to combine active and educational tourism.
Photos of ski resorts in Crimea