Holidays in Varadero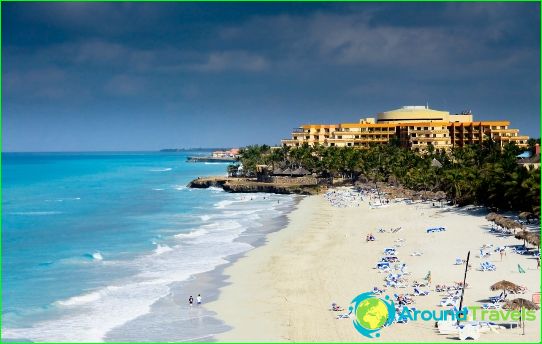 Holidays in Varadero are very popular with lovers of beaches, fine shops and restaurants, picturesque landscapes and vibrant nightlife (many discos are arranged right on the coast).
The main activities in Varadero

Beach: on the local white beaches you can relax with children (there are special play areas for them) or go here with big noisy companies (at their disposal - bars, discos, rental offices of water scooters, boats, equipment for diving and surfing).
Excursion: as part of the tours, you will see the Iglesia de Santa Elvira Church, Fort Fuerte Espanyol, Villa Dupont (worth a look at the city museum). Those who visit Hosone Park will be able to meet rare tropical animals and birds, as well as see interesting plants such as royal delonix and giant cactus. The park has a pool where you can swim, as well as a lake that you can ride on a catamaran or boat. In addition, here you can play bowling and shoot at a shooting range, and small visitors can ride a camel or a children's train. It is worth noting that trips to the Sugar Factory are organized for those who wish..
Active: for active tourists, Varadero offers yachting, diving and windsurfing, water safari, deep sea fishing or jeep safari (you will stop at Saturn's cave to swim in an underground lake, then go to Bellamar cave to admire stalactites and stalactites and then take a boat ride on the Canimar River), play golf or tennis, learn Latin American dances in dance schools, have fun in nightclubs "Palacio de la Rumba" and "La Comparcita".
Prices for tours in Varadero
Vacationing in Varadero is best in November-April. The most expensive tours to this Cuban resort are realized in winter - their cost rises by 40-45%. To save money, you can come to Varadero during the rainy season, which lasts from May to October (savings can be up to 50%). But before you go on a trip, it is worth considering that at this time it is very hot and humid, and such weather is not well tolerated by all people..
On a note!
If you plan to communicate with Cubans, take small souvenirs from home with you - they like to receive ballpoint pens, nesting dolls, chewing gum, soap as gifts.
Since changing money in Varadero is a big problem, it makes sense to have small bills.
If you do not want to be fined, you should not photograph and film industrial enterprises, military equipment and military personnel..
In memory of your vacation in Varadero, you can bring cigars ("Partagas", "Kohiba", "Bolivar"), Cuban rum, coffee, works of art in the form of sculptures, paintings and furniture (for export you will need a special permit), wooden figurines of Cubans with cigars.
Varadero - Cuba

Vacation photos in Varadero