Prices in Tbilisi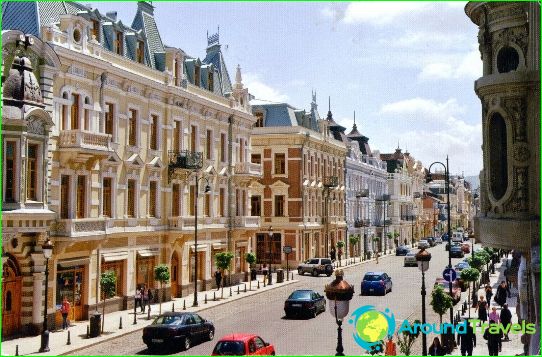 Tbilisi is considered one of the most beautiful cities in Georgia. This city has unique architectural objects that attract tourists. In this article we will tell you what are the prices for rest in Tbilisi.
Money
In Georgia, the national currency is the lari (GEL). Mainly local money is accepted for payment. In some stores, you can pay in dollars, euros and rubles, but the rate will be very unprofitable.
Where to stay for a tourist
Many new hotels have appeared in Tbilisi in recent years. Old 4-3 * hotels have been reconstructed. The average price for a regular room in such establishments is $ 60 or more. Rent a room in a family hotel «Babalina» you can for 120 GEL.
Accommodation options such as guesthouses or family hotels are common in Tbilisi. It is better to choose a room in a guesthouse according to the recommendations of friends. Will have to live in the same house with the owners. Homemade food is a big advantage here. Together with breakfast, a room for two will cost at least $ 40. The city also has hostels for 10-20 beds. The cost of one seat is 20-25 GEL. If there are not enough places, then summer accommodation is possible on terraces and balconies for half the price.
Excursion programs
There are many old residential quarters in Tbilisi, which are located on the mountain hills. The Kura River, flowing through the city, looks very picturesque. Tour in Tbilisi is a chance to see the famous places of Georgia. The guests of the city visit museums, historical monuments, temples and churches. There are monuments here dating back to the 4th century. For little money, tourists try Georgian cuisine and wines, as well as buy souvenirs. A tour along the route Tbilisi - Kazbegi - Lagodekhi - Signagi - Tbilisi costs at least $ 840. The popular route is Tbilisi - Mtskheta - Gudauri - Kazbegi - Akhmeta - Signagi - Kutaisi - Zugdidi - Batumi - Tbilisi. An individual tour will cost $ 1900. A gastronomic walk in Tbilisi costs $ 100.
Where to eat in Tbilisi
Tourists are advised to visit the restaurants-terraces located to the left of the Kura. These establishments prepare dishes of Georgian and European cuisine. The main attraction of the terrace restaurant is the good selection of local wines. Local restaurant prices are affordable when compared to European restaurants. At the same time, Georgian restaurateurs offer better and tastier food..
In Tbilisi you will taste famous dishes such as khinkali, suluguni, satsivi, kharcho, khachapuri, Georgian shashlik, gomi, kupaty, khashlama, etc. A cup of coffee can be ordered for 6 GEL, a glass of wine - for 4 GEL, breakfast in a cafe - for 20 GEL. Barbecue costs from 7 GEL.
Tbilisi city

Photos