Shops and markets of Tbilisi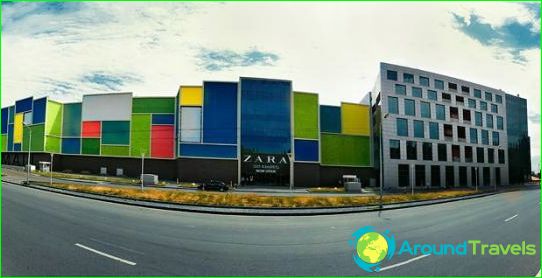 Tbilisi is an ancient hospitable city, founded on the place where hot springs emerge from the ground. Each person has their own associations associated with Tbilisi. It can be terracotta domes of baths or ultramodern business centers, Narikala fortress or Holy Trinity Cathedral, or maybe it is Saperavi, Khvanchkara and Kindzmarauli with Suluguni.
In the city center, you can admire the architecture, observe the locals, taste and buy for good, not «special tourist» prices, Georgian wines and sweets, choose something to remember Tbilisi.
Popular retail outlets

Rustaveli Avenue leads to Freedom Square. There is a souvenir market near the Georgian Academy of Sciences. Here you can find Georgian dishes for wine (and real Georgians drink from the horn), minting, icons, images of Tbilisi in different styles, jewelry, etc. The prices here are low, but there are not many works of authorship, mostly what is called «stamping».
The next point is the Garderob boutique. The name speaks for itself. Prices? This is the center of the city, the prices are high. As for clothing, jewelry and other accessories, there will be many more famous brand stores along the way. Prices can be found a little lower in Tbilisi Mall, but this is a completely different geography..
Next to the Garderob store we find the specialized wine store Khareb. There is an excellent selection of Georgian wines at reasonable prices. Tasting will help you make your choice. True, not everyone is allowed to try. If you show the seller that you are ready to leave a tidy sum with him, then he can expand the list of wines for tasting. There is also an expensive exclusive in the shop - wines made from sunny berries, which were born in very small growing areas. Such «area» can be limited to one slope near one village and give life to wine with a unique taste. Another rare and expensive commodity, grape oil, is also traded here..
There is a souvenir shop near the Opera and Ballet Theater in the pedestrian crossing. For cloisonné enamel in designer jewelry or decor items, for a dish with an individual painting or a national costume with hand embroidery, you will have to pay significantly more than for souvenirs from the Academy of Sciences, but the quality of goods in this store is much higher. Opposite the theater there is a shop where you can listen to and buy CDs with Georgian music.
There is another shop with souvenirs nearby - Georgian Gifts. It also offers many works of folk art. Dolls made of various materials in Georgian outfits are very interesting.
There is another souvenir shop on Freedom Square. It is called unpretentious «Souvenir». Here, among other things, printing products, well-illustrated books about Georgia.
On the street Leselidze don't miss the liquor stores «Benjamin», «House of Wine», «Vinoteka». There is enough variety here to choose wine, cognac, brandy or chacha to taste. Depending on the «market conditions» (read - the mood of the seller), it is possible to taste the drinks before buying. On the opposite side of the street there is a shop with a huge selection of sweets: dried figs, persimmons, thirty-three varieties of dried apricots, churchkhela, etc..
On the way to Zion Cathedral, the street is full of church shops. They will interest not only a deeply religious person, but also a secular one with books on history in excellent publication quality..
Before leaving, you can look at the Deserter Market on Vokzalnaya Square for fresh homemade suluguni. Or run into any grocery store for Georgian cheese in factory packaging and a longer shelf life. Or you can take this issue seriously and go to the store «World of cheeses» on the street Nutsubidze, where you will need a guide to navigate the various varieties of this national Georgian product.
There are many excursion routes in Tbilisi. Choose what you like and in time this time, and then return to Georgia again and again!
Photos of shops and markets in Tbilisi