Christmas in Tbilisi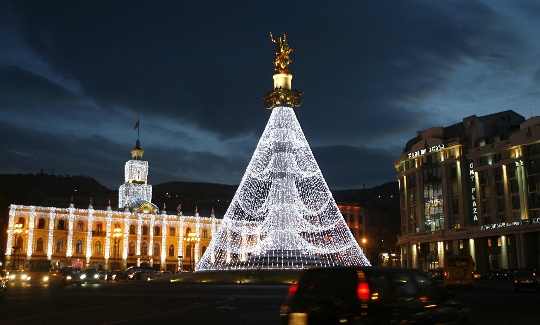 Planning to celebrate Christmas in Tbilisi? Do not even doubt that you will be able to have a great winter vacation..
Features of the celebration of Christmas in Tbilisi
Georgians celebrate Christmas ("Christie Shoba") Jan. 7. In Tbilisi, on the night before the holiday, a solemn service is held in the Cathedral of the Holy Trinity, after which the turn of the festive procession begins. "Alilo". This procession led by priests and flock (they are joined by ordinary passers-by) is accompanied by the carrying of crosses and the icon of the Savior, church chants and collection of donations (collected money, toys, clothes, etc. are given to those in need, in particular, orphans). And the final point of this procession is Sameba Cathedral.
For Christmas, Georgians invite a special guest to the house - mekvle ("first guest" chosen very carefully): until he comes, no one can enter or leave the house. The festive meal takes place after the mekvle, having crossed the threshold, wishes the owners of the house joy, happiness, health and well-being, as well as presents them with sweets and fruits. A piglet with adjika, satsivi, pumpkin in sweet syrup, kozinaki with nuts, pies are usually put on the Christmas table..
Travelers should be advised to celebrate Christmas on Mtatsminda in a restaurant "Funicular" - from here you can not only admire the wonderful view of the city, but also enjoy Georgian cuisine.
Entertainment and celebrations in Tbilisi

From December 25 to January 7, Tbilisi invites everyone to attend the Festival of Christmas Trees (Irakli II Street).
January 7 is worth taking part in the Christmas procession "Alilo".
Those wishing to go ice skating will be able to carry out their plans during the New Year and Christmas holidays on the ice rink in Rike Park.
In winter, with children, do not miss the opportunity to visit the amusement park "Bombora": here you can admire not only amazing sculptures and structures, such as an overturned house, but also go for a skating rink, visit a Christmas tree and children's concerts, get an audience with Georgian Santa Claus - Tovlis Babua.
In January (it is recommended to specify the date in advance), parents with children with disabilities can please them with a visit to the Elena Akhvlediani Children's Art Gallery - a Christmas holiday is arranged for them.

Christmas markets in Tbilisi
At the Tbilisi Christmas markets, which take place in Rike Park and at the Parliament building from December 25 to January 7, those who wish will have the opportunity to acquire memorabilia and souvenirs in the form of books, postage stamps, faience plates, hats and other things, as well as food and drinks..
Photos