Where to eat in Tbilisi?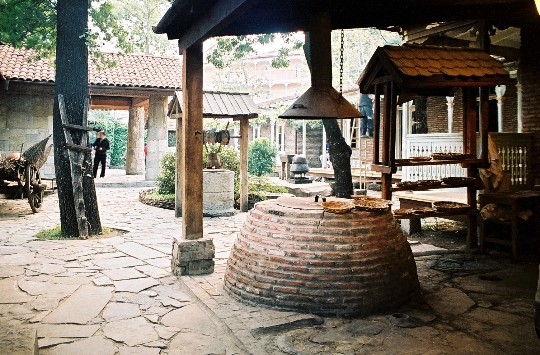 "Where to eat in Tbilisi?" - this question is asked by all those who come to rest in the capital of Georgia. Here you can satisfy your hunger both in kiosks where you can buy khachapuri, and in chic restaurants. In authentic places it is worth trying lobio, satsivi, muzhuni, pkhali, khash and kharcho soups, chakhokhbili, canaki, chkmeruli, kuchmaki, khinkali, barbecue ...
Where to eat in Tbilisi inexpensively?
Are you looking for an economical snack? Go to Khachapurna "Machakhela". You can have a full lunch with this hearty and tasty dish (khachapuri). You can eat on a budget by going to the dukhans - traditional Georgian eateries: Georgian dishes are served here at very reasonable prices.
In addition to street cafes and kiosks, you can eat inexpensively in the city at chain restaurants. For example, in "Taglaura" (the institution resembles a tavern where the Georgian atmosphere reigns) it is worth trying local beer and dishes that are prepared from natural and fresh ingredients (khinkali cost $ 0.25-0.35 / 1pc, snacks - $ 2-3.7, second courses - $ 3.7-6.2). In addition, reasonable prices, delicious dishes and good service await you in the restaurant chain. "Shemoikhede, genocvale".
Where to eat in Tbilisi delicious?

"1000 and 1 night": This Persian restaurant features Iranian cuisine based on vegetables, rice and meat. The institution is famous for dessert and tea cards, hookahs (if you wish, you can hold a hookah show for you). In addition, this restaurant pleases its visitors with show programs, including belly dancing.
"144 steps": In this art cafe (cafe + gallery of modern art) you can taste European dishes such as steaks, Italian spaghetti and pasta. In addition to delicious dishes at your service - high quality service, live music and a special hookah card (a huge assortment of hookah tobacco and various additives).
"Agaraki": the menu of this restaurant, in which the summer terrace is located in the thick of the forest, and the winter complex, like the Taj Mahal, is made in ash-white color, Georgian dishes are presented. In addition, the institution has a children's menu, as well as Brazilian coffee and delicious grilled dishes..
"Akhali Shatili": in this restaurant (there is a summer terrace and a winter hall), in addition to Georgian, European cuisine is presented (pizza, spaghetti, steaks). In addition, in the institution you can taste various wines and the best varieties of Czech beer..
"Alaverdi": in this Georgian restaurant you can relax in a banquet or 3 small halls, and in summer you can rent a hut and try salads, meat and vegetable dishes (kebab, mtsvadi - Georgian barbecue). In addition, professional singers, folk and modern dance performers perform daily in the institution..

Gastronomic excursions in Tbilisi
On a gastronomic walk around Tbilisi, you will stroll around the city, visit the bazaar and the wine shop, where you can buy everything you need. If you wish, you will be taken to a small village 30 minutes drive from the center of Tbilisi - here you will be treated to traditional Georgian dishes and taught how to cook, for example, khinkhali and khachapuri.
In Tbilisi, you will see medieval ruins (Narikala fortress, Darijan palace, several temples) and sulfur baths, as well as taste Georgian cuisine.
Photos