Tbilisi - the capital of Georgia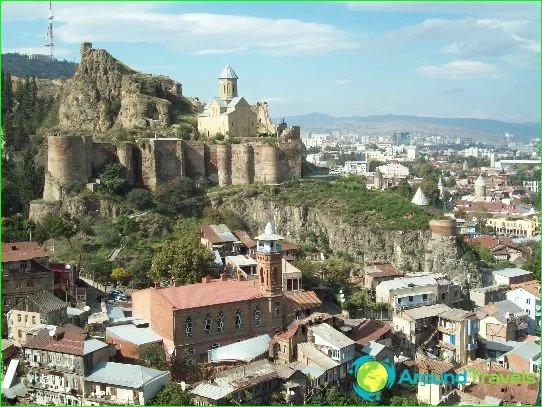 The capital of Georgia, the city of Tbilisi, is amazingly beautiful, and the inhabitants of the capital are very friendly. The special charm of the city is the old center, where you can wander through the labyrinths of old streets and admire the architecture of the city.
Leselidze street
Be sure to include the street in your walks map. It is located in the old part of the capital - an absolutely amazing place. Previously, it was called the Central Bazaar simply because you could find almost everything here, from wine and fruits to chic Persian carpets..
The street received its modern name only after the war in honor of Konstantin Leselidze - Hero of the Soviet Union. Today it can be compared with the Moscow Arbat. Tourists also stroll slowly, the aroma of coffee spreads, and numerous souvenir shops where you can buy charming reminder trinkets.
Dry bridge
A unique open-air antiques market. You can buy almost everything here. In particular, handcrafted souvenirs issued in a limited edition.
The opening day is also located on the Dry Bridge, where you can buy your favorite work for just five lari. Of course, there are real masterpieces worth five thousand..
In general, the Dry Bridge is a place where you will be told a lot of stories about the city itself. You will definitely not read this in any guidebook..
Narikala fortress
The fortress is located in the very center of the capital - on Mount Mtatsminda. You can climb here by funicular. If you wish, you can also make a hiking ascent, but the road is rather difficult. An amazing view of the city opens from the top of the mountain.
The Narikala fortress is revered by the inhabitants of the country as a holy place. That is why you can see people meditating here. It is also a popular picnic spot for the townspeople..
Narikala was built in the 7th century and was called Shuris-Tsikhe. After the Mongols came to the Georgian land, it was renamed to «Naryn Kala», What means «Small fortress». The citadel, despite its diminutiveness, kept under its control all the trade routes along the river bank..
Sioni Cathedral
The main cathedral of Tbilisi, which you can see on the banks of the Kura River in the old part of the capital. The construction of the cathedral took place in the Middle Ages, and according to the existing tradition, it received the name of a particularly significant place for Christians - Mount Zion (Jerusalem).
For the first time in this place, a church appeared in the 6th century. But in the future, the temple was destroyed almost innumerable times and rebuilt again. Arabs, Turks, and Khorezmians were also noted here, so the modern look of the building is the result of numerous reconstructions.
Tbilisi city

Photos