The best resorts of Georgia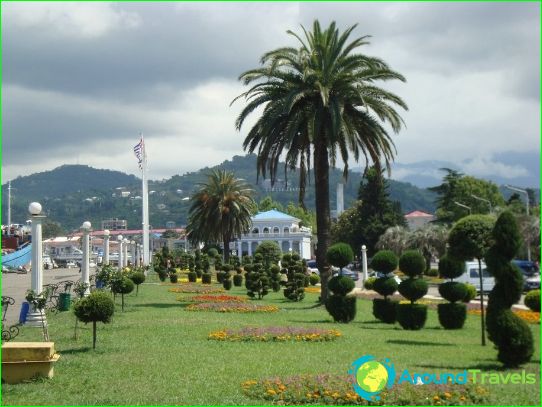 Georgia is an amazingly beautiful country with a distinctive culture. Here you can see how the high Caucasian ridges descend to the pristine beaches of the coast. The best resorts of Georgia will pamper you with the unique tastes of real Georgian cuisine, aromatic wines and great rest.
Batumi
The most popular resort area in the country. On the numerous beaches of the city, life is in full swing both day and night. During the day they are full of vacationers taking sunbathing, and at night the territory of the beaches turns into gathering places for noisy youth companies..
In addition to idle felting on the beach, you should definitely visit the Tamara fortress and listen to the singing fountains.
Kobuleti
This resort place is located not far from Batumi. It has a wonderful climate, which the resort owes to the surrounding pine forest..
Pebble beaches occupy a twelve-kilometer coastline. Therefore, there is a place for everyone. In addition, in Kobuleti you can get medical treatment. There are sanatoriums specializing in the treatment of diseases of the kidneys, liver, heart and respiratory organs..
Kvariati
A wonderful resort place located near the Turkish border. It is in this part of the country that the most beautiful and widest beaches are located. Crystal clear coastal waters attract numerous tourists.
The resort has two zones. The first is located on the mountain, and the second is on the coast. The only diving center in the whole country is also located here..
Mtsvane Kontskhi (Green Cape)
A beautiful resort place. They strive here for a really good rest and the opportunity to admire the amazing seascapes. It has its own botanical garden, where you can see various exotic plants. Its uniqueness lies in the fact that you are given the opportunity to live on the territory of this natural wonder. But, however, this is a rather expensive pleasure: accommodation will cost the same as if you were vacationing on the Black Sea coast. But the rest spent among fragrant exotic flowers in a real tropical garden will be remembered for a long time.
The small beach of the resort is not too crowded. Diving enthusiasts will definitely like it here. Therefore, if rest for you is peace and comfort, then you are here.
Gudauri
An actively developing young ski resort in the Caucasus region. The uniqueness of the natural relief allows you to ski outside the numerous ski slopes. The main slopes are prepared in the classical way, but there are quite a few virgin fields nearby, where freeriders will feel great.
The resort is located in the mountains high enough, but, nevertheless, Gudauri welcomes guests with warm, sunny and quiet weather.
Photos of resorts in Georgia