Best restaurants in Tbilisi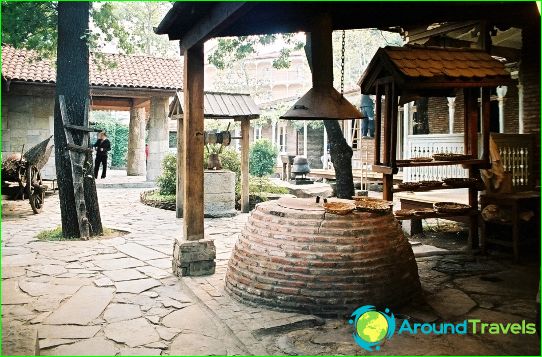 The proud capital of Georgia does not at all look down on the guests of the country. On the contrary, she is attentive and generous, cordial and hospitable. The best restaurants in Tbilisi open their doors in the blink of an eye, waiters cover huge tables with snow-white tablecloths, and God's chefs are already preparing hundreds of dishes.
When choosing a place to eat in the Georgian capital, there are a few things to keep in mind. The difference in the cost of meals will be small, only the most popular restaurants, where there are a lot of tourists, set prices above average.
It is also important to decide whether the goal is simply to eat or spend an evening in a pleasant company with music and cultural and entertainment programs. Another nuance: in different regions of small Georgia, the cuisine is very different. While vacationing in Tbilisi, you need to look for Adjarian restaurants, if you want exactly Adjarian dishes, the same applies to Megrelian cuisine.
Taste of Adjara
There is a chain of restaurants in Tbilisi, representing the cuisine of Adjara, under the general name «Machakhela», the main institution is located in the very heart of Tbilisi. The windows of this restaurant offer picturesque views of the Mekheti rock..
It is here that ancient recipes are scrupulously adhered to when preparing traditional Georgian dishes, such as khachapuri or khinkali. The price for lunch may be slightly higher than the city average, but the food is worth it. And the institution itself is interestingly equipped, with chic interiors.
On high
This Tbilisi restaurant can be seen from almost any corner of the capital, because it chose a place for itself on the top of Mount Mtatsminda. Occupying such a high position on the city map, chefs and waiters strive to ensure that the cuisine is at its best. The restaurant's regulars assure that here is the best khinkali in the city, women will appreciate aromatic coffee and magnificent landscapes, and children will appreciate sweets from the local pastry shop..
With the scent of the East
A restaurant «Seydabadi» also located in the center of Tbilisi, in a very attractive location. On the one hand, the Kura River is rapidly carrying its waters, on the other is the Maidan. This establishment specializes in Turkish and Azerbaijani cuisine, and therefore delicious pilaf is always available; kebabs in various variations; amazingly tasty kufta. The restaurant is suitable for those who adore oriental exoticism, and would also like to appreciate, in addition to Georgian cuisine, also dishes of neighboring peoples.
In Tbilisi, catering establishments are found at every step, each of them has its own special dishes, and the chefs are ready to fulfill any order and any whim of their guest. No one will leave Georgia hungry and disappointed.
Photos