Streets of Tokyo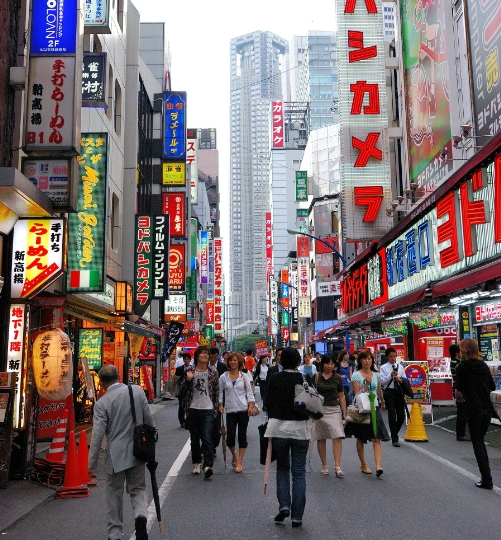 Tokyo is considered to be a super-city, in which the eastern culture has merged with the western one. This city cannot be considered the most ancient settlement in Japan. It appeared in the 15th century and was built up with wooden buildings. Tokyo's modern streets are full of skyscrapers and busy traffic. In addition to Tokyo, the metropolis includes 25 cities, seven villages, 23 districts and several villages. The heart of the city is the historic part of Edo..
Famous places of the city
The main street is Ginza. There are no historical monuments, but there are many shops. Ginza is the most popular shopping street in Tokyo. Shops and boutiques are open late. Tourists are attracted by department stores «Mitsunoshi» and «Matsuya», where goods are displayed in the spirit of the national Japanese culture. Ginza is most effective at night, when various store advertisements are lit up. The streets adjacent to Ginza are full of bars, clubs and restaurants. The famous place is Harumi-dori street, where the theater is located «Kabuki».
The popular Takeshita Dori Street is only for pedestrians. There are chains of such corporations as McDonald's, The Body Shop, etc. There are shops on Takeshita-Dori that offer clothes, accessories and shoes for every taste. This place attracts fans of youth fashion.
Harumi-Dori pedestrian street leads to the largest wholesale market, Tsukiji. This is where most of the food that is consumed by the people of Tokyo comes from. Japanese electronics and appliances can be purchased in the Akihabara shopping area. This is the All Japan Electricity Fair, which has over 600 stores. Next to the market is the Hama-rikyu palace garden, which was previously the country house of the shoguns..
While walking around Tokyo, pay attention to the following attractions:
Emperor's Palace and Garden;
Tokyo TV Tower;
Meiji Temple, built in honor of one of the emperors;
the picturesque Happoen Garden - an example of Japanese art;
Asakusa Buddhist Temple.
There are few old buildings in Tokyo. Most of them were destroyed by the earthquake in 1923, as well as during the Second World War..
Features of urban development
The layout of the city is very confusing. This is a traditional feature of Tokyo, which originally arose as a refuge for residents during internecine feudal wars. It is easier for foreigners to navigate Tokyo by dividing the main districts by industry. For example, banknotes were previously printed in Ginza, but now trade and finance are concentrated there. Tsukiji is considered a fishing area, and Yoshiware is a place with free morals..
Tokyo street photos