Independent travel to Amsterdam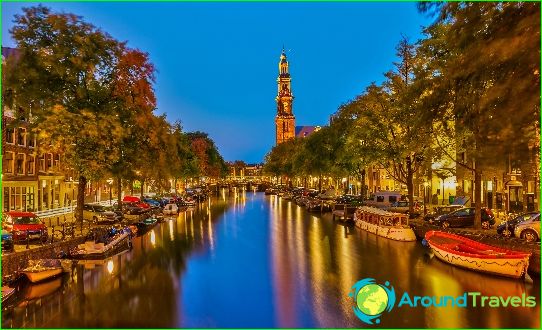 The capital of the Netherlands is a remarkable city in every respect. From him, as a rule, travelers begin a tour of the country of tulips, windmills and wooden shoes..
When to go to Amsterdam?
The climate of Holland in general and Amsterdam in particular is influenced by the proximity of the sea, and therefore the north-western squally wind even in the middle of summer requires you to carefully consider the choice of clothing for travel. The best option is a tight raincoat in a backpack, because the July maximum of +25 degrees can be smeared with frequent rains and dampness. Going on winter tours to Christmas Amsterdam do not forget about the possible subzero temperatures.
How to get to Amsterdam?
4.5 million tourists annually arrive in Amsterdam mainly by air. Schiphol Airport accepts flights from all over the world. After getting off on Dutch soil by the ladder and passing all the controls, you can take a taxi (an expensive option) or go to the city by train, which starts from the platform under the main airport lobby. It will cost at least ten times less. The train arrives at the main station of Amsterdam in the heart of the city.
Getting around the city is best done with the Amsterdam Pass, which is the same for all types of transport, which also gives you the right to visit many museum exhibitions. Sold in VVV Tourist Offices. The second popular way to get around the capital of the Netherlands is with a rented bike.
Housing issue
For guests, Amsterdam has prepared a huge number of accommodation options: from strict, expensive elite chain hotels to home pensions and hostels with several beds in one room and shared amenities. Accordingly, the price of the issue for an overnight stay can range from $ 500 to $ 15-20. It is important to book hotels in advance, as Amsterdam is one of the most popular European capitals, especially during the holidays..
Argue about tastes
In democratic Amsterdam, you can find restaurants with a wide variety of world cuisines, so there is no need to feel nostalgic for the usual lunch or breakfast. The time when problems with food in the Dutch public catering may arise - from 4 pm to 6 pm, when lunch is already over, and the staff sets tables for dinner. In expensive and iconic places, they should be booked well in advance..
Informative and fun
In Amsterdam, numerous canals and bridges, Dam Square and the famous "Red Lanterns", the Royal Palace Museum and the Freedom Monument are worth visiting. In summer, the city looks best during a boat trip, which is given the right to take the same Amsterdam Pass..


Photos of the trip to Amsterdam