Excursions in Amsterdam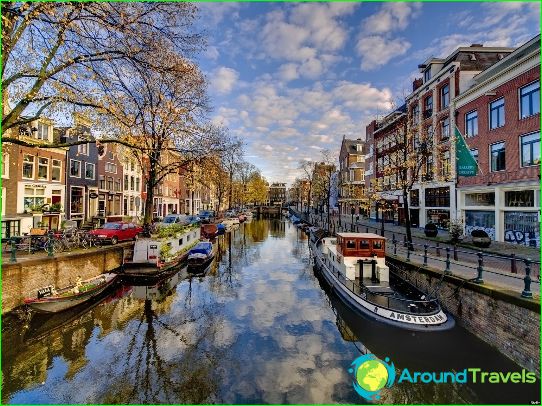 The wealth and luxury of this amazing and small city in Europe simply amazes everyone who comes to the capital of the Netherlands for the first time. The history of Amsterdam is more than 700 years old, and therefore there are many unique buildings of the past, especially in the historical center of the city. Precisely the 17th century, which is usually called here only as "golden", the city owes its transformation into one of the richest capitals in the world. Tours in Amsterdam are very different. After all, someone wants to visit museums, of which there are plenty here, others dream of visiting temples, churches and cathedrals or taking an exciting boat trip. Many people are interested in visiting medieval castles ... And there are also many who wish to look into the hot neighborhoods.
The tastes of tourists and vacationers are different, and therefore excursions are organized in this city in such a way as to satisfy the interests of everyone, if possible. Many will love the tour called "Amsterdam - a city without borders". Tourists will be interested to know that it is here, in the capital, that there is a factory where diamonds are "lit up" with the skilful hands of craftsmen with all the colors of the rainbow. It is here that they create a real miracle - diamonds, as a result of which they have 121 facets! During the excursion, you will see the university, walk along the embankment of the Amstrel River, where floating houses feel comfortable, visit the New Market. Museums will also be presented to your attention:
The Wax Museum;
Museum of the history of the capital;
Rembrandt House Museum;
Van Gogh Museum and others.
Amsterdam is a city of contrasts
It is a city of different cultures and peoples, which many contemporaries call nothing other than modern Babylon. And how else to call it if people of more than 175 nationalities live here! Sightseeing tours in Amsterdam are very diverse. Here you can leisurely walk for hours along the city streets, admire many historical buildings, ride boats, visit museums. The breath of history is felt here literally at every step. Excursions around the capital are offered on foot, on private yachts along the canals, by boat, by car.
In just one hour, for example, by taking part in a boat tour of the canals, you can see up to 100 attractions in the historic city center, many of which are UNESCO Heritage Sites. You will swim under the most beautiful bridges, you will be able to admire the buildings of the Golden Age, merchant houses, many churches and cathedrals.
Excursions in rural Holland, an evening excursion with a visit to the Red Quarter, as well as excursions with a tour of the castles of the Middle Ages are of interest. Any excursion is a lot of impressions, pleasure and an opportunity to learn new things for yourself.


Photos of excursions in Amsterdam