Netherlands cuisine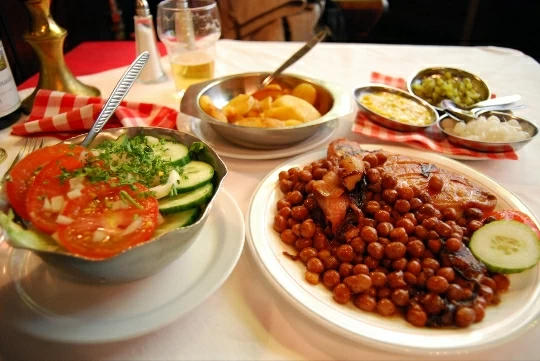 The cuisine of the Netherlands is simple dishes with a memorable pleasant taste: they are hearty, uncomplicated and solid in a country style..
National cuisine of the Netherlands
Fish and seafood are held in high esteem in the Netherlands: the most traditional dish is called haring, which is lightly salted herring with pickled cucumber and onions (grab the herring by the tip, tilt the head back and put the fish in your mouth). In addition, herring is eaten here with various cereals, potatoes and vegetable side dishes. From fish dishes you can enjoy stewed pike perch with vegetables, smoked eel, eggs and lemon, fried fish meatballs, and meat dishes - sausages "vorsties", stewed pork legs, meat croquettes, deep fried. And for sweets, you should take a closer look at small pancakes with butter and powdered sugar ("poffertyes") and round waffles with caramel filling ("stropwafli").
Popular Dutch dishes:
"Erten-soup" (a soup to which smoked sausage and crushed peas are added);
"Stamppot" (a dish of grated vegetables with mashed potatoes);
"Hootspot" (a stew of beef stew with mashed vegetables in the form of potatoes, carrots and onions);
"Kipsate" (a dish in the form of small chicken skewers with hot peanut sauce);
"Gutspot" (stew of meat, potatoes, onions and carrots).
Where to taste the national cuisine?
No one will have any difficulties with a snack in the Netherlands (in extreme cases, you can use the services of street tents and cafes at gas stations), which cannot be said about high-quality and healthy food - even in the capital it is not so easy to find restaurants exclusively with local cuisine. Tipping in local establishments is left at will (you can leave 5-10% of the total amount of the bill).
In Amsterdam, you can satisfy your hunger in the Dutch restaurant "The Pantry", where guests are treated to a casserole of minced meat, mashed potatoes, onions and cauliflower; goat cheese croquettes with arugula and honey mustard sauce; gutspot and other traditional dishes.
Cooking courses in the Netherlands
In Amsterdam, you can attend culinary master classes on smoking eel - a Dutch delicacy (at an entertaining 2-3 hour seminar, those who wish will reveal the intricacies of its preparation and allow them to cook it on their own). The boutique hotel "The College Hotel" (Amsterdam) sometimes pleases guests with culinary master classes, where they, together with the chef, prepare Dutch herring and other popular dishes.
A trip to the Netherlands can be matched with the Preuvenement Culinary Festival (August, Maastricht), where you can get food and drinks with special preuvenelap coupons, or the Hemp Festival (November, Amsterdam), which will offer visitors to get acquainted with hemp food.


Photos