Tours to Rotterdam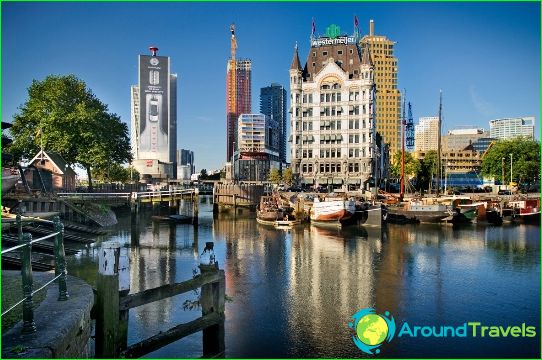 Until recently, the port of Rotterdam was considered the largest in the world, and the city itself is the second largest in the Netherlands. It stretches at the mouth of the Nieuwe-Meuse river that flows into the North Sea, and its rapid flowering is entirely due to its favorable geographical position. The modern European traveler books tours to Rotterdam for several reasons, including the opportunity to admire the futuristic architecture, unwind in a coffee shop and fully enjoy the nightclubs, each of which will not be enough for a lifetime..
Historical transformations
Having received the status of a city from the Count of Holland in the middle of the 14th century, the settlement of Rotterdam, which until then was a fishing village, quickly justified the trust placed in it. Having become a major port in the North Sea, the city in the 17th century unexpectedly even for itself found itself at the crossroads of waterways from Europe to Asia. Rotterdam overtook world fame, and with the commissioning of a canal for the passage of ocean-going ships, it turned into a seaport on a planetary scale.
The modern metropolis is annually visited by about four million people who want to join the culture and history of Holland, and tours to Rotterdam are no less popular than to other cities of the Old World.
What to join?
In addition to the traditional visiting program, which invariably includes tasting a few unusual coffee in coffee shops and a couple of hundred kinds of cocktails in clubs, a visitor to Rotterdam can experience a different kind of Dutch sights. For example, visit the Port Museum, where about half a million exhibits are concentrated about the sea and everything connected with it..
The lucky ones who have booked tours to Rotterdam at the end of July will have to plunge into the amazing atmosphere ... of the Caribbean carnival. Zomercarnaval is able to surprise with variegated colors and fiery music, while the mood will fully correspond to the Cuban or Dominican rhythms.
Under the cool sun
The climate in Rotterdam is quite cool, and high humidity and wind are sure signs that a vacation is taking place in the Netherlands. Winter is mild here, snow is very rare, and the thermometer rarely drops below 0 even on a January night. It is difficult to wait for the heat in summer, and the main temperature values ​​in July-August do not exceed +22. However, during a summer tour to Rotterdam, many travelers manage to get to the beaches along the river and sunbathe there for their own pleasure..


Photos