Trip to the Netherlands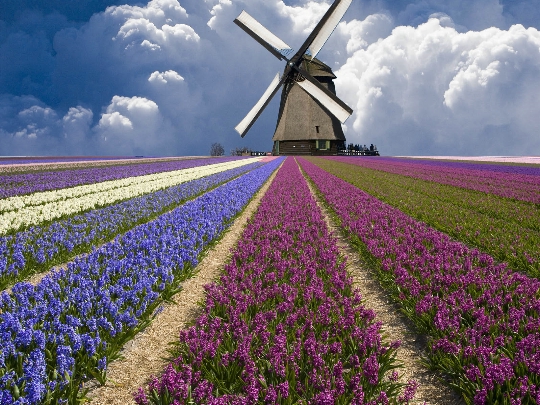 The state of the Netherlands is often called Holland, which is famous for its more than democratic attitude towards soft drugs. But you need to remember that Holland is just one of the provinces of this beautiful kingdom. A trip to the Netherlands is an opportunity to admire medieval castles, huge flower fields and windmills.
Public transport
A unified transport system has been introduced on the territory of the cities, including buses, tram and trolleybus lines. Cities are zoned internally and a travel ticket must be composted every time you cross the border of a new transport zone. Fares go up at night.
The cost of a one-way ticket (valid for an hour) is 1.5 euros. That is why it is much more profitable to buy a reusable ticket: it contains 15 coupons, which cost 5 euros. You can also buy one-day tickets (price 6 euros) and single passes, calculated for use within 9 days for 22-30 euros.
You can get around Amsterdam by buses and trams. There are also four subway lines and the same number of ferry crossings..
If necessary, you can use a taxi. You can order a car by calling by phone, or by taking it at a specialized parking lot. The cost of the trip is as follows: 2 euros per landing; additional payment for each kilometer traveled approximately 1-1.5 euros.
The inhabitants of the kingdom are very fond of using bicycles as a means of transportation. Their total number even exceeds the total number of people living in the country. There are special lanes on the roads for cyclists, and practically at every corner there are parking lots for bicycles..
Air transport
The main airport complex in the Netherlands is Schiphol. This is where both international and domestic airplanes land. If necessary, you can use the storage rooms, get the necessary information and use the rental of a cell phone.
There is a free city bus from the airport to the capital of the country.
Railway transport
Modern trains run on the country's railways that strictly follow the stated schedule. Most of the transportation is carried out by trains of the Nederlandse Spoorwegen company.
Trains run between major cities of the country at intervals of 15-30 minutes. The main junctions are Amsterdam and Utrecht. Most of the trains are classified as "fast". There are regional trains making stops at all stations (Stoptrein).
The type of train has no effect on the fare. There are also no additional payments. At the same time, the fare is quite low. If you plan to make a large number of trips, then you should use the EuroDomino Netherlands ticket.


Photos