Colombo airport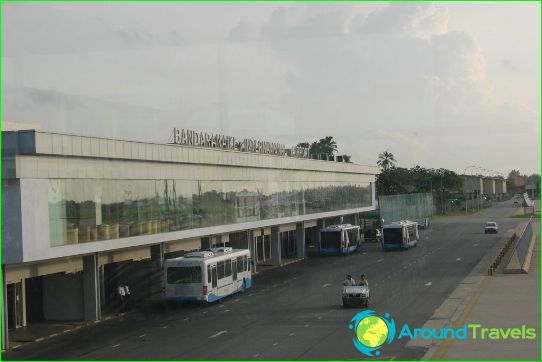 Bandaranaike Airport is one of the three international airports in the Democratic Socialist Republic of Sri Lanka. The airport is 35 km away. from the largest city of this republic - Colombo. The city's air gates cooperate with many airlines around the world, including Russian ones. However, it should be noted that there are no direct flights to Colombo airport, only with transfers.
History
Colombo International Airport was built by the British in the early 1940s at Katunayaka. Its original name was Katunayaka Royal Airport. During the Second World War, this airport was used as a base for the Air Force..
After the war, the airport could no longer cope with the increasing flow of passengers. Therefore, in 1983 it was expanded and renovated..
Services
The international airport in Colombo is in general in no way inferior to other airports. In addition to the main passenger terminal, the airport also has 3 cargo.
Among the services for passengers can be noted: bank offices, ATMs for cash withdrawals, currency exchange, cafes and restaurants, shops, mother and child room, etc..
If necessary, you can ask for help at the first-aid post, which is located right in the airport terminal..
For business class passengers there is a deluxe waiting room.
Work organization
The staff at the airport in Colombo is very efficient. Passport control, as well as baggage claim, is pretty quick. Always in the arrivals hall «green exit», so there are no queues here.
An exception, perhaps, will be customs inspection at departure. There are sometimes queues here, but in general it moves fast enough.
Transport connection
There are several ways to get to the city from Bandaranaike Airport:
Taxi. The taxi rank is located outside the terminal. The cost of the trip will be about $ 10. It should be added that when traveling in a large company, you can hire a minivan, which will cost a little more - around $ 15.
Bus. A bus stop is located 500 meters from the terminal. It can be reached either on foot or by shuttle buses, the interval of which is 15 minutes. Bus number 187 leaves for the city with an interval of 15-30 minutes. The fare will be slightly less than a dollar, and the travel time will be up to 2 hours.
Rented car. On the territory of the terminal there are stocks of companies that provide cars for rent.
Photos Colombo airport