Beaches in Sri Lanka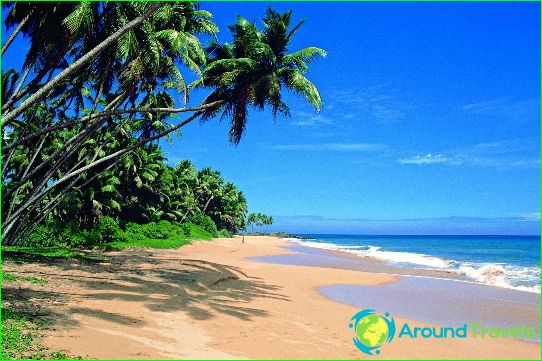 Sri Lanka can rightfully be called a paradise: there is no fuss, noisy entertainment, discos until the morning. Life here is unhurried, locals and numerous tourists enjoy the sun all year round: even in January, the air temperature is +29 ºС.
Holidays on the island will appeal to many:
families. The main entertainment here is well suited for families: fishing, picnics in nature.
those who want to be in peace and quiet. Sri Lanka's beaches are often completely deserted;
history lovers can see ancient monuments and relics, taste a cup of real Ceylon tea;
those who want to enjoy the beauty of the ocean and go diving: the water here is clear, and at the bottom you can see bright corals and schools of fast fish.
The coast is thousands of kilometers of soft sand and thickets of coconut trees. From November to March, cloudless weather is established on the southern and western coasts, and in the period from April to October, a comfortable climate can be enjoyed on the eastern side of the island..
Weligama
The resort is located in a picturesque bay. The eastern part of the coast is especially popular with surfers, while on the western side the water is calm and calm. The bay is surrounded by soft sand and dense greenery. Even the locals love to relax in Weligama. There are excellent conditions for fishing, so this is the main industry in the village..
Bentota
One of the popular beach spots is located on the sandy spit of the southwestern side of the coast, in the city of Bentota. Outdoor enthusiasts can go sailing, rent surfboards or diving equipment. Couples in love can have a romantic dinner with local palm wine. The city has an airport, the ruins of a Buddhist temple, a nature reserve where you can see turtles.
Tangalle
The best sandy beaches of Sri Lanka are part of the Tangalle city complex. The local landscapes are incredibly beautiful: the warm turquoise sea, dense greenery of palm trees and the gentle sun make them charming. The coast is quiet and deserted, you can walk several kilometers and not meet a single person. Shells of all sizes and colors lie on the sand, you need to be careful in the water and not bump into blocks of stones.
Negombo
There is a recreation area to the north of the city. It is not far from the airport, there are an abundance of inexpensive hotels on the coast, so there are a lot of people on the coast. Tourists prefer to take a break in Negombo after an exhausting flight before starting their journey around the island. In the turquoise lagoon, divers can see a sunken ship turned into a reef.
Rest on the island gives peace and allows you to feel like a part of nature. Sri Lanka will become the dream of everyone who wants to take a break from the dullness of everyday life and eternal haste.
Photos of the beaches of Sri Lanka

Beaches in Sri Lanka