Traditional Sri Lankan Cuisine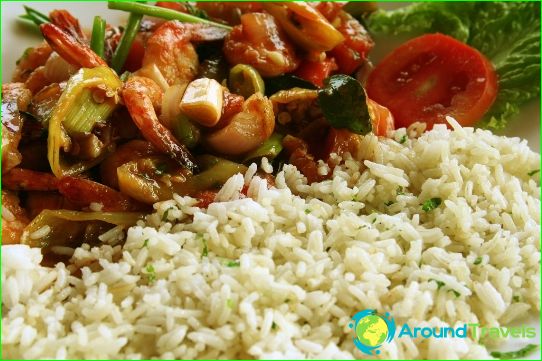 Food in Sri Lanka is characterized by the fact that the local food is quite spicy and very spicy. In addition, it cannot be called varied and exquisite, since the basis of Sri Lankan cuisine is vegetables, rice, fish, which are seasoned with various spices (ginger, turmeric, black pepper, chili, coriander, cinnamon, garlic).
Food in Sri Lanka
The diet of Sri Lankans consists of vegetables, herbs (lettuce, cilantro, dill), rice, fish (tuna) and seafood (lobsters, crabs, shrimps), curries, legumes.
Local cuisine is more vegetarian-oriented: Sri Lankans rarely eat meat - mostly chicken. But in order to please tourists, pork, lamb and beef dishes are prepared here, despite the fact that it is forbidden to eat beef here (a cow is a sacred animal).
In Sri Lanka, it is worth trying small fish, which is crushed to a powdery state (umbalakada); pancakes made with rice flour and coconut milk (hoppers); Rice vermicelli, rolled and steamed (string hoppers); sri Lankan chicken curry.
If you decide to cook on your own, then early in the morning (at 4 a.m.) it is worth going to the fish market to buy a fresh catch of various types of fish and seafood. Such a purchase will cost you relatively inexpensively, especially since in this case you can eat as much seafood as you want..
Where to eat in Sri Lanka? At your service:
cafes, restaurants, local inexpensive eateries;
street trays;
fast food restaurants (McDonalds, KFS, Pizza Hut);
cafes and restaurants where you can order European and international cuisine.
Drinks in Sri Lanka
Popular drinks in Sri Lanka are coconut milk, palm nectar, tea, fruit juices (from mango, oranges, papaya), lassi (a drink made from yogurt, fruits, sugar and ice), Ginger beer (this drink is called beer, although it contains no alcohol: it looks like lemonade with ginger flavor and aroma).
If you are a lover of alcoholic beverages, then finding them in Sri Lanka is quite problematic: alcohol is sold only in specialized stores ("Wine Stores"). There are not many of them in the country, so it may happen that you have to go to another city for beer. The situation is much simpler in cafes and restaurants - alcoholic beverages are sold here without restrictions (here you can buy imported alcoholic beverages, but their prices are high). If you are interested in local alcohol, then you can try coconut arak (vodka), beer ("Anchor", "Lion"), whiskey, gin.
Food tour to Sri Lanka
Gourmets can enjoy the national cuisine by going to the Sri Lanka Culinary Festival, during which you can immerse yourself in the country's culinary traditions by tasting local dishes. And by visiting the village of Ella, you can not only visit tea plantations, but also taste delicious, national, homemade dishes.
Sri Lankan food will amaze gourmets with its taste and aroma.
Photos of national dishes of Sri Lanka