Holidays in Sri Lanka in August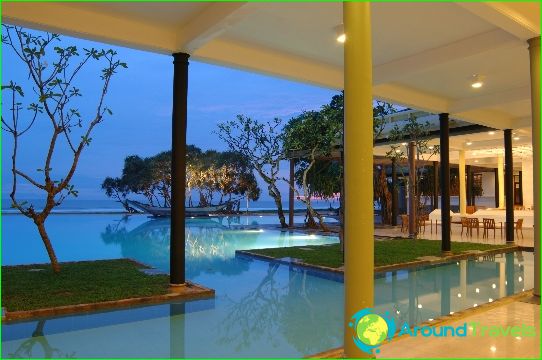 On this amazing paradise island, it is still rare to meet a Russian-speaking tourist. Many are stopped by the flight, which will take a long time and take a lot of energy. Others prefer more popular tourist countries with a wide range of services and entertainment..
Holidays in Sri Lanka in August, most likely, will be preferred by those brave travelers who have already visited more than a dozen exotic places, and are longing for a quiet, secluded pastime. Lovers of the history of ancient India will also find many interesting monuments and amazing temple structures on the island..
August weather
The last month of the calendar summer is not very comfortable for visiting Sri Lanka. No one can guarantee good weather throughout the rest period, as the southwestern monsoons come to power, surrounded by a rainy retinue. It is worth paying attention to the Ceylon resorts that occupy the northeastern territories of the island, where the weather conditions are much more favorable..
Powerful winds affect the sea, it is restless. Scuba diving opportunities diminish among tourists, as visibility under water deteriorates. The temperature in August is not much different from the neighboring months, the same + 30 ºC in the air, +28 ºC in water.
Journey to Lion Rock
This is how the name of the rocky plateau Sigiriya, which occupies the central places of the island, is translated from Sinhalese. For more than 20 years, the plateau has been included in the UNESCO List of Natural Monuments. Once upon a time, a fortress was built on this plateau, which even well-armed soldiers could not take..
Today, only traces of its former greatness have survived, in search of which many tourists come here. A huge figure of a lion was carved into the rock (hence the name), and people entered the fortress through the mouth. Unfortunately, only paws remained from the sculpture of the animal, but they also amaze the tourist with their size and skill of the ancient architects who created this masterpiece. The second attraction of the fortress is the frescoes depicting women concubines..
In addition to visiting the ancient fortress located in the mountains, tourists can go to the ancient monasteries of Kandy, to historical relics or the most beautiful waterfalls of Nuwara Eliya. You can choose an excursion-walk in any of the nearest national parks, where exotic animals and plants await the curious guest.
Photos of rest in Sri Lanka