Sri Lanka island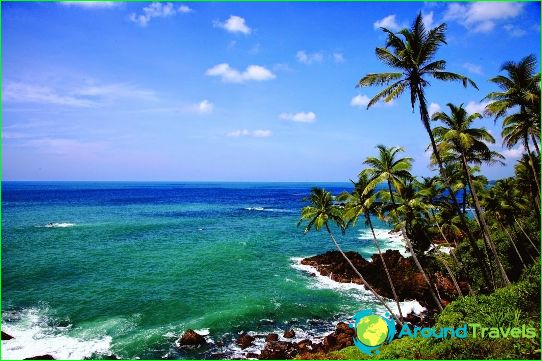 Sri Lanka, located south of India, is considered a unique island. It is a heavenly place with a rich history. The island of Sri Lanka is a state that is separated from the mainland by the Mannar Strait. Indian mythology testifies that earlier Sri Lanka was connected with India by a land bridge. Some fragments of this building have survived to this day..
Sri Lanka is one of the most ancient civilizations in the world. The country has preserved a distinctive culture that began to develop even before our era. Numerous ruins of ancient capitals are hidden in the forests of the island. Initially, these lands were inhabited by the Veddas - pagans. Europeans knew about Sri Lanka even before the birth of Christ. Religious sources mention the country as the oldest Buddhist center.
Sinhalese live on the territory of the island state, making up the majority of the population. In addition to them, there are Tamils, Malays, burgers, muras, Veddas and infidels. Almost all local residents use the Sinhalese language, which is of Indo-Aryan origin. The official languages ​​of the country are Tamil and Sinhalese. Recently, people are actively using English, which has become the main means of communication in the field of tourism and trade..
Politics and economy of the country
Today, Sri Lanka is a unitary republic under the leadership of a parliament and a president. The official capital is Sri Jayawardenepura Kotte, but unofficially, Colombo is the main city of the state. Until the end of the last century, the country was referred to as the island of Ceylon. In 1955, Sri Lanka became a member of the UN and also joined the British Commonwealth. A fast-growing economy allows it to actively move in the direction of industrially developed countries. Previously, Sri Lanka became known as the largest exporter of coconuts, tea, cinnamon, rubber, semi-precious stones and coffee. Today the country is developing manufacturing, processing industry, financial sector and telecommunications. Sri Lanka has a well-developed economic coastal area. In addition, rich oil fields have been discovered in the Gulf of Mannar..
Climatic features
The island of Sri Lanka is a territory dominated by an equatorial climate. The weather is always warm here. It is never too hot on the island, as the air temperature decreases slightly under the influence of oceanic winds. It is coldest in the central highlands. The climatic conditions of the island vary, depending on the height above sea level. The coast is very hot day and night. A more temperate climate is observed in mountainous regions. In areas where tea plantations are located, evenings are cool and nights are cold..
Pictures of Sri Lanka