Taxi in Sri Lanka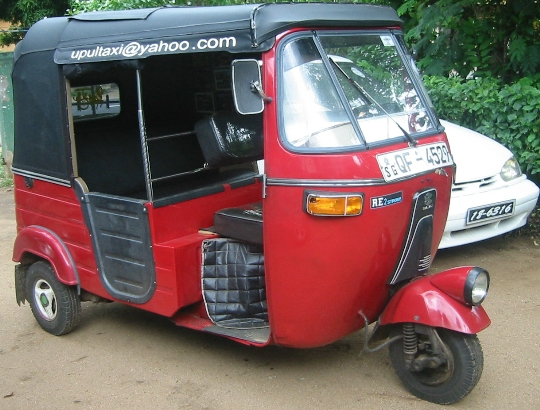 Taxi in Sri Lanka is the most popular way to get around this country. Of course, you can use other modes of transport here, for example, by bus, but there is little pleasant from such a trip, because it moves at a minimum speed..
Taxi types
There are several types of taxis in this country: minivan, budget taxi, car. You can order a regular car or minivan for a group trip of 6 to 12 people. The budget taxi, which operates in small cars, is gaining more and more popularity today. A trip by such transport costs almost 30% less than by a simple passenger car..
Things to Remember
Tourists need to know that some roads in this country are toll. If you choose a route along them, you will save your time, but it will cost additional funds. On average, the amount can range from $ 1 to $ 5.
Not all taxis have a meter, because here this transport is used for trips for several tens of kilometers. If you need to drive around the city, it is easier to hire a rickshaw.
Taxis in this country, as a rule, stand at large parking lots, which are located near the airport or at the railway station. The cost of a trip from here can be more expensive than calling a car by phone.
Price
The fare will be determined by the local tariff, for example, eight rubles for a landing and a kilometer of the way, if translated into local currency, it is 30 LAN. rupees. For the subsequent mileage 7 rubles per kilometer or 26 LAN. rupees. Given that in many areas taxi drivers do not use the meter at all, on average a tourist will be asked about 19 rubles per kilometer. If you move around the city, then the minimum amount that will be charged from you for one kilometer of the way is 27 rubles, in local currency it is 100 LAN. rupees.
As already mentioned, on some routes the fare will be fixed and more expensive than on the counter. For example, for a trip to Bandaranaike Airport from Colombo, you will have to pay about 1500 LAN. rupees.
It is not customary to rent a car here, because the traffic is left-hand and it is difficult for tourists to find their way. Precisely because the prices for taxi services in this country are considered one of the cheapest in the world, tourists can quite afford to travel around the country by taxi..
You can't find private cabbies here, all taxis, including «knock Knock», stand in specially designated large parking lots. Taxis can be called by calling Colombo + (94 11) 281-88-18 or + (94 11) 281-88-18. There is no additional charge for the call, as well as for idle traffic. Actually, traffic jams are not typical for this country, but there are very unusual traffic rules here, and not only for drivers, but also for pedestrians. That's why it's better to hire a taxi.
Photos of taxi in Sri Lanka