Prices in Sri Lanka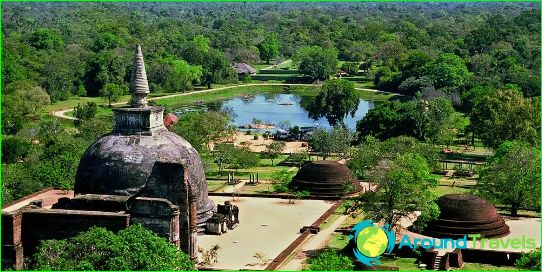 Compared to South Asian countries, prices in Sri Lanka are relatively high. In addition, the cost of staying in popular tourist resorts is two or more times higher than in rural areas of the island..
Shopping and souvenirs
When going to shopping in Sri Lanka for products made from rubies and blue sapphires, it is advisable to go to large local stores that issue a state certificate (otherwise there is a great risk of running into scammers).
In memory of Sri Lanka, you can bring:
batik and cotton products, leather products, wooden crafts, masks, jewelry (earrings, bracelets, brooches, rings with precious and semi-precious stones), Sri Lankan cosmetics, Buddha figurines, elephant carvings, leather souvenirs (belts, travel bags, briefcases) ;
ceylon tea, spices (cardamom, nutmeg, pepper, cinnamon, cloves, curry, ginger), red rum, arak.
In Sri Lanka, you can buy handmade masks covered with natural paints from $ 35, local cosmetics - from $ 5, leather souvenirs - from $ 26, Buddha figurines - from $ 38, Ceylon tea - from $ 3/1 package, products porcelain - from $ 15, jewelry with precious stones - from $ 8, spices - from $ 3.5 / 1 kg, coconut arak - from $ 8.
It is worth considering that corals, seashells and antiques cannot be exported from Sri Lanka (this is illegal and involves a fine).
Excursions and entertainment
If you go on an excursion "Kandy culture", for a full day, you will visit the Pinnawala elephant nursery, the Buddha Temple and the spice garden. Lunch can also be arranged for you. The approximate cost of the excursion for a group of 2-3 people is $ 160, and for a group of 4 people or more - $ 130.
If you wish, you can devote the whole day to rafting, going on an exciting trip to the small town of Kitulgala (your rafting will take place along the river of the same name). The approximate cost of an excursion for a group of 4 people - $ 130.
The entertainment program on the island can be quite extensive. So, a visit to the elephant nursery will cost you $ 10, the Botanical Garden - $ 10, the National Park - $ 10-25, a two-hour river walk - $ 15.
In addition, in inexpensive centers you can undergo Ayurvedic procedures: a 45-minute general body massage with medicinal oils costs about $ 15, and a 15-20-minute visit to a wooden steam bath with medicinal herbs - $ 10.
Transport
You can move around Sri Lankan cities by a popular form of transport - a three-wheeled motor scooter (tuk-tuk): for 1 km of run you will pay about $ 0.2. And a trip by a traditional taxi will cost you about $ 0.4-0.5 / 1 km..
Local buses will cost you the cheapest way - for 1 km you will pay only $ 0.007-0.02. But many buses have terrible technical equipment and are outdated models..
If you are not averse to saving money and choosing the right accommodation and resort, then in Sri Lanka you can relax at quite reasonable prices ($ 25 per person per day).
Photos