Colombo - the capital of Sri Lanka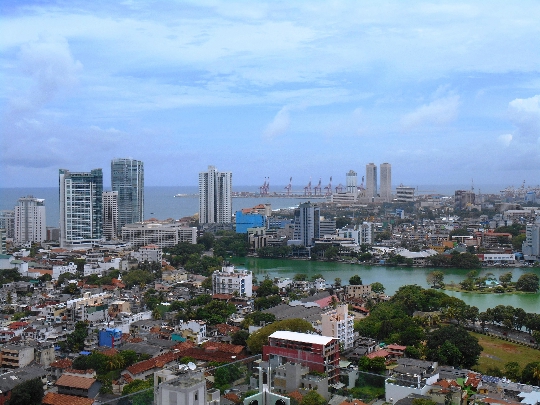 A fairly small state located in the Indian Ocean, it is surprising that the official capital of Sri Lanka and the actual one are located in different cities. The country's parliament and Supreme Court are located in a city with a name that is almost impossible to remember or pronounce - Sri Jayawardenepura Kotte. Maybe that's why all tourists love the second capital - Colombo. This is where the government and the president are located. In addition, guests prefer cultural as well as historical sights than the rich city of Colombo..
City of a Thousand Temples
In Colombo, indeed, any tourist can find a large number of cult and religious buildings, even without using a map. There are Christian cathedrals, Muslim mosques, as well as temple complexes of supporters of Hinduism and Buddhism..
One of the most beautiful Buddhist complexes in Colombo is Kelaniya-Raja-Maha-Vihara. This is one of the classic examples of beautiful Sinhalese architecture. Inside it, on the walls, there are a large number of frescoes depicting certain scenes from the life of the Buddha himself..
In addition, the following temple structures are considered the most popular:
Cathedral of Saint Lucia;
Ul-Alfar Mosque, built of white and red bricks;
Hindu Temples - Ganeshan, New and Old Katiresan.
All of them are of interest to travelers keen on architecture, although they are worthy of the attention of any guest. Thousands of magnificent photographs of general views of temples, fragments of decor, frescoes and paintings remain as a keepsake..
Unofficial city walk
In addition to religious buildings, there are other equally beautiful places in Colombo. Firstly, it is worth going for a walk around the square and park, located on the coastline. Tourists are attracted by the tower, crowned with a clock, an old lighthouse. Secondly, acquaintance with the unique nature of Colombo can be continued in other places, for example, take a walk in the central park «Victoria» or visit «Sinamon Gardens» - famous metropolitan gardens.
It is best to get acquainted with the animal world of the country not in the wild, but in the local zoo, which is located ten kilometers from Colombo. In addition to various predators, such as tigers, leopards, you can see many other representatives of the fauna of Sri Lanka here. But the most striking sight that awaits tourists is the performance of trained elephants..
Colombo - Sri Lanka (recreation and tourism)
Photos