South of Sri Lanka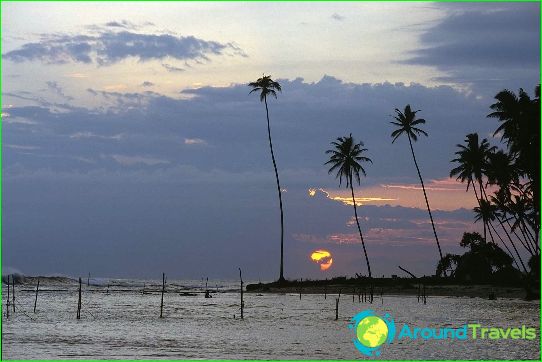 Going on vacation to the south of Sri Lanka, you will be able to:
- go rafting, windsurfing, snorkeling, surfing, diving, playing golf;
- improve your health thanks to Ayurvedic procedures (relaxation, meditation, aromatherapy, massage);
- taste Sri Lankan cuisine.
Holidays in resorts located in South Sri Lanka
Hikkaduwa
Divers from all over the world flock to this resort place to admire the coral gardens, various species of fish and other marine life of incredible colors and shades..
The main attractions of the resort are located within the beach - in addition to the fact that there is an underwater coral reserve here, you can pet and feed sea turtles, entrust your body to the masters of Ayurvedic massage, relax on the yellow sand, go surfing or diving. Not far from Hikkaduwa, at a depth of 15-25 m, there are 2 sunken ships, access to which is completely free. You can see them without plunging into the water - all you need to do is rent a boat with a transparent bottom..
As for the evening relaxation, if you wish, you can admire the sunset, go to the lake, try cocktails at the Mambos beach bar or go to the Vibrations disco.
Bentota
The resort attracts not only beach-goers, but also active tourists who go on yacht trips, water skiing, catamaran, banana, canoe, scooter, fishing, diving, surfing, archery, playing tennis, volleyball, golf.
Concerts, theatrical performances, masquerades are often organized in Bentota, and puppet shows are staged for young guests, which makes the resort attractive for families..
Curious tourists should visit the sights located in the vicinity of the city - the village of fishermen, the Hatchery (sea turtles are bred here), the Bentota mask factory.
If you wish, you can organize a water safari on the Bentota Ganga River or a trip to the ruins of the Galapata Vihara complex.
Dikwella
At the Dikwella resort, you can relax on golden beaches, admire waterfalls and tropical vegetation, improve your health with Ayurveda, rock climbing, trekking, rafting, paragliding, windsurfing ...
In the vicinity of Dikwella, you can see unique architectural structures, in particular, the Buddhist temple Wewurukannala Viharaya.
In addition, the diver will have the opportunity to see the underwater coral gardens and sunken ships, plunging into the waters of the Dikwella coast..
If you have a desire to purchase seafood delicacies, you can do this by visiting the seafood market.
The south of Sri Lanka welcomes its guests with beautiful and clean beaches, national parks (if you wish, you can go on an excursion involving accommodation in tent camps), modern shopping centers.
Pictures of the South of Sri Lanka