Luanda is the capital of Angola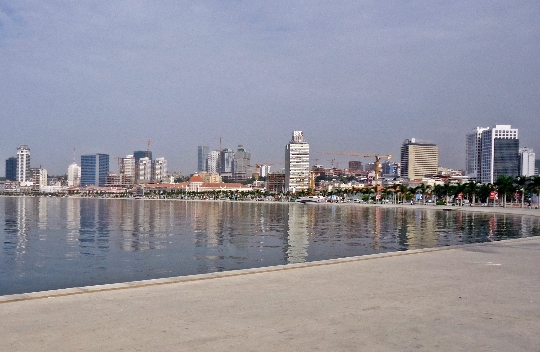 Luanda, the capital of Angola, is in an advantageous geographical position. Firstly, its location is the coast of the great Atlantic Ocean, and secondly, the Kwanza River flows nearby.
In the vicinity of the main city of Angola, savannahs have been preserved, and almost in their original form. This means that tourists, without leaving the area, will be able to get acquainted with the amazing world of African fauna and flora..
History of Luanda
On the map of Africa, a new settlement was recorded in 1575. The founder of the future capital of the Angolan state is considered Paulo Dias de Novais, a colonizer whose roots should be sought in Portugal. The first name of the city - São Paulo de Luanda.
Initially, it was a small settlement of immigrants from Portugal, which grew rapidly, and already in 1605 acquired the status of a city. And by the end of the same century, the administration of the Portuguese colony met here. The city received its modern name only in 1975..
The Portuguese colonialists did not live too sweetly on this land, because they were engaged in the slave trade, and there were many who wanted to seize the territory with such a profitable business. The indigenous population dreamed of freedom and independence, but only in the second half of the twentieth century a new state of Angola appeared, and Luanda became its capital.
Center for cultural development
This is what the capital of Angola is called today. There are schools, secondary educational institutions, a university, the Academy of Music. There are two museums in the capital: the Museum of Angola, which displays natural-historical artifacts, and the Dundu Museum, which contains historical and ethnographic collections. Literary monuments, the creations of Angolan writers are kept in the funds of the National Library, as well as in municipal libraries.
Luanda landmarks
When getting acquainted with the architecture of the capital, especially the buildings in the old part of the city, connoisseurs note an undeniable resemblance to Portuguese provincial cities. This is understandable, given that Luanda was founded by people from this country. You can see beautiful old buildings in the Baroque and Classicism style. Important attractions include the Carmelite Church; Church of the Virgin Mary of Nazareth; Jesuit Church.
An interesting fact - the sidewalks in Luanda are paved with amazing tiles, which are as worthy of tourists' attention as architectural masterpieces.
Photos