Coat of arms of Rwanda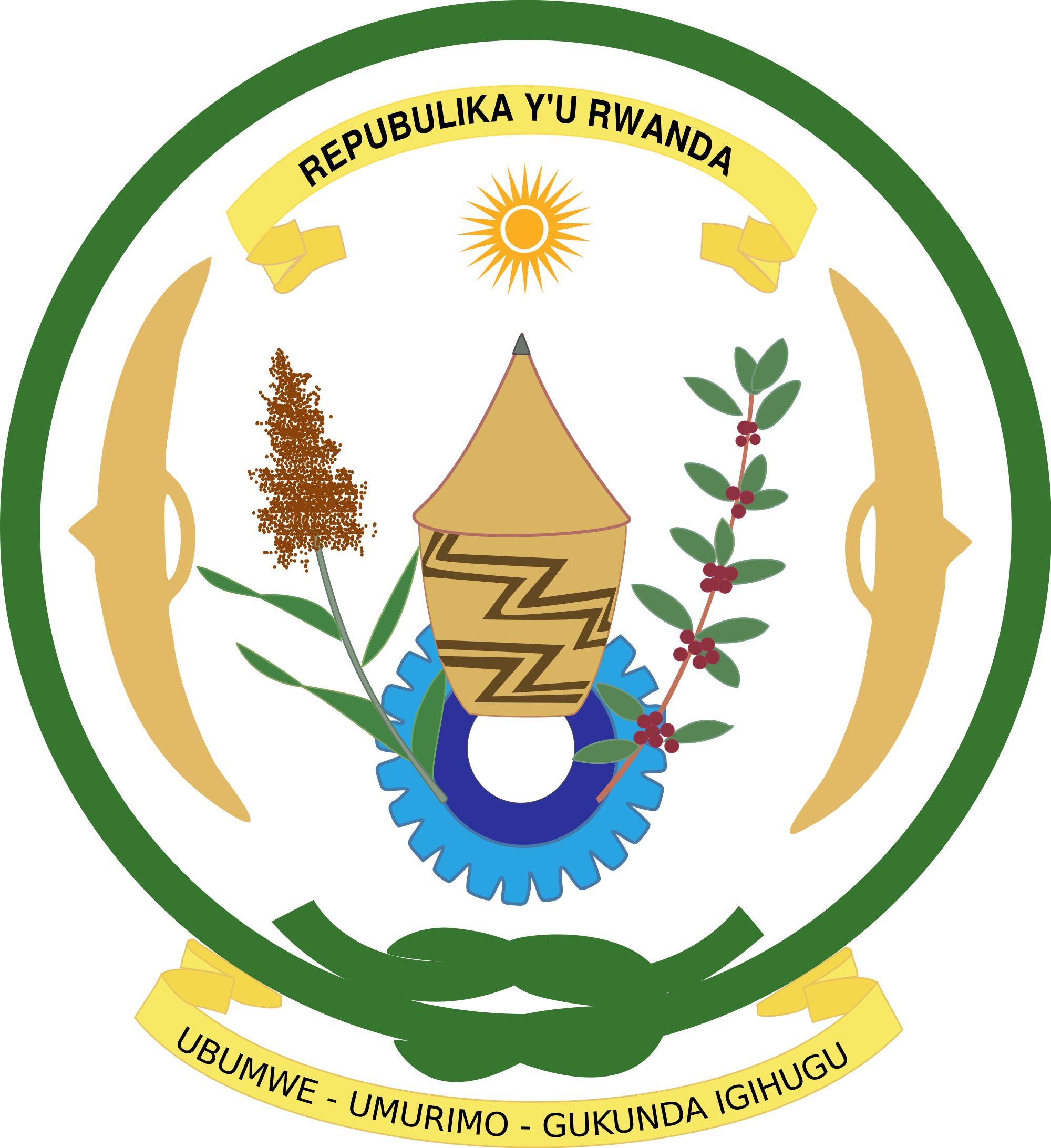 Like many other African countries, the formation of Rwandan statehood was a rather difficult process. First colonized in 1892, the Kingdom of Rwanda first became part of German East Africa, and then came under Belgian rule. And only on September 25, 1961, this country finally managed to achieve independence and finally establish itself within its borders. Also at this time, the modern flag and coat of arms of Rwanda were presented. The latter was used until 2001, when it was replaced by an updated version..
Modern coat of arms
The modern version of the coat of arms was developed and approved in 2001. The new Rwandan government felt that the colors of the old coat of arms were too reminiscent of the previous brutal regime, which the nation is painful to remember. Therefore, this time they decided to develop symbols, completely executed in the colors of the state flag..
The centerpiece of the emblem is a blue and blue wheel with teeth, which is a symbol of the free labor of all tribal classes for the good of the state. Around the wheel are branches of sorghum and coffee tree - the main agricultural wealth of Rwanda. The sale of these very goods now brings the lion's share of the national income. The colors, blue, yellow and green, symbolize peace, development and the richness of the country's nature..
There is also a motto on the coat of arms. It is inscribed on a yellow ribbon located at the bottom of the emblem, and indicate the foundation of the new state - unity, work and patriotism..
History of the coat of arms of Rwanda
The previous coat of arms, which existed from 1962 to 2001, was significantly different from the modern one. Outwardly, it was an emblem located against the background of two red-yellow-green banners. They symbolized peace, the hope of the nation for the future and the development of people..
Before that, for a short period from 1959-1962, the old coat of arms of the Kingdom of Rwanda was in use. It depicts a traditional lion, an East African crane and a basket, a national treasure of Rwanda..
At the time of the mandate territory, such universal attributes as a shield, spears, a lion's head and a crane were depicted on the coat of arms of this country. So the coat of arms of Rwanda could not boast of any special uniqueness..
There was one more coat of arms, which was used as a state coat of arms during Rwanda's presence in German East Africa (Burundi, Rwanda and Tanzania). Of the traditional African symbols, only the lion's head was used here, while the eagle of the Weimar Republic and the royal crown were much more noticeable..
Photos