Flag of Antigua and Barbuda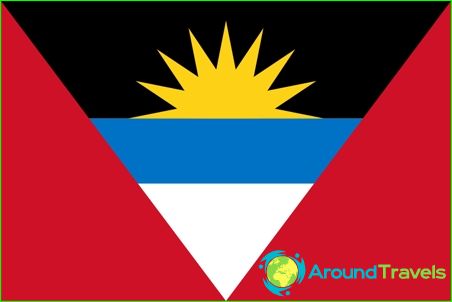 The state symbol - the flag of Antigua and Barbuda - was first raised in February 1967, when the country, a former colony of Great Britain, received the status of an associated state..
Description and proportions of the flag of Antigua and Barbuda
The fabric of the flag of Antigua and Barbuda has a rectangular shape, adopted by the absolute majority of independent world powers. The proportion of the ratio of the length of the flag to its width is 3: 2.
The flag field is made up of three triangles. They are formed by two lines extending from a point located in the middle of the lower edge of the panel. The beams go up and end at the top left and right corners of the rectangle.
Glory and the right lines form two right-angled triangles that are bright red in color. In the center of the flag, the field is horizontally divided into three parts. The topmost one is black with a stylized rising yellow sun applied on it. The middle of the center section is blue and the bottommost section is white.
The colors and symbols of the flag of Antigua and Barbuda are significant and not chosen by chance. The blue color of the banner reminds of the Caribbean Sea, in which the state is located. According to the authors of the flag, blue is also the color of hope for a better life that the country aspires to. The black field symbolizes the African origin of the main population of the state, and the rising sun marks a new period in the history of Antigua and Barbuda. The beams diverging on the flag in the form of an English letter V represent the sign of "Victory" - victory.
The flag is approved for use for any purpose on land and for hoisting on civilian ships and ships of the country's merchant fleet.
History of the flag of Antigua and Barbuda
The Caribbean island nation of Antigua and Barbuda has been a British colony for a long time. All these years, the flag of Antigua and Barbuda has been a cloth typical of overseas possessions. The blue rectangle contained in the upper quarter closest to the flagpole, and on the right half - the coat of arms of the islands in the form of a heraldic shield inscribed in a white disk. The shield depicted the sea, sand, mountain and flowering tree.
In 1967, the state receives the right to self-government and decides to create its own symbols. Six hundred people took part in the competition for the best design of the flag. Won the sketch by artist R. Samuel, which was embodied in the form of the national flag of Antigua and Barbuda.
Photos of the flag of Antigua and Barbuda