Population of Nigeria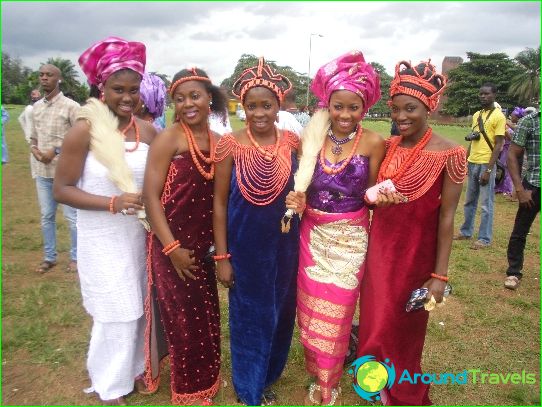 The population of Nigeria is more than 172 million people (Nigeria is the largest state in Africa in terms of population, which inhabits more than 250 peoples).
National composition:
- Hausa Fulani (30%);
- Yoruba (23%);
- Igbo (18%);
- ijo (10%);
- ibibio (3%)
- other peoples (16%).
On average, 160 people live per 1 km2, but a high population density is observed in the southeastern, slightly lower in the southwestern and northern regions, and less populated are the state of Kwara, the center of the Plateau state and most of the states of Borno and Yobe.
The official language is English, but many speak the dialects of their own people.
Major cities: Ibadan, Lagos, Kaduna, Maiduguri, Kano, Port Harcourt, Benin City.
The inhabitants of Nigeria are Muslims, Christians, animists ("pagans").
Life span
On average, Nigeria live up to 47 years.
In the country, only slightly more than half of the people have access to drinking water (purified).
In Nigeria, people often die from diseases such as HIV and AIDS, polio, cholera, malaria.
More and more obese and overweight women are appearing in Nigeria (36% in urban areas, 19% in rural areas).
Traditions and customs of the people of Nigeria
The inhabitants of Nigeria are trying to pass on from generation to generation oral legends and tales about the creation of the world, the first rulers, great warriors and heroes, about the origin of different peoples.
In Nigeria, like no other African country, to this day there are temples that have a connection with traditional religions. In addition, there is a hierarchy of priesthood and secret religious societies..
The modern culture of Nigeria is imbued with folk traditions. This can be seen in wooden sculptures created by the Yoruba or in masks from the Ibibio masters..
Wedding traditions in Nigeria are of great interest. For a girl to be married, she must recover well - otherwise she will be returned back to her parents..
Before the ceremony, the bride must be in a special hut. Before the groom enters her, according to tradition, he must give the guests tobacco and chicken. Only after this does the wedding feast begin with dances, songs, drumming.
Today, more and more Nigerian weddings are being redesigned in a Western manner, so often weddings take place in churches with suits and dresses..
Going to Nigeria? Get vaccinated against yellow fever, exchange money at a bank or exchange office (not the fact that you will be able to use a credit card or traveller's checks).
Since criminals in Nigeria are attracted to foreign currencies, exchange them in advance for local currency in small denominations.
Also, do not forget to bargain in shops and markets (this is customary in Nigeria).
Photos