One of the hotels where I lived in Chaweng (Koh Samui) was Chaweng Resort. The place is quite interesting, but there are a number of buts. Looking ahead, I will say that I personally liked it, but the hotel is clearly not for everybody. It is worth considering before booking a room here. So let's say it's worth considering, either for a change or if you're gravitating towards something old. I hope my review will help you make your choice in one direction or another..
The content of the article
Price and booking
At Chaweng Resort I had a Superior Bungalow for 1976 baht / night (breakfast included). There was also a standard bungalow, it was a little cheaper (1520 baht), but I did not book it, the reviews were worse about it. But these are all prices with a garden view.
If you need a sea view, then you will have to pay extra for it, bungalows closer to the coast are more expensive (standard, luxury, villa). Judging by a quick look at the booking systems, the price does not fall out of season, apparently the occupancy in the resort is all year round.
Hotels in Chaweng>
Be sure (and I insist) to check for discounts or special offers on the excellent Roomguru service. He will quickly and easily show you discounts in all existing booking systems. In Asia, for example, there are a lot of offers on Agoda.com, which are much more interesting than for exactly the same hotels on Booking.com.
For example, here is a direct link to the hotel: Chaweng Resort
The prices are given for reference, it is better to look at specific dates to see what happens there. For example, I got to get discounts, because the standard costs 2,000 baht usually, and the improved one is even more, that is, I lived in the superior at the price of the standard, like this. Checkout at 12 o'clock, but I checked out an hour later and no one said a word to me. That is, they are loyal to such things. Surely, you can ask to leave even later, but it is better to ask.
Interior
To be honest, I was delighted with the hotel. I didn't expect it myself, because I, like many others, do not like the old shabby number of rooms. Judging by the tiredness of the rooms, the rating of 7.4 still corresponds (for Thailand), as well as 3 stars, although there are hotels that are much newer under the same conditions. Peeling paint, stains on the walls and worn-out furniture ... But it all so harmoniously blended into the hotel's format, amazing. «Format» lies in the fact that the whole hotel is made in a certain vintage style, and in total everything looks good. And although I myself am more like renovation and high-tech, but as a variety, this hotel suited me well. That is, every time I would not go here, but once you can.
So what is there «old»? The first thing that catches your eye is the doors with glass separated by metal rods, almost stained-glass windows. There is marble on the floor and one of the beds (I had two) on a bamboo base. Lamps on the wall, a metal urn, a vase in the bathroom, a napkin holder are made in the same way as the walls of a Thai temple are made, with pieces of broken glass glued on. Canopy over the bed with ruffles.
And what is the key to the room, did you see? Yes, this is not a key, but just a keychain, but nevertheless, such themed little things complement the picture very well. True, it is not very convenient to carry such a dimensional keychain with you. And the bathroom in the bungalow is generally cool! Two sinks, stone trim and a shower so unusual with a recess in the floor instead of a pallet.
In terms of equipment, there is everything you need. A flat-screen TV on the wall, a normal-sized refrigerator, a kettle, air conditioning (by the way, I didn't hang it right in front of the bed, so it didn't blow), a large safe (you can remove all the equipment), a hairdryer, a bathrobe, slippers, umbrellas, a clothes dryer, a fumigator ... By the way, I would like to separately mention that my room did not have an electronic key system tied to a power outage when you leave and take the key out of a pocket on the wall. Therefore, it was possible to leave all devices charging and a laptop uploading photos to the cloud..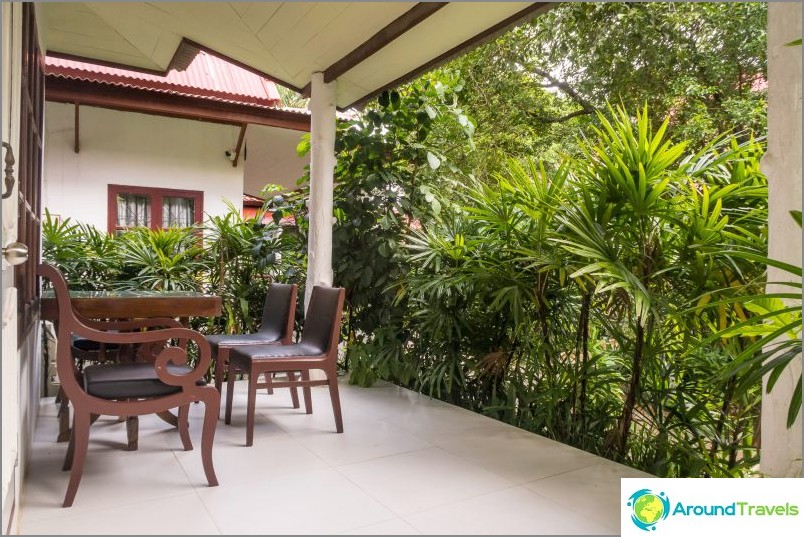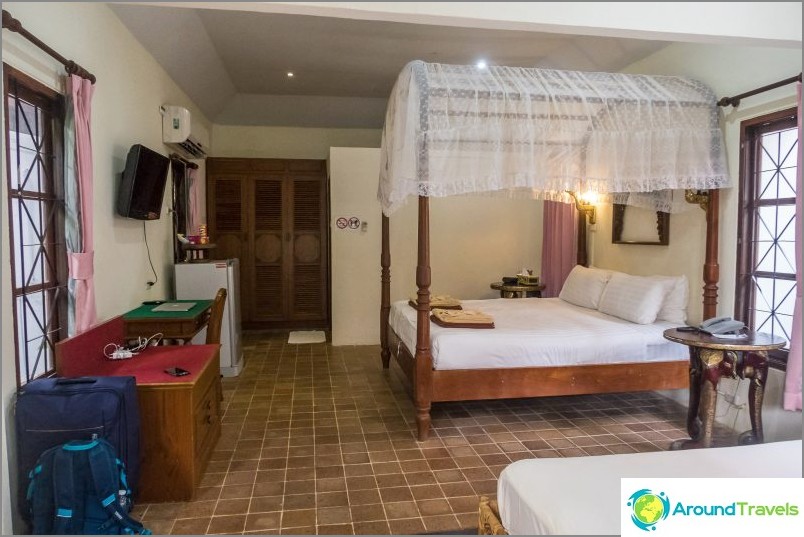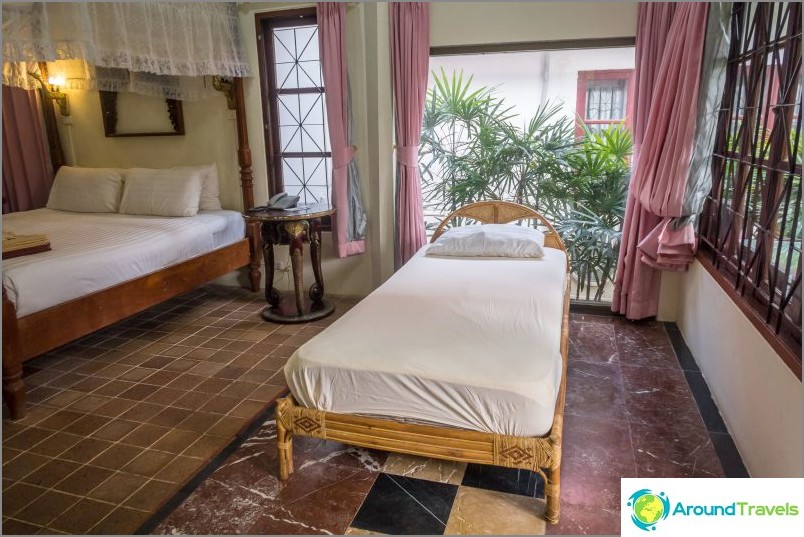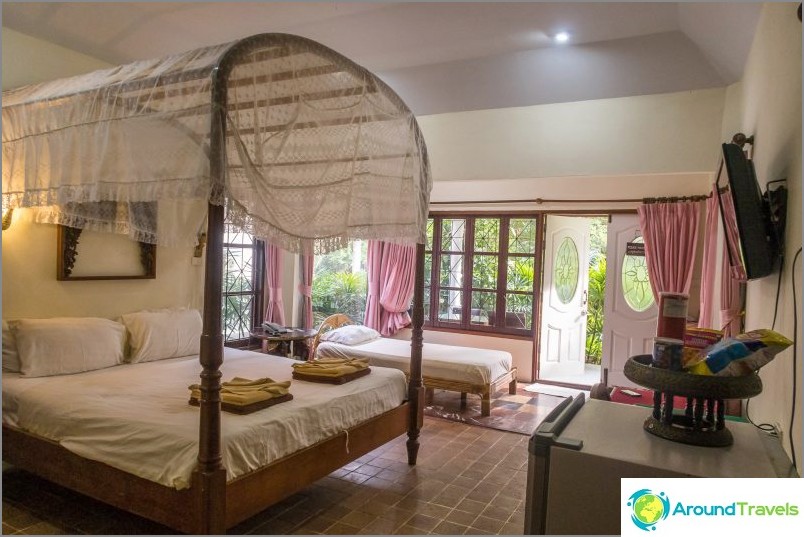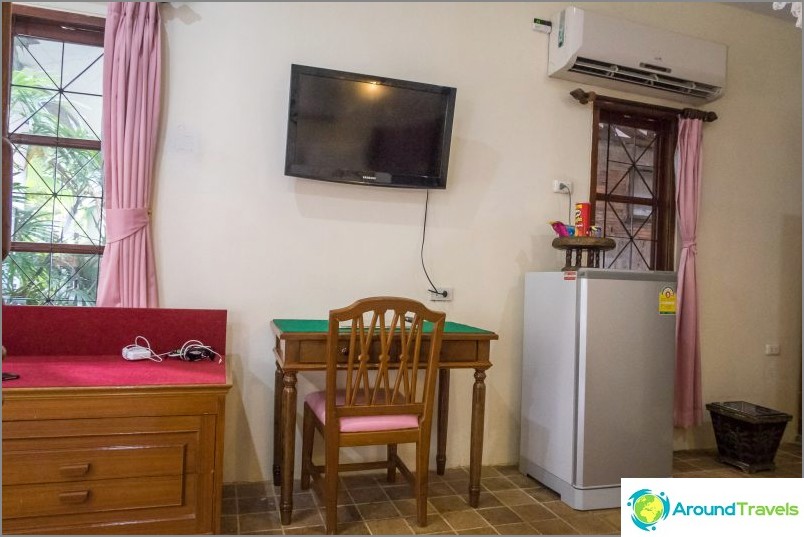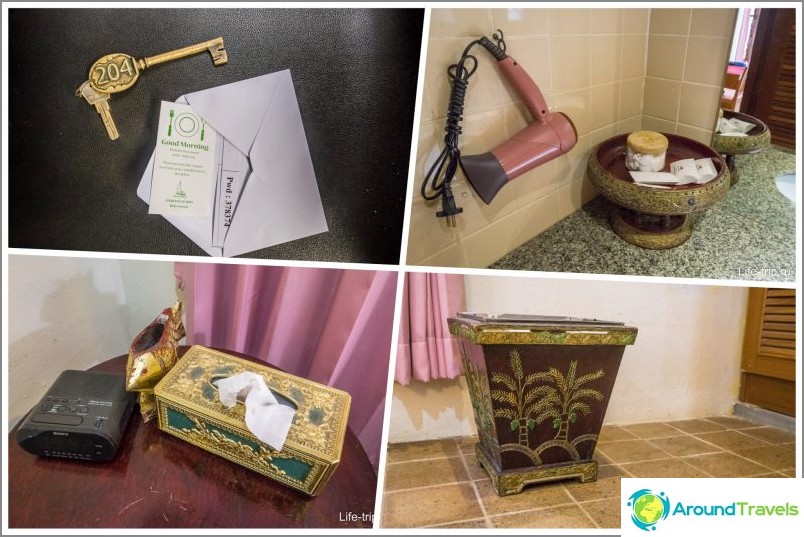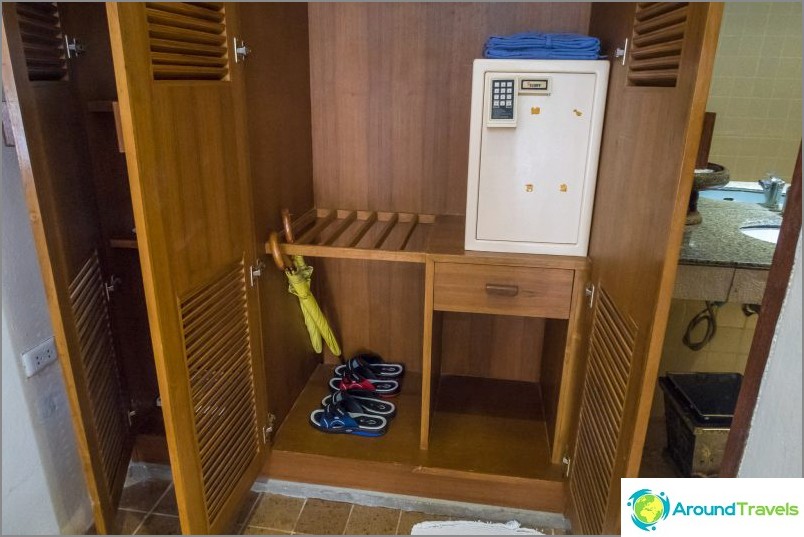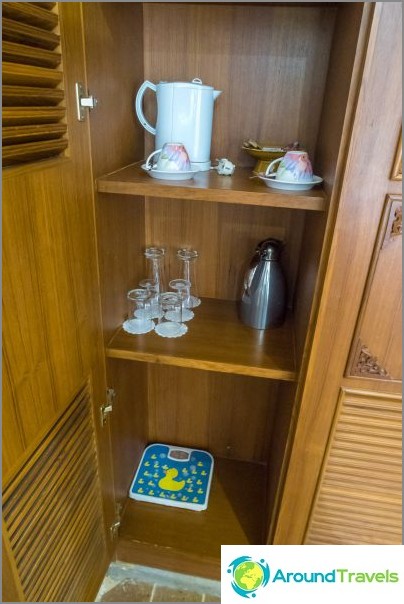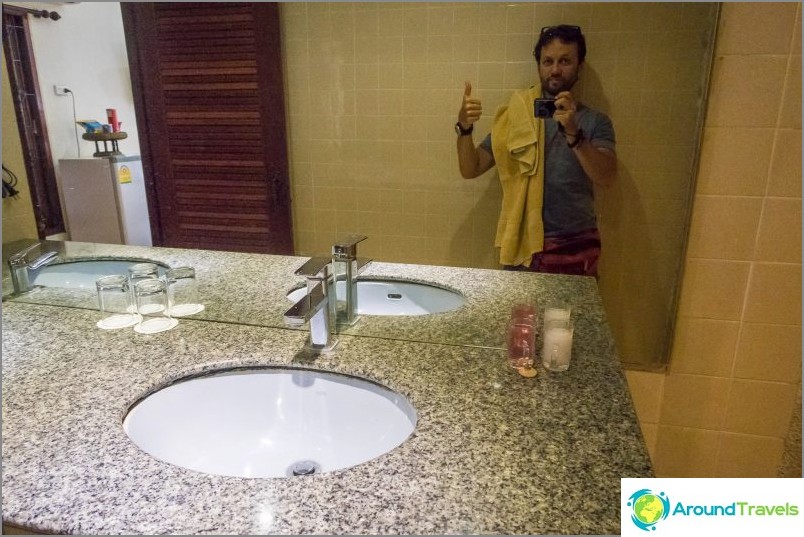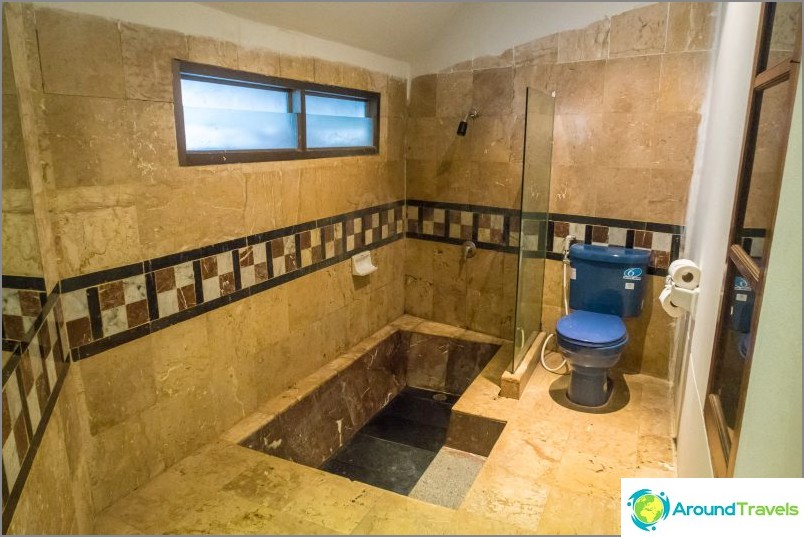 The Internet is not bad, but it crashes periodically. This stupid system is made here, when you need to enter the login and password, which is issued at the reception. I had to turn off the wifi on my computer, turn it on and log in again.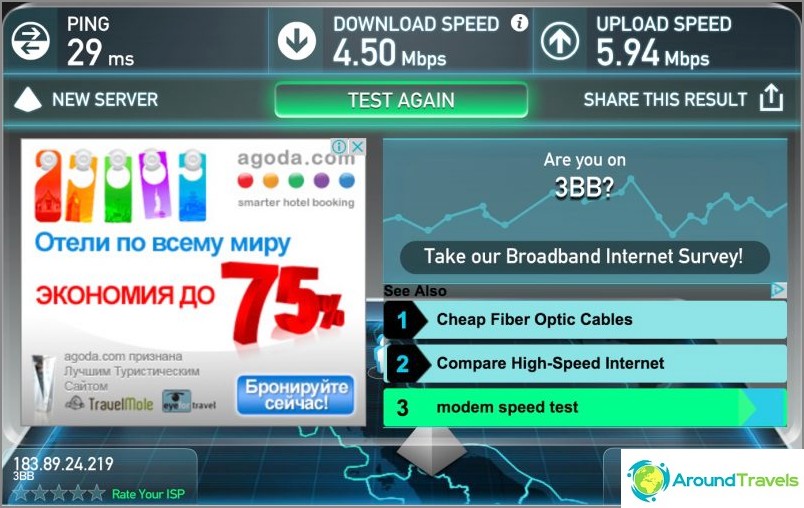 On the other hand, if they do not make at least cosmetics on time, the rating will continue to fall and no old-fashioned stylization will be able to hide behind. The atmosphere is, of course, good, but everything has its limits. In fact, in Thailand, this is a whole problem that hotels are often used to the last, until they start to fall apart completely. While new, they are all normal, but after 5 years - humidity, time, constant use by guests, take their toll.
Territory and breakfast
The territory of the hotel is represented by several paths along the bungalow, and there is no garden to walk. But there is a beach for walking. There are two small swimming pools (one of them with a jacuzzi) and a restaurant by the coast. Sun loungers, both by the pool and on the beach, but everything is nearby.
All bungalows, restaurant - everything is done in the same old Thai style. The reception is also like a small palace. By the way, there is a fitness room on the second floor with exercise equipment (barbell, cattle, treadmill). It works from 8 to 20. The only disadvantage of this room is that there is no air conditioning (it will be very difficult in the heat), but in terms of equipment, most vacationers will have enough, after all, you come on vacation, and you can go to full fitness at home.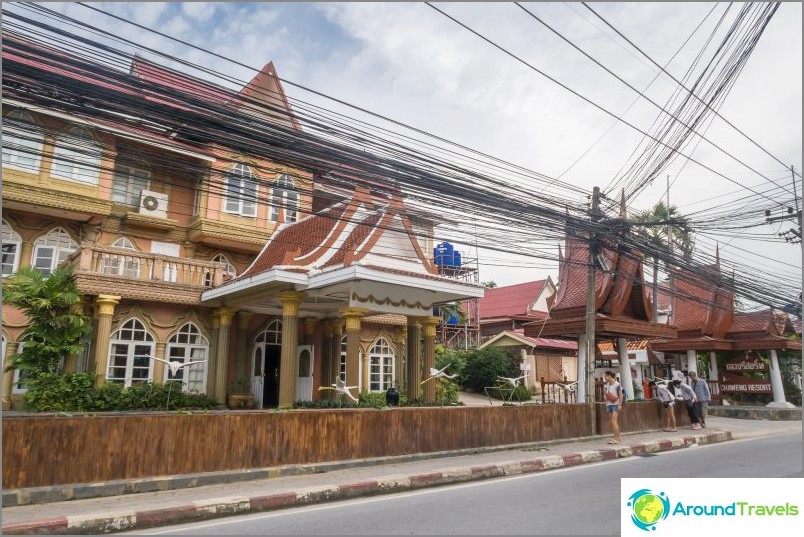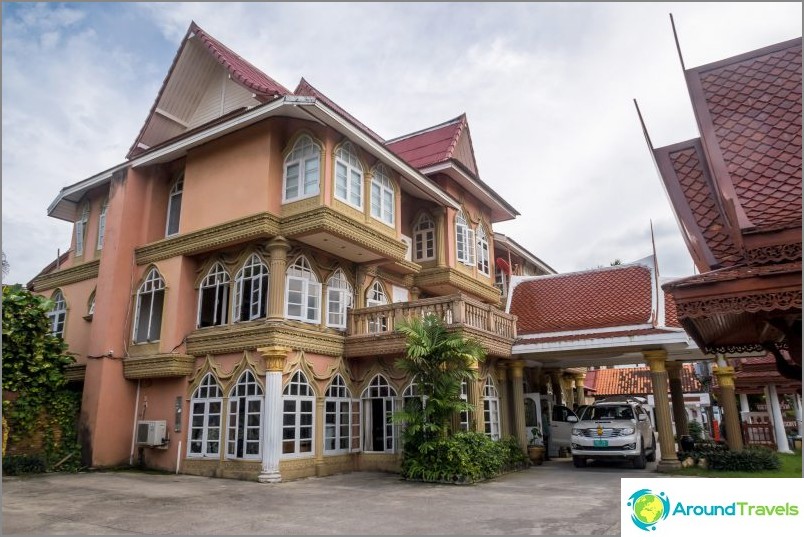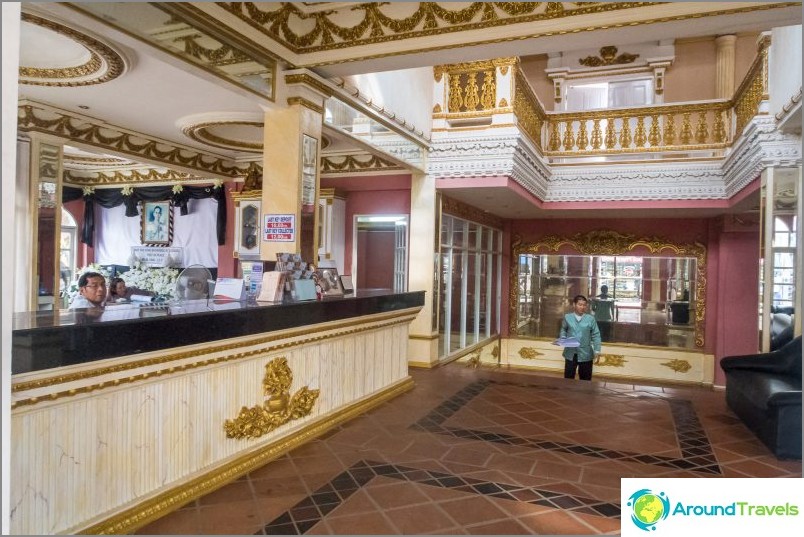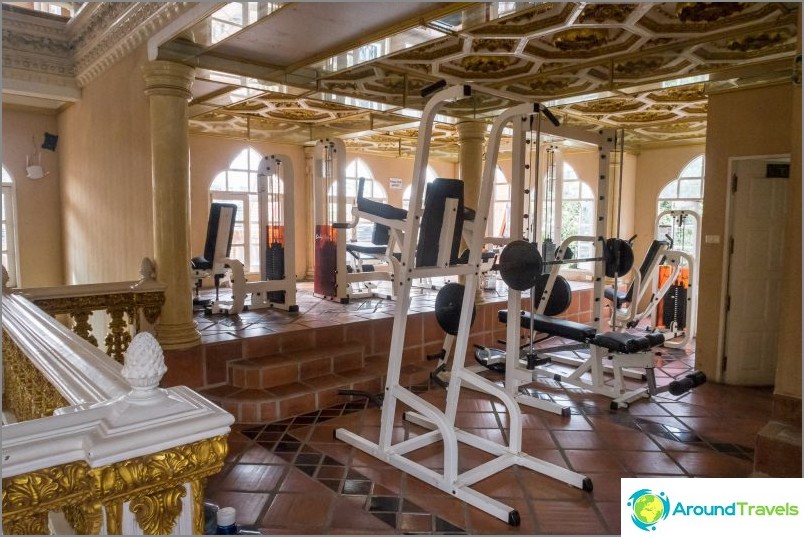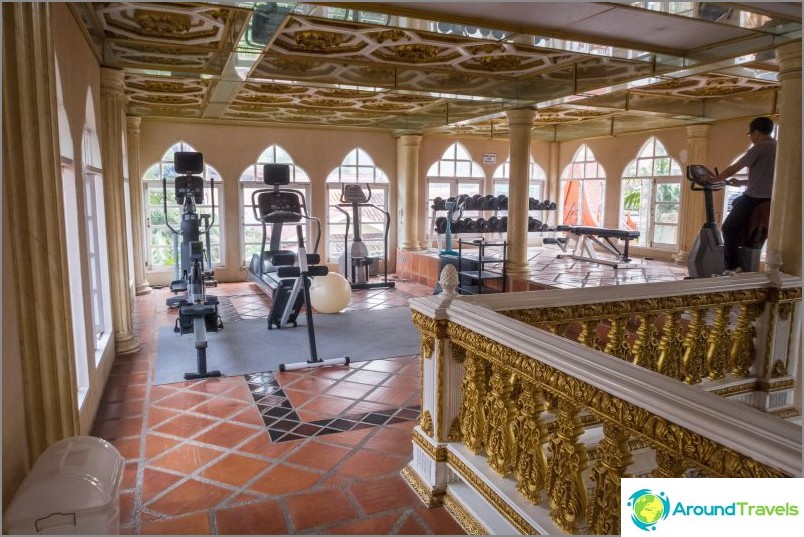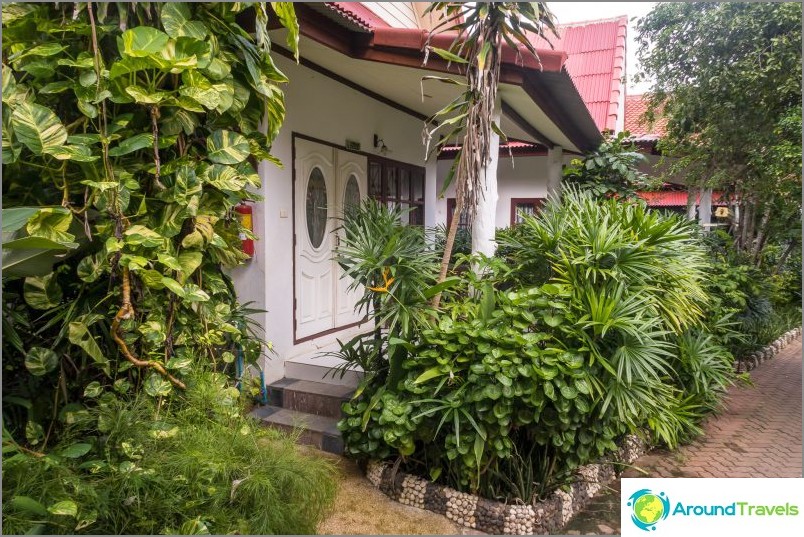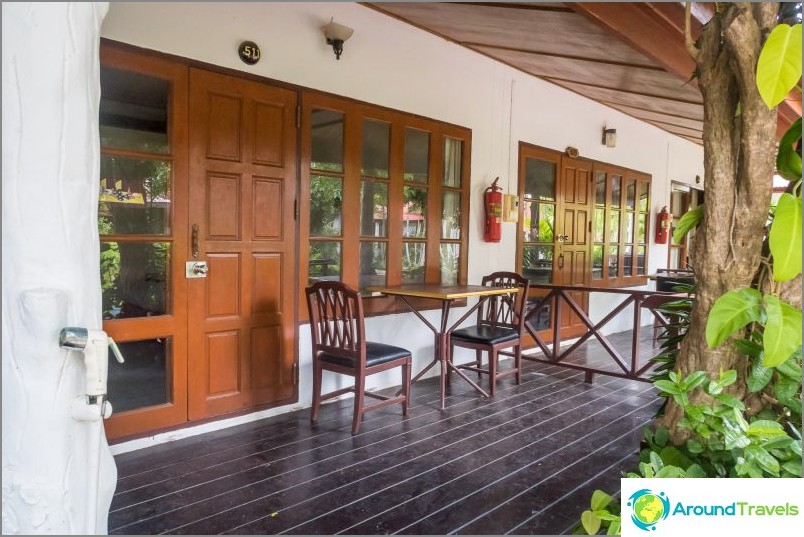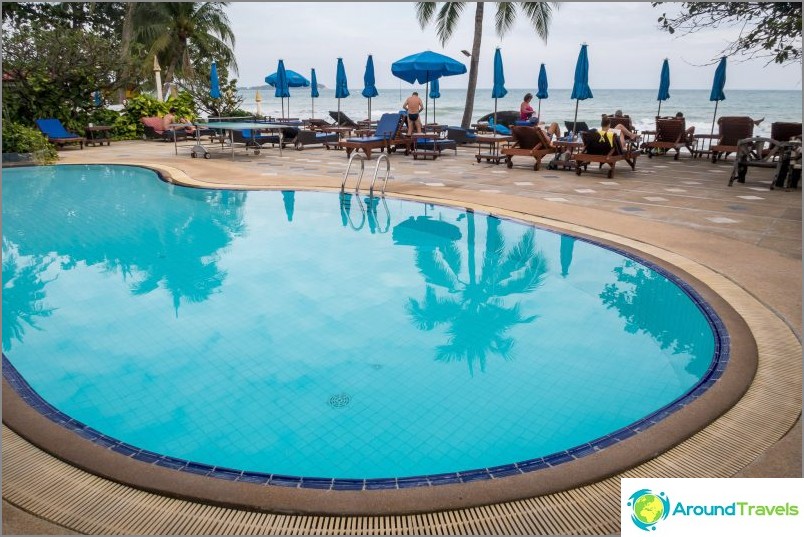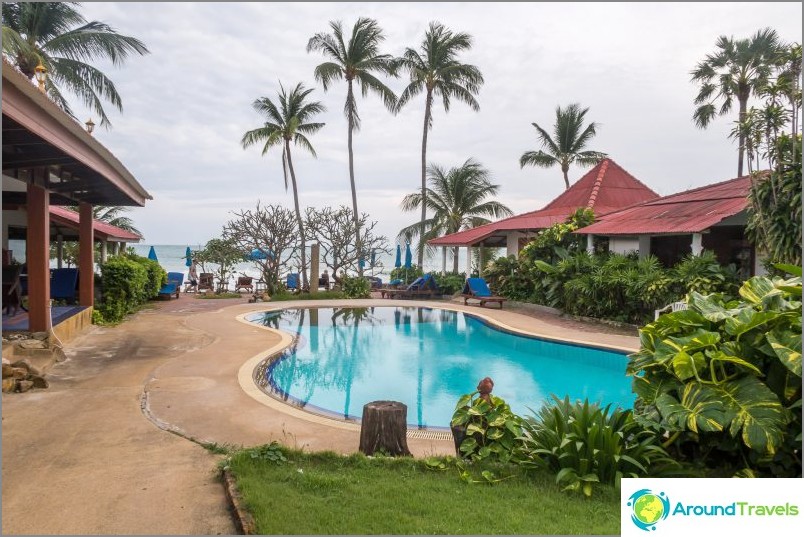 Breakfast takes place from 6 to 10 according to coupons issued at the reception upon arrival. It seems to me that breakfast is always included in the price of the room, at least when looking at the booking systems, I did not see options without breakfast. Breakfast is not bad, but modest, the range is small. Coffee, tea, juices. Several types of muesli and milk. Toast with jam and butter, dark bread and croissants. An omelet that is made with you. 3 fruits (pineapple, watermelon, bananas) and a salad set. Hot - noodles, rice, beans, stewed vegetables such as broccoli, sausages, bacon and everything.
The restaurant is open all day, hours until 8 pm. I ordered myself a padtai for lunch for 175 baht. Prices are a little higher than nearby on the street, dishes are only Thai cuisine, but the portions are large, I barely ate everything, and the shrimps were normally put, 10 pieces instead of 3. We can assume that 2 ordinary padtai took.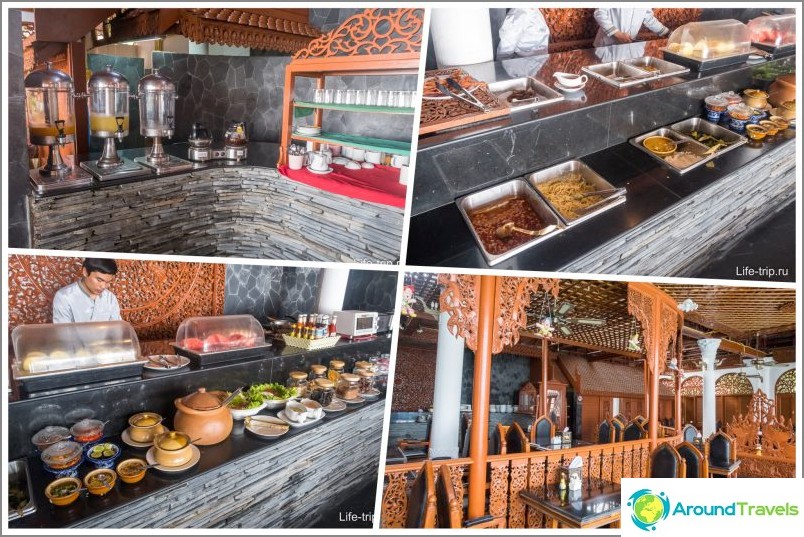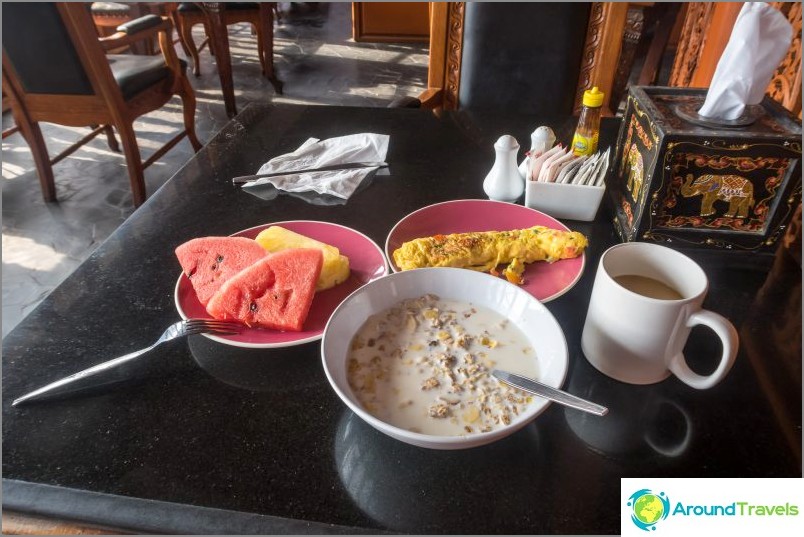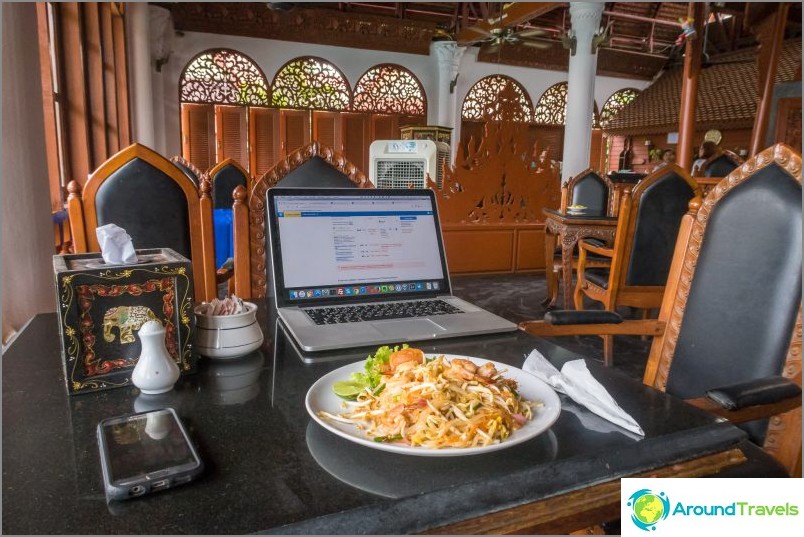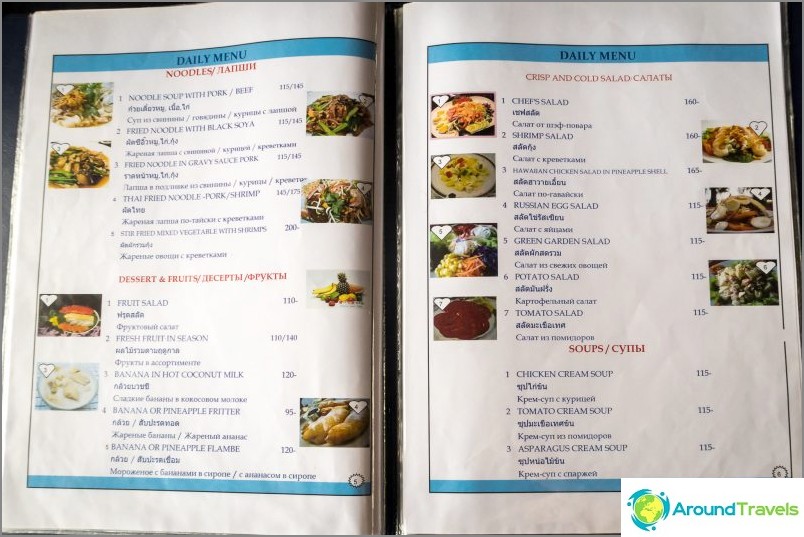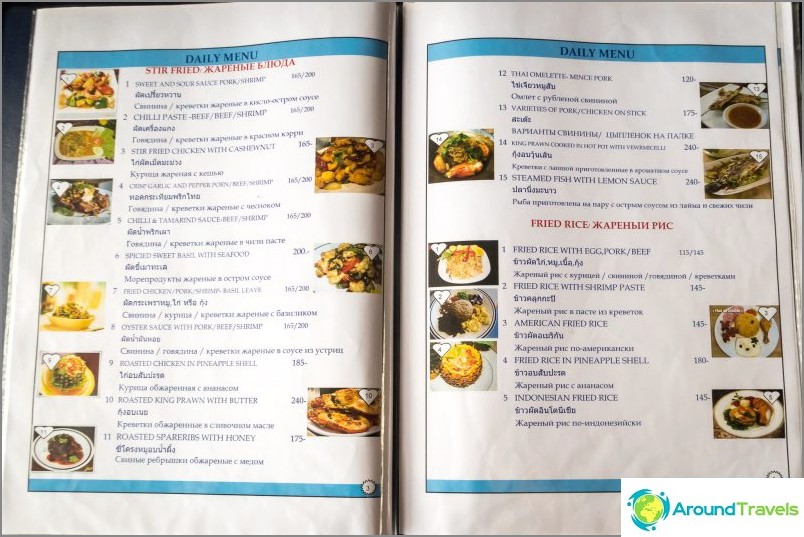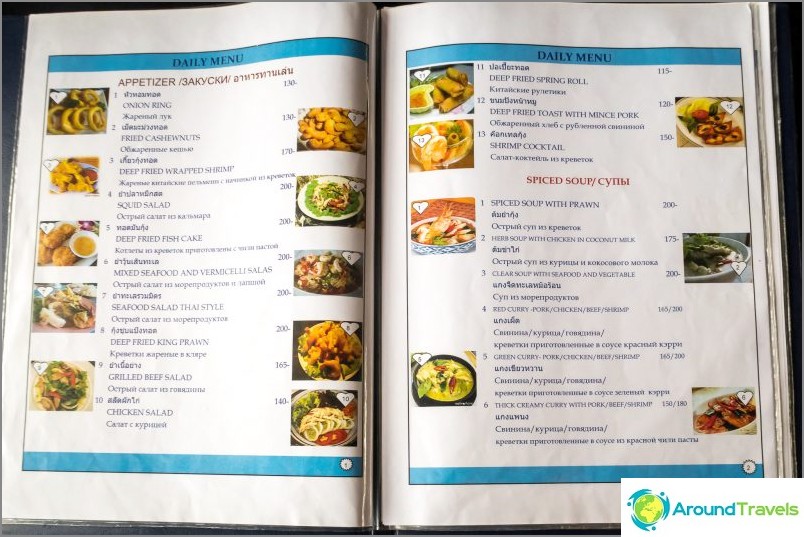 On the map
The hotel is located on the first line in the south of Chaweng (from the hotel territory there is an immediate access to the shore). The location and location is great. This is probably the best sea in Chaweng. Because the northern part of the beach is shallow. Opposite the hotel is a 7-11 store, a 5-minute walk to a food court, a 10-minute lake, a 15-minute Central Festival shopping center. In general, everything is close by, the entire infrastructure of the area is within walking distance.
Hotel Chaweng Resort
Hotel Chaweng Resort
A hotel with an excellent location, in the center of Chaweng, everything is close by. First line, 2 swimming pools. But the interior is too old for an amateur.
More about the hotel..
A hotel with an excellent location, in the center of Chaweng, everything is close by. First line, 2 swimming pools. But the interior is too old for everybody. More about the hotel..
P.S. If you like such an interior, then you can go! Just keep in mind that the hotel is old and shabby, in fact, you only get the atmosphere. And I also lived in a very budget hotel right in the center of Chaweng (here is my review), but not next to the sea.