We have known the guys for several years. And finally, they wrote a long-awaited post about how they emigrated to Bulgaria. To be honest, we ourselves sometimes think about Bulgaria, for example, instead of Serbia, all the time listening to one or another acquaintance buying an apartment there. Considering that the scheme for obtaining a residence permit is quite easy, it looks tempting. So it was doubly interesting to read first-hand about this country. By the way, it is also suitable for wintering, albeit with some reservations. But now, without reservations, nowhere, I look, someone has already jumped from Asia to colder countries, the same Montenegro.
The content of the article
About Us
We have no antipathy towards the Russian Federation and no desire to move from Russia and not return, we simply cannot live without travel and without the sea! Our passion for travel has not yet been cooled down by our relatives or our children. By the way, we already have three children: six-year-old son Stepan, two-year-old daughter Sofia (so named on the eve of our move to Bulgaria) and baby Maria, born this spring already here in Bulgaria. It was the children who at some point influenced the desire not only to settle down, but to have housing to which we can return from each of our travels..
We visited 24 countries in Europe and Asia, half of which with children! Thailand, Malaysia, Philippines, Hong Kong, Germany, France, Netherlands, Poland, Austria, Czech Republic, Hungary, etc. We really liked Finland, but it is too cold for us there. And we have never considered Asian countries for permanent residence because of the great distance from Russia, the language barrier, constant heat, specific cuisine and many other features ...
The main criteria for choosing a place of permanent deployment for us were the following criteria:
Proximity to the RF. In Russia, relatives and grandmothers. It is advisable that the flight lasts no more than 2-3 hours, and the road by car no more than 2-3 days.
Warmly.
Necessarily the sea.
No language barrier.
Low prices for real estate and accommodation.
Location of the country as a starting point for further travel.
In Bulgaria we found even more than we were looking for. Sea and ski slopes. Beautiful nature and mild climate. Endless roads and magical places like Kaliakra, Rusalka and Nessebar. Low prices for almost everything from fruits and vegetables to cars and real estate.
There are no ideal places, so we found small flaws, which we will also honestly talk about in this article ...
This is our Traveler's Diary and our Bulgaria ...
We hope that the information will be useful for the readers of Life-Trip. Greetings from Bulgaria! Mikhail, Elena, Styopa, Sonya and Masha. Welcome to our blog diary.travel and to our groups VKontakte, Instagram and Periscope.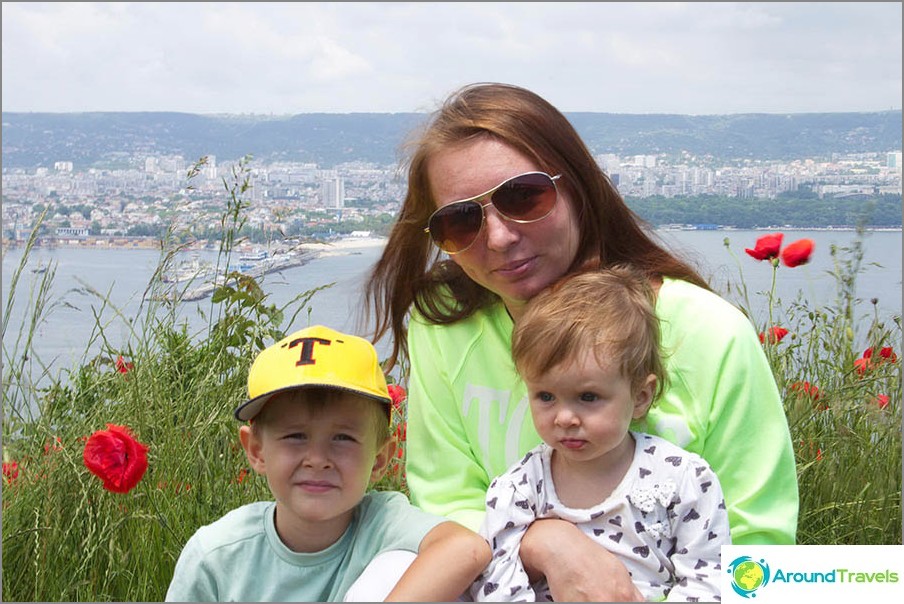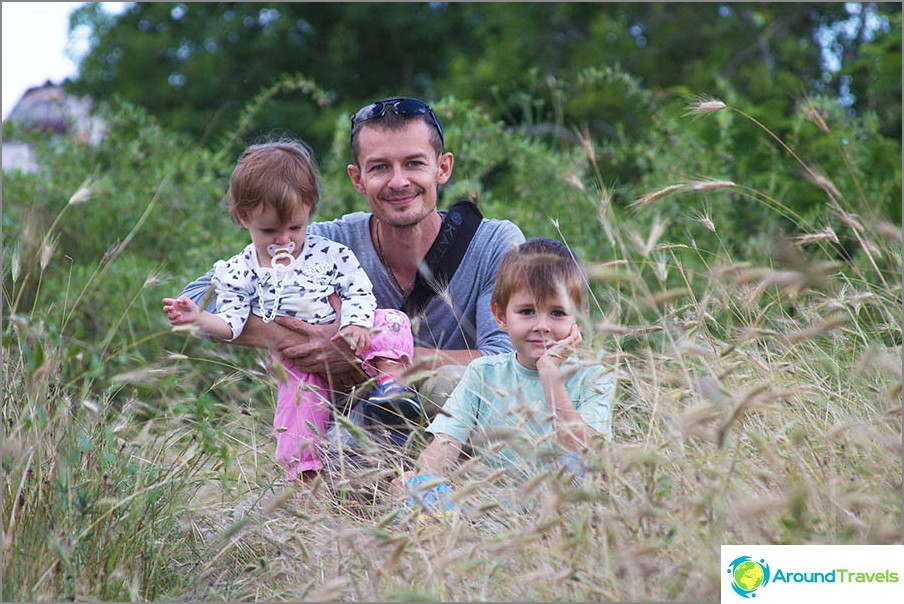 Why exactly Bulgaria?
Nature. Climate. Sea
The climate in Bulgaria is mild. In summer, it is + 25 + 30 degrees Celsius and the temperature of the sea water is + 22 + 25 degrees. Many mineral springs throughout the country. Almost all along the Black Sea coast there are excellent sandy beaches, many of which have been awarded the Blue Flag for their cleanliness..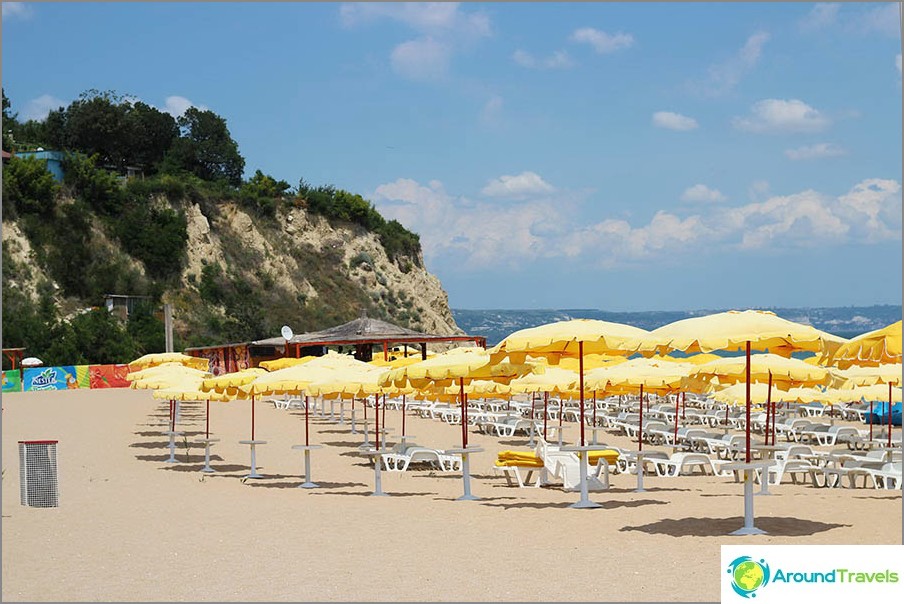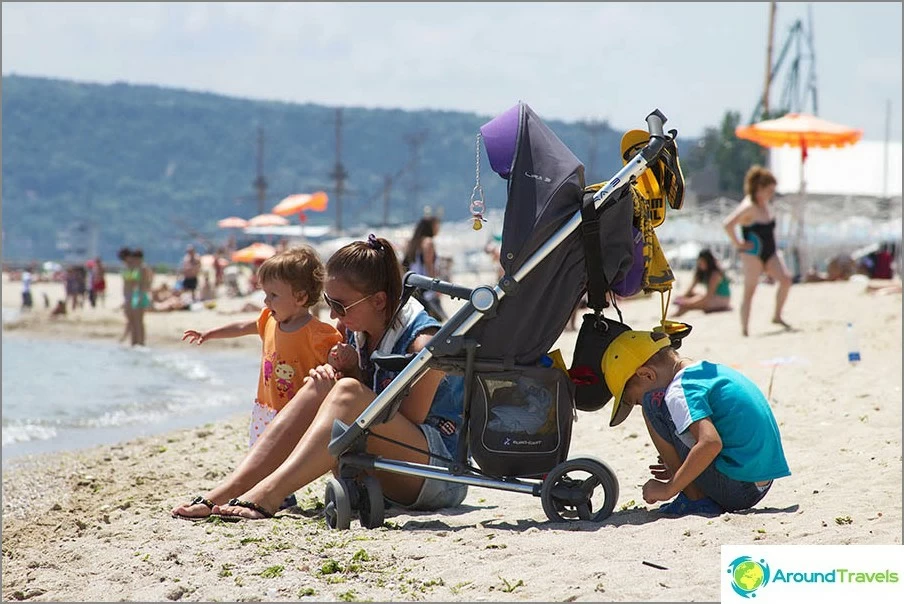 In winter, the average temperature is 0 + 5 ... Snow on the coast is rare. But in the ski resorts south of Sofia - Bansko, Borovets and Pamporovo, there is enough snow. From the coast to the ski resorts or Sofia - about 400 km, as from Moscow to Smolensk.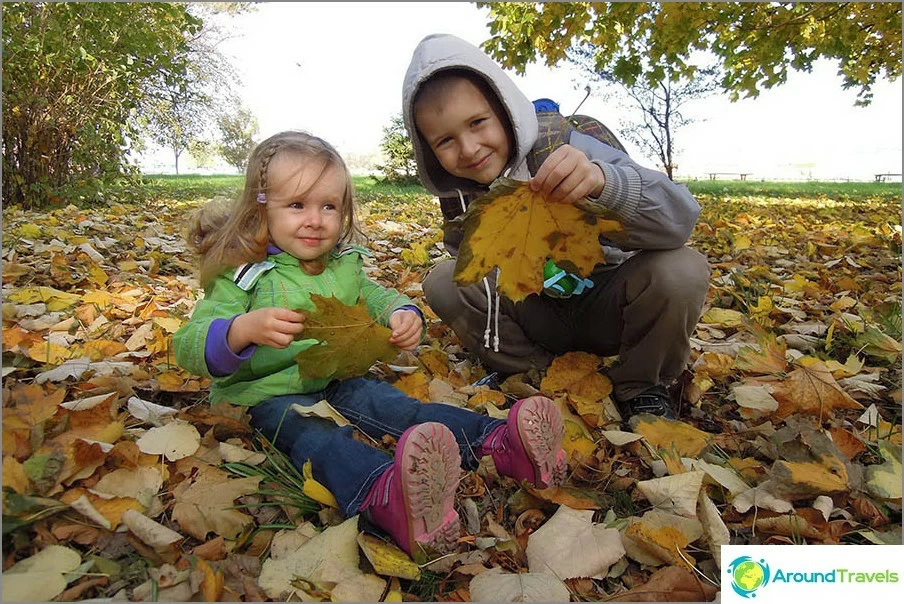 A very pleasant off-season in Bulgaria is autumn and spring. We often walked the whole family along the beach or promenade in April, May, September, October and even late November. For example, this photo was taken just three weeks ago - in early November: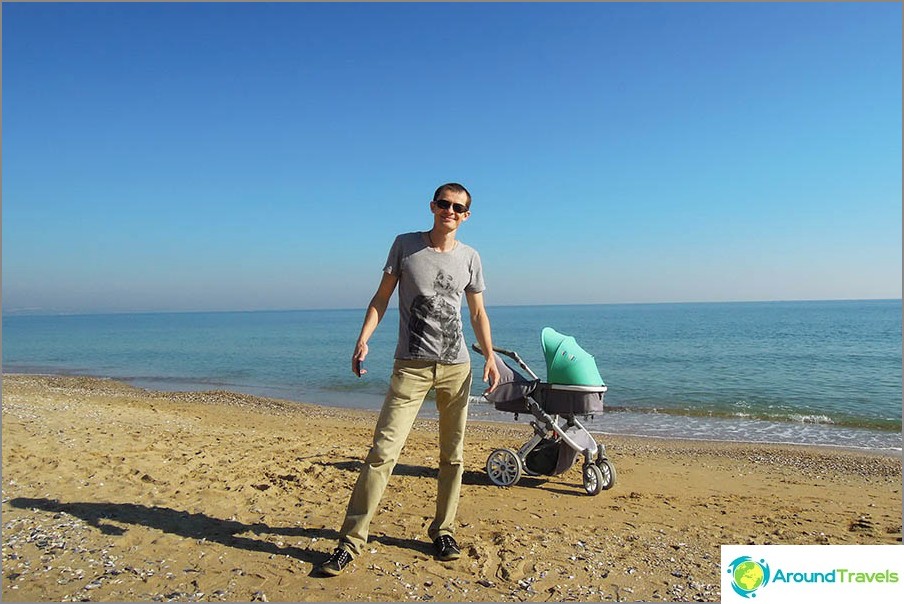 The sun and temperature + 15 + 20 are in the order of things ... But the largest amount of precipitation in Bulgaria is in January and early June.
There is very beautiful nature in Bulgaria! Forests, mountains, vineyards, fields of roses or sunflowers.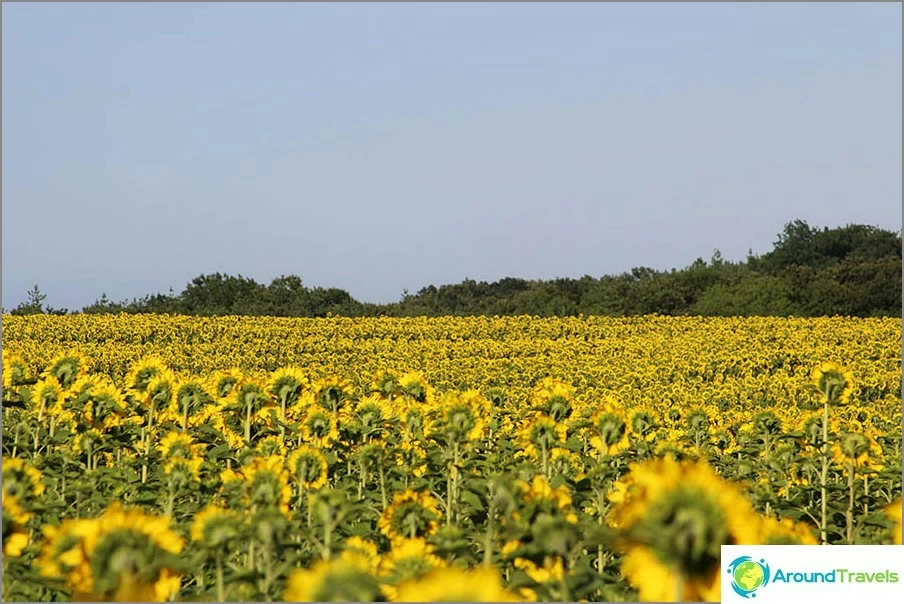 We really fell in love with Kaliakra and the Mermaid - we wrote about these places on the blog, but believe me, no descriptions and photos can compare with reality!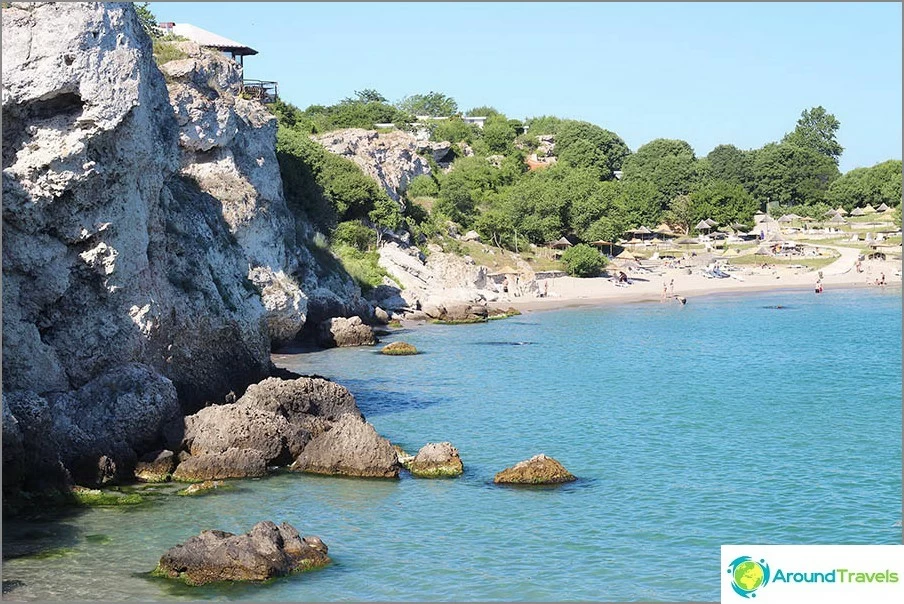 It is impossible to describe the feelings when you stand at the chapel on the very edge of the sheer Cape Kaliakra and look at the endless sea from the height of a sixteen-story building.!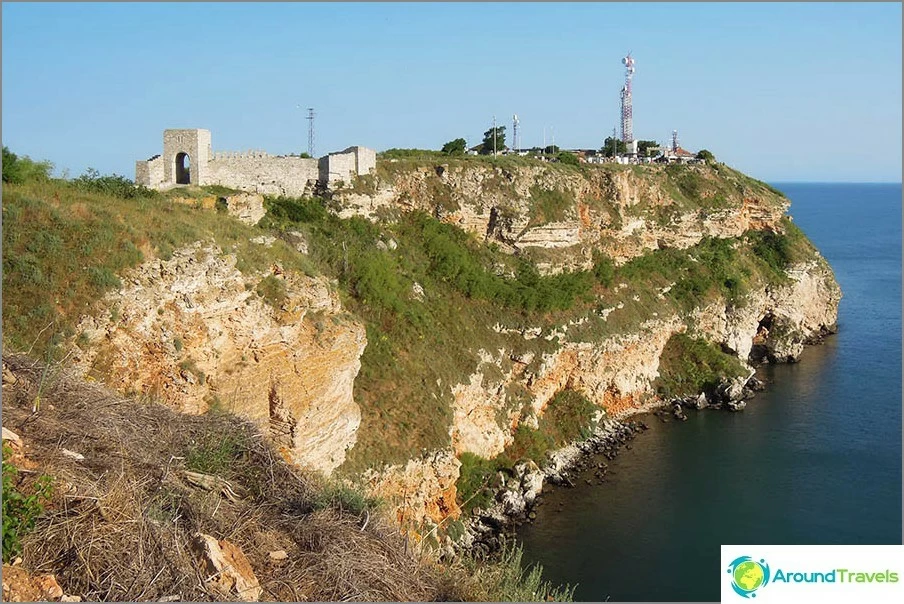 And how fascinating is the fog on the night mountain serpentine or early in the morning the bay, the embankment and half of Varna, covering with a dense cloud! You will not see this in any film.!
People
People in Bulgaria are friendly and helpful. It is in the order of things to help get out of the bus with a stroller, even if there is a man with a stroller ... For a dozen trips to Bulgaria and almost a year of living here, we have not encountered any hostility or aggression. The attitude towards Russians as a nation is generally positive.
I am also glad that Bulgaria is an Orthodox country. There are Muslims (mainly Turks) and Gypsies here, but their percentage is not large. In Varna, near the railroad tracks, there is an area that is considered to be a gypsy - striking dilapidated barracks. The gypsies themselves were seen only once during the entire time (a mother with children), although they traveled all over Varna and the coast of Bulgaria up and down. Therefore, we will not say anything bad about the gypsies ...
The crime situation in Bulgaria is quite calm. According to Bulgarian news, we see some reports of committed crimes extremely rarely, and even then in the depths of the country or Sofia ... Life with the beach «close by» relaxes, and does not push for offenses - this is a fact!
Bulgarians, like most Europeans living by the sea, are leisurely, a little lazy, and a little dispensable. This has its appeal, but sometimes it is annoying. For example, when you make an appointment or delivery time at the same time, but you are not waiting for what you ordered, and a few hours later ...
I really liked the musical tastes of the Bulgarians. Not a lot of frank pop. Modern Bulgarian and foreign rap and hip-hop, alternative rock, as well as classic rock like Scorpions, Deep Purple, Uriah Heep or something heavier are very popular. Rock festivals are often held here, gathering fans from nearby countries, or simply concerts in parks, gathering residents of nearby houses..
Language
The language in Bulgaria is very similar to Russian. Cyrillic alphabet. Many words are written and pronounced absolutely identical to the Russian language. Even without knowing a word of Bulgarian, you can understand each other. In addition, the older generation, especially in Varna and northern Bulgaria, often knows Russian quite well. If it is impossible to understand each other in Russian-Bulgarian, the majority of young people speak English well ...
but, «misunderstandings», sometimes very funny, quite possible! Just because of the similarity of the language. The fact is that many words are written and pronounced similarly, but they mean exactly the opposite ... For example:
Bulgarian «right» means «straight»...
«Dinya» means «watermelon»...
«Table» means «chair»...
And there are many such examples. Oh, and don't forget that Bulgaria is the only country in the world where a nod of the head means «No», and shaking the head to the sides - «Yes». It's unrealistic to get used to it. Try to learn, without moving your head, just speak «Yes» or «not».
Transport
I am writing about Varna. In other cities, public transport was not used.
There are a lot of buses and trolleybuses, they run on schedule. The fare in the city is 0.50 euros. Free Wi-Fi has appeared on buses recently.
A taxi will cost about € 0.50 per kilometer. Even to / from the airport. But, only if the counter! The prices must necessarily hang on the rear passenger window. It is imperative to focus on the presence and operation of the meter, or the tariff can grow in a predatory way by 2-3 times!
The airport is located 8 kilometers from the center of Varna. Railway station and bus station - almost in the center of Varna.
Infrastructure. Children. The medicine
If at least one of the parents has a residence permit, you can easily and almost free of charge send your child to a kindergarten or school. Verified by personal experience. On the same rights as the Bulgarians - without extortion and with free textbooks ... The Bulgarian language is grasped by children instantly. And upon completion of training, the child will have a diploma quoted in the European Union.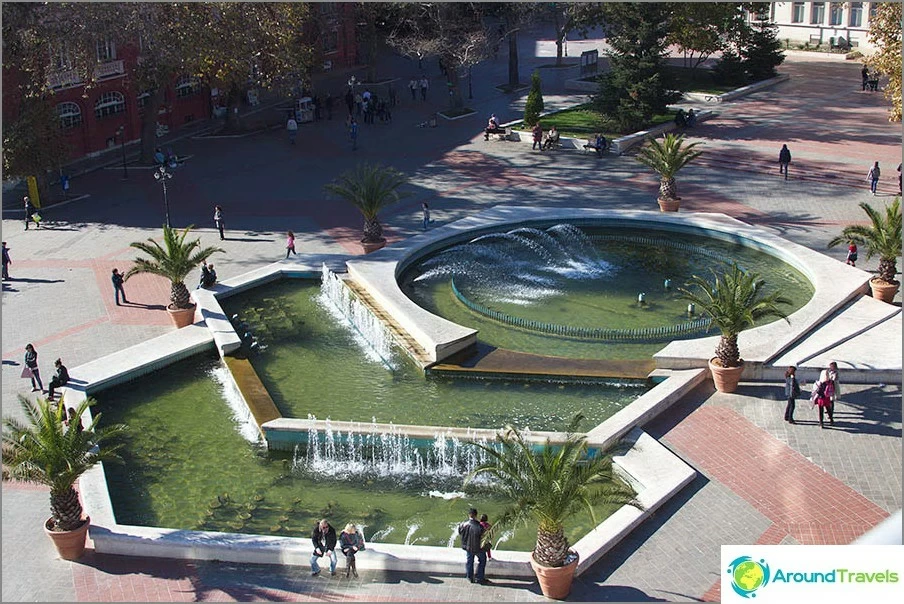 The infrastructure is developing, but so far the post-Soviet heritage is still felt in places ... Although, it is very pleasant to walk along the pedestrian streets of Varna in the Old City area, and at any time of the year.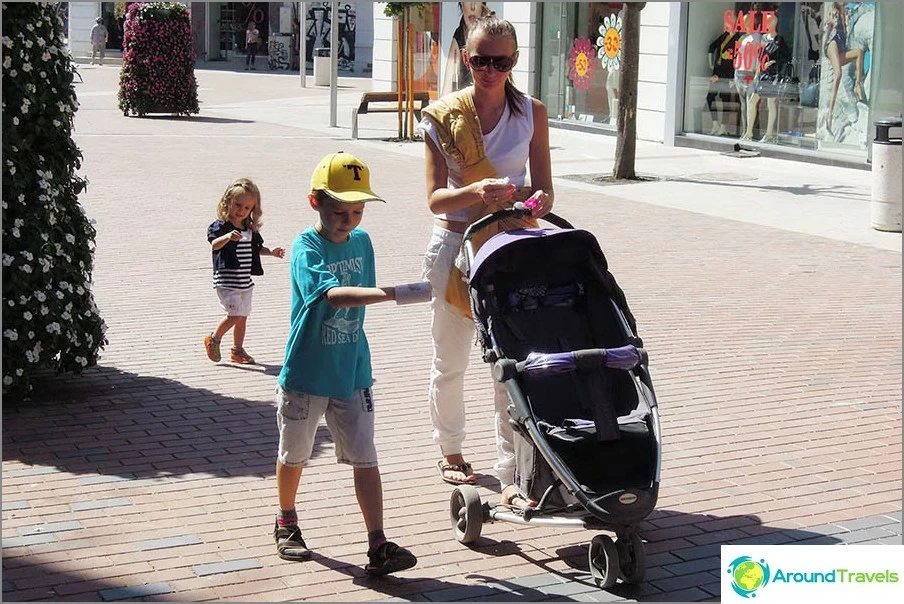 Lots of restaurants and cafes. Many large shopping centers. International hypermarkets such as Metro, IKEA, Decatlon, Kaufland, Billa, Praktiker are presented ... Tesco no.
A huge niche is occupied by the hotel and construction business.
Medicine is at an intermediate level. Inexpensive dental services. With a residence permit, medicine is paid, but not very expensive. An appointment with a doctor will cost about 10 euros. With permanent residence - medical care in most cases is free.
The wife gave birth to a daughter at the end of May in the clinic «Maychin house» in Varna. I liked everything, I am happy with everything. The ward, attitude and service are good. The delivery cost only 800 euros. More details about childbirth in Bulgaria, and about the important nuances of obtaining a birth certificate will be on our blog. If this question is interesting, subscribe so as not to miss.
Food
For children and adults with sensitive stomachs, Bulgarian cuisine will definitely be much more comfortable than Asian cuisine ...
We really liked the cuisine in Bulgaria. Olives, feta cheese, fish, tomatoes ... Reminiscent of Greek and Italian. Meat dishes are widespread. There are borrowings from Turkish cuisine. Pizza for sale. Grill is popular. Large selection of seafood. From the national Bulgarian dishes, we will note the bannitsa and the Shopska salad.
Delicious beer and good inexpensive wine in Bulgaria.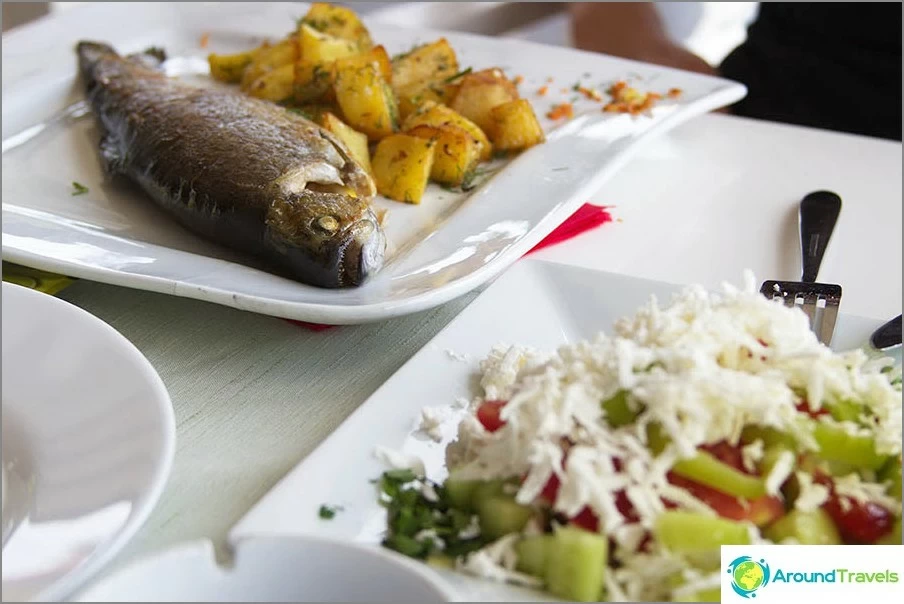 Prices
Prices in Bulgaria in national currency are in BGN. 1 euro = 1.95 leva. This course has remained unchanged for many years..
Inexpensive shopping in malls. Cheap alcohol. The prices are very low both for most products and for vegetables and fruits. For example:
1 kg of cherries - 1 euro
1 kg of tomatoes - 0.80 euros
1 kg of apples - 0.70 euros
1 kg of potatoes - 0.50 euros
1 kg of chicken - 2-2.50 euros
1 kg of pork - 2.50-4.50 euros
1l beer - 0.90 euros
Chocolate and dairy products are a little expensive.
Restaurant prices are quite reasonable even on the new exchange rate. The bill in most restaurants will cost 3-10 euros per person.
Concerts, which often take place in Bulgarian parks, are usually free to enter, and food and alcohol are very cheap. For example, a 0.5 liter glass of beer at such events will cost only 0.50 euros, and a barbecue - 1 euro!
Coupon sites are common. Coupons allow you to eat very cheaply in restaurants, visit beauty salons or make tourist trips to neighboring European countries.
Real estate. Rent and purchase
What to choose for? If you need apartments only for summer holidays - Golden Sands and Sunny Beach. If the sea is not important, but you are interested in ski resorts or doing serious business, then - Sofia. For permanent residence near the sea - Varna or Burgas. Burgas, it seemed to us, is too gray, and even a much smaller percentage of the population speaks Russian there than in Varna. Therefore, our choice is Varna.
In Bulgaria, inexpensive rental housing. For long-term stays, you can rent a good spacious fully equipped apartment in Varna for only 150-200 euros per month.
The range of prices for real estate in Bulgaria is quite large, from about 500 to 1500 euros / sq.m. In Sofia, Varna, Burgas and in good resort complexes - more expensive. In residential areas and outside the city - cheaper. There are reliable large realtors and developers, and there are also «divorce». If someone needs help and advice, please visit the blog, we will help. We have experience, contacts and acquaintances.
We approached the choice of real estate thoroughly - we came to Bulgaria for this purpose five times and toured the entire coast. The reason is that we were not interested in resort property. Resorts like Golden Sands or Sunny Beach live only in summer - from June to August, in the rest of the months they look like post-apocalyptic extinct ghost towns.
I do not recommend any small towns and villages, except for pensioners. Well, or if you want to buy a house in the village. The range of prices for houses, by the way, from 5,000 euros for a wreck in the wilderness to 500,000 euros for a large new mansion on the coast of Varna with a stunning view. But when buying a house, keep in mind that a residence permit is not enough to register land in the ownership of a residence permit, this is possible only with permanent residence.
We needed an apartment suitable for permanent residence; not far from the sea, but not on the beach; in a quiet green area, but not far from the center; with a developed infrastructure, but not in the middle of concrete boxes ... And we found such a place on the outskirts of Varna - in the Galata region. And the view from here is beautiful.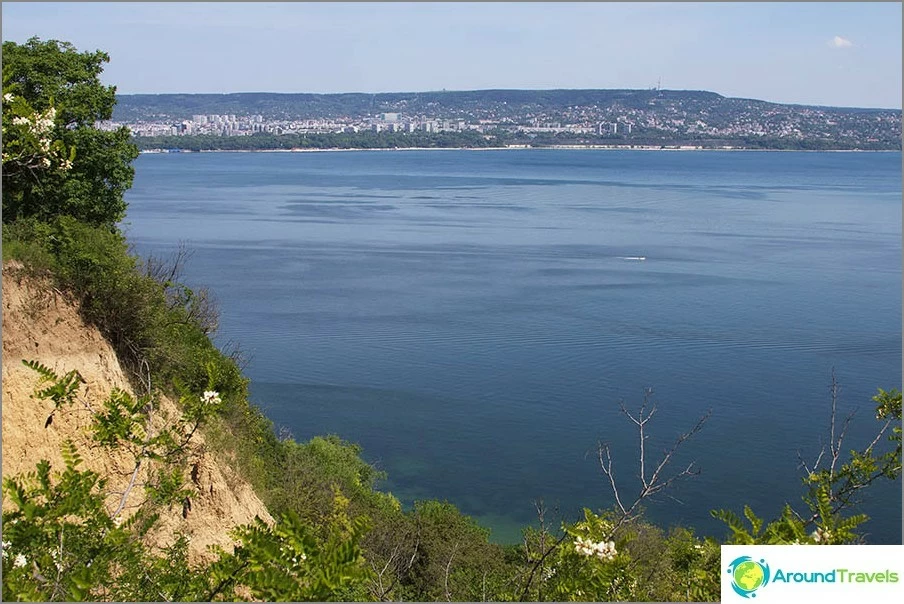 An apartment with an area of ​​80 sq.m in a modern residential complex cost us 46,000 euros (575 euros / sq.m).
Here it is imperative to take into account an important nuance - the total area of ​​an apartment in Bulgaria is measured together with the area of ​​balconies, walls and common areas (parts of staircases, which are divided into all tenants). The actual living space of our eighty-meter apartment was about 65 meters. But, anyway, the purchase was successful.
The price usually includes windows, doors, sockets. What's with the finish? Building materials and finishing works (not class «luxury») in Bulgaria are very cheap. Our budget was limited. We purchased all building materials and equipment ourselves in Praktiker and Mr. Bricolage stores. And the hired team made repairs. We paid only 5500 euros for everything about everything! For this money, we received completely «Full construction» with works and installation: tiles, laminate flooring, painting the walls, tiled bathroom with bathtub, plumbing and boiler, two air conditioners.
- A refrigerator, washing machine, TV and economy class furniture (kitchen, living room, hallway and a couple of sofas) cost us another 1,500 euros.
- Notarial registration of the apartment in ownership cost 2,000 euros.
- Annual property tax plus garbage collection - about 50 euros per year.
- Utility bills for electricity and water meters - an average of 40 euros per month. Internet and TV - 12 euros per month.
- Management company fee - 8 euros per month.
These are our expenses with our apartment. The amounts may differ both upwards and downwards. Especially if you buy a resort property. In this case, instead of a penny payment to the management company, a support tax of 6-12 euros per year per sq.m. will appear, regardless of whether you live or not. For our footage, be it a resort complex by the sea, the payment could be 500-1000 euros per year ... The amount, to put it mildly, is rather big!
Car in Bulgaria
A Russian can issue a car bought in Bulgaria either for a dealership or for himself if he has a residence permit.
It is very interesting to drive along the entire coastline or deep into Bulgaria by car, or you can rush to neighboring European countries. In Bulgaria, inexpensive car rental. For long-term rentals, especially not in the summer season, the rental price starts from only 6 euros per day.
The cost of fuel is one of the cheapest in Europe - an average of 1.10 euros per liter.
The vast majority of the population drives their own cars. Old, used, but in fair condition. The market for used cars imported from European countries is very developed. You can buy a ten-year-old minivan or golf class in really good condition for 1500 euros. And for 4000 euros you can buy a four-year-old car in excellent condition. If it were not for the collapsed ruble exchange rate, then these prices would be generally remarkable ...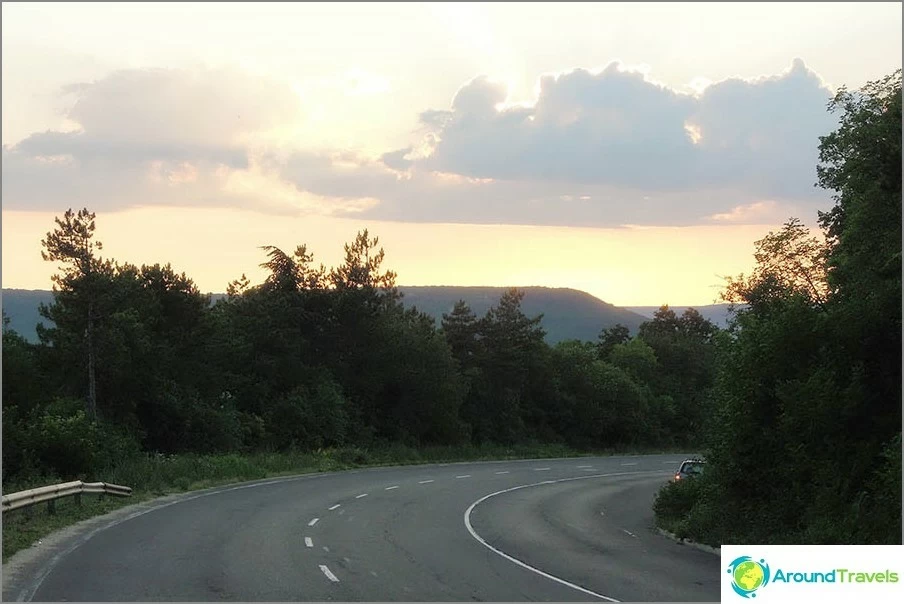 Where can you travel from Bulgaria
All of Europe is open to you on your own car! But keep in mind that you can only enter the Schengen zone with a Schengen visa. If you have a residence permit, then the Schengen is done right here in Bulgaria without any problems.
From Bulgaria you can quickly and inexpensively go by bus to Turkey, Greece, Romania, Hungary, Montenegro, Croatia, Italy and not only.
A huge number of cheap travel deals abroad can be found on local coupon sites.
From Sofia you can fly by plane to Europe and even further ... Low-cost airlines WizzAir, Ryanair, Alitalia are represented ... Tickets to most European countries, Turkey and the UAE usually cost from 30 to 100 euros. Istanbul and Dubai are the largest «hubs» the Middle East Asian region, through which you can easily reach any corner of Asia!
How to get to Bulgaria
Bulgaria can be reached by train, plane, car and… by bus from Istanbul. We've tried all the ways.
The experience of the road to Bulgaria by train is not a hunt to repeat ... Well, it is sooo boring, long and with many hours delay.
We drove 2000 km to Bulgaria by car with two children in 2-3 days - quite real and very interesting. You can read about this trip on our blog. True, now you have to make a detour, bypassing Ukraine.
By plane from Moscow you can get to Bulgaria in 2.5 hours by direct regular flights S7. During the season, tickets are much more expensive. Alternatively, you can find an inexpensive charter from Russia to Bulgaria or fly to Istanbul, walk around this beautiful city and get to Varna or Burgas in 6-8 hours by bus. Although, in the light of recent events, let's see what will happen ...
Visa issue
There is no visa-free entry. Russians can enter Bulgaria on a Schengen visa, if available. If not, then you need to get a Bulgarian visa at the Bulgarian consulate or visa center vfs.global, for example. The process of obtaining is similar to obtaining a Schengen visa. The cost of a tourist visa is 35 euros, the vfs.global visa fee is 1400 rubles. After one or two trips, getting a multivisa for a year is not a problem.
The term of stay for a multivisa (even a Bulgarian one, even a Schengen visa) - up to 180 days in 6 months.
Emigration to Bulgaria
To obtain a residence permit, and later permanent residence, it is not even necessary to buy real estate! You can simply rent, as already mentioned, for 150-200 euros per month. What is important, until recently, a prerequisite for extending a residence permit was staying in Bulgaria for at least 6 months in a year ... Now this rule has also been canceled - it is enough to come once a year to renew the documents.
How to get a residence permit
Open a Bulgarian representative office of a Russian company. A Russian LLC can be without activity, then in the Russian Federation it is elementary to rent once a year «zero reporting». You can open a representative office in Bulgaria without much difficulty on your own or with the help of a Bulgarian company for 800-1000 euros. No taxes or reporting are required for a representative office in Bulgaria.
Take out insurance for a year with a Bulgarian insurance company. On the spot, you can apply for 70-80 euros per person.
Purchase a completed property in Bulgaria (with Act 16) or conclude a property lease agreement.
Provide a police clearance certificate.
Confirm financial condition. You will need an account statement from a Bulgarian bank with an amount of slightly more than 2,000 euros per person. You can withdraw money back either immediately, having received a bank statement, or the next day. The amount is subject to change, as it depends on the minimum wage.
Apply for a D visa at the consulate of Bulgaria in the Russian Federation (issued for 6 months and costs 100 euros).
Pay about 250 euros per year for a residence permit.
Documents in Russian are translated by translators accredited by the consulate and certified.
It's easier for pensioners. You don't have to open a representative office, you need a smaller amount on the account, etc..
Permanent residence
You can get permanent residence no earlier than 5 years after obtaining a residence permit. To do this, you can be absent from Bulgaria in general no more than 30 months in 5 years, i.e. on average 6 months a year. With permanent residence, you become a full-fledged citizen of Bulgaria, having received, for example, free medicine, the right to work or acquire land ownership ...
Pros and cons in a nutshell
If we compare Bulgaria, as an option for permanent residence, with other European or Asian countries (for example, Thailand), then what conclusions can be drawn?
Pros:
Not only the sea and excellent sandy beaches, but also ski resorts. Mild autumn, winter and spring. Mineral springs. As in Thailand, prices for almost everything are low and real estate is inexpensive. Inexpensive used cars from Europe and affordable fuel prices for Europe. Perhaps in the near future «Schengen». Abundance of fruits and vegetables. Good, close to Mediterranean cuisine. Convenient travel location and proximity to Russia. The opportunity to send a child to school or kindergarten for a parent's residence permit is almost free. Obtaining a residence permit even without real estate, according to a representative office and a lease agreement. You can leave Bulgaria for a long time without prejudice to the residence permit and permanent residence. No language barrier. It is easy to start your own business. Lowest taxes in Europe.
Minuses:
The short swimming season is from mid June to early September. A little «soviet» infrastructure. Lack of parking spaces in the center. The popularity of smoking among Bulgarians. Optional Bulgarians. There are not enough 100% juices on the shelves, but there are many foreign products containing E-nis and monosodium glutamate (read the composition). Humidity on the coast (as, indeed, in Asia). You cannot work on a residence permit - only business or wait for permanent residence.