In the event that you have planned (or so happened by accident) that your way to Koh Samui must go through Phuket, you have several options for overcoming the shoulder «Phuket-Samui». Let's talk more about land, because everything is very simple with flights. If you go to Koh Samui from Bangkok, then I have already described all the methods. here in this article.
Let me just remind you briefly about the geographical position of these two islands. Phuket lies in the Andaman Sea to the west of the mainland of Thailand, and Koh Samui to the east, in the Gulf of Thailand, that is, no «direct ferries Phuket-Samui» does not exist in nature. There is a bridge from the mainland to Phuket, and only ferries go to Koh Samui. That is, whatever one may say, but the last part of the way you will in any case pass by sea - 40 kilometers by ferry from the city of Donsak. The distance from the bridge in Phuket to the pier in Nathon (Koh Samui) is 287 kilometers. Not as much as it seems at first.
The content of the article
Airplane
The fastest and most comfortable option is an airplane. The airport on the island of Koh Samui was built with money from the Thai airline Bangkok Airways. By the way, she also owns the most sophisticated hospital on Koh Samui - BHS. Bangkok Airways' monopoly on Koh Samui has long and for a long time put all tourists before the fact: flights to Koh Samui are fast, comfortable and not cheap. The airline is undoubtedly very cool and with good service, but a flight from Phuket to Koh Samui will cost you about 3,100 baht..
Low-cost airlines do not have direct flights from Phuket to Samui because the monopolists do not allow this. The only airport closest to Koh Samui is located near the city of Surat Thani, from which it takes about an hour to go by bus to the sea ferry near the city of Donsak, and then another 1.5 hours of the crossing itself. But interestingly, none of the low-cost airlines have Phuket-Surat Thani flights at all. You can get to Surat Thani only through Bangkok, and it turns out to be a completely uninteresting journey, both in time and in money - longer and more expensive than a 55-minute flight with Bangkok Airways..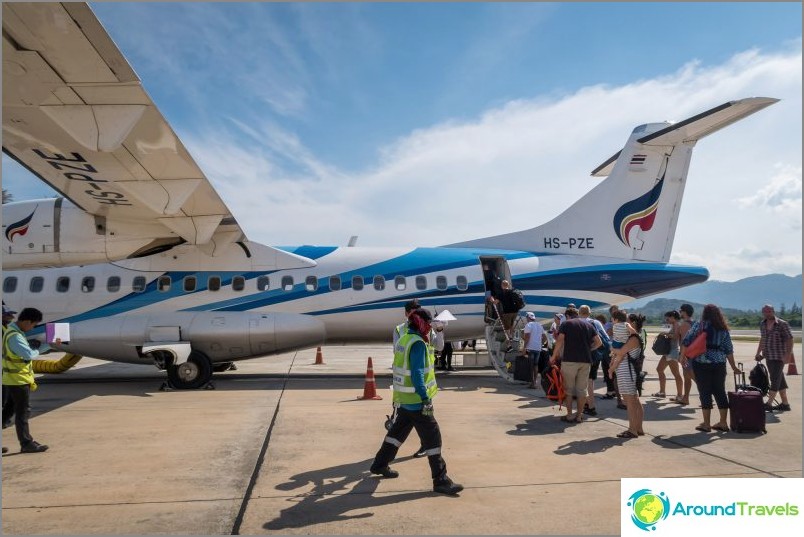 Bus
The most budgetary option to independently get from Phuket to Koh Samui is by bus. Buying a bus ticket includes a ferry ticket. That is, you pay once and get two tickets at once. There are two options for traveling by bus: simpler and more expensive.
Simply put, this is Pantip Travel. Bus departure times: 8:00, 9:00 and 10:00. The price of the trip is 450-500 baht per person, and the travel time takes about 8 hours (including the ferry crossing). The test is not for the faint of heart, and certainly not with young children. But - inexpensive. Departure of buses is carried out from Phuket Bus Terminal-2.
Tickets Bangkok-Krabi>
Very good 12GO service where you can buy electronic bus + ferry tickets without leaving the hotel.
More expensive, this is the Lomprayah company. Bus departure time: 10:00. The price of the trip is 1000 baht, the travel time is 5 hours 15 minutes. Departure of buses is carried out from the office of the company.
By rented car
The most interesting way to get from Phuket to Koh Samui is to rent a car, as a car gives you freedom of movement. However, the cost of this option is comparable to the plane, and it makes sense to go by car if you want to go somewhere else along the road, then plan to move on it along Koh Samui, or if there are several people of you. By the way, you can also return back to Phuket if you have a return flight from there. I have already written in detail about, how to rent a car in Thailand.
I recommend renting a car from international network car rental companies (they are located in the arrivals hall of Phuket airport) through Economybookings (it will be cheaper this way), because it is unlikely that any local private companies will give you permission to travel outside Phuket. Yes, and there are fewer network problems: a standard contract, a standard inspection procedure, there will be no confusion with a deposit or insurance, everything is clear with them.
And certainly small distributors will not be able to provide you with the opportunity to rent a car on Samui. The budget for such a trip will be: from 500 baht for a day, 1000 for gasoline, 420 for a ferry. Plus, you pay for the return of the car in another place, but if you take a car for 5 days from Hertz, it will be free (this is a life hack). Travel time 3.5-4 hours on the highway and an hour and a half by ferry.
Rent a car with a discount>
KEEP IN MIND! You need to take the car and leave Phuket in such a way that by 15:00 you will already be in Donsak. First, make yourself a reserve for unexpected stops or missed turns, and secondly, the last ferry to Koh Samui leaves at 19:00. And since you have not booked a seat on the ferry, you will call in on a first-come, first-served basis. With a large influx of guests (especially on holidays), you have every chance of staying overnight on the mainland, and you cannot leave the line. You will have to sleep in the car.
P.S. Last time I traveled by plane between Phuket and Koh Samui, it was cheaper than by car, but less interesting. Personally, I like the option with a rented car. Especially, it is convenient if you need a car afterwards too. You can take it for a couple of weeks and be very free in your movements.