We met Olga and Sergey in Krabi on one of the meetings. Then the guys told us about the village of Amatciems in Latvia. And since we have always been interested in the topic of eco-villages (and somehow lived in ecovillage Glorious in the Moscow region), then I asked Olga to write a post about how they have it there in Latvia, especially since there he is of a premium class, which means that everything should be of the highest quality. After all, in Russia in our eco-settlements, as a rule, ordinary people move, and not millionaires..
Soon it will be four years since my husband and I first arrived in Amatciems. We ended up here by accident. We stumbled upon a note on the Internet about «city ​​of Sun», At that time she was intensively surfing the net, and decided to go to Latvia for a couple of days - to visit friends in Riga and see with her own eyes. We thought to take a walk for an hour or two, look at unusual houses with a reed roof and admire the beautiful nature. But then it turned out so magical that we did not want to leave. To the picturesque landscapes that we admired in the photographs, the air was added - thick, pine, delicious, - an atmosphere of comfort and coziness and wonderful people. As a result, now we are starting to build our own house in a premium eco-village called «Amatciems».
The content of the article
And here «eco»
Prefix «eco» in the name of the village is associated with the attitude to nature of its owner and founder, the Latvian businessman Chiris. Aivar Zvirbulis - that is actually his name (we found out three years later, because everyone calls him Chiris) - he himself comes from these places. Once he sold one of his main businesses - a printing house, bought land here and started «play» with the territory - to make picturesque slopes, plant pines, dig lakes. And then he decided that not only he might like life in harmony with nature, and slowly began to create a village, picking up people with a similar ideology as neighbors. Today in the village «buried» more than 20 million euros, it continues to expand, Chiris predicts that in 20 years there will be 500 houses (now 100), and the very concept of living surrounded by nature, without fences and far-fetched restrictions, will become a trend, and many more such houses will appear in the world «Amatciems».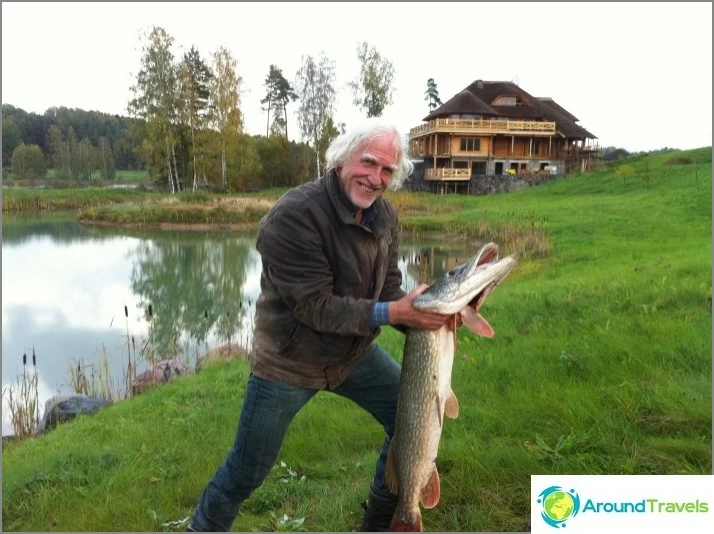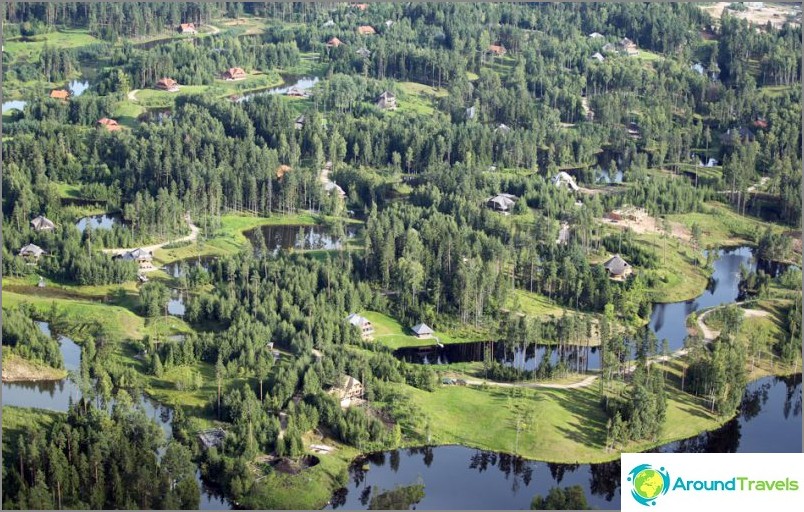 Today, on average, about 20 transactions for the purchase of real estate in Amatciems are concluded annually. Until 2000, it was mainly Latvians and sometimes foreigners who bought, after the adoption of the law according to which it was possible to apply for a residence permit after buying real estate, only Russians began to buy. Soon the law will be toughened - from September 1, amendments will begin to operate, now real estate needs to be bought for an amount of 250,000 pr throughout Latvia (earlier it was possible to get it by buying for 150,000 in Riga and 75,000 regions), plus, which is less pleasant, it will be necessary give 5% of the transaction amount to the state treasury. But this is unlikely to hit sales hard, the residence permit for the buyers of this village is nothing more than a bonus. I have never met a single person who would have bought a house here for the sake of a residence permit, for this purpose it was easier to take an apartment in Riga or in some small village outside the Riga region. In Amatciems, there has never been any real estate worth 75,000, the entry price threshold is higher here, if we talk about a plot with a house - it is close, if not equal, to the new standards. And by the way, it will no longer be possible to buy an empty plot along them.
Ban on fences and wooden houses, or about the rules of Amatciems
Life in harmony with nature with minimal interference - this is probably how you can describe the ideology of Amatciems. So that the rights of nature are not violated, there are a number of rules in Amatciems that are observed by all residents of the village..
The most important of all the rules that make Amatciems look so impressive is the absence of fences. Thanks to this, the entire territory looks like a single whole, and this is the task of houses - to fit into the landscape, and not nature - to adapt to people.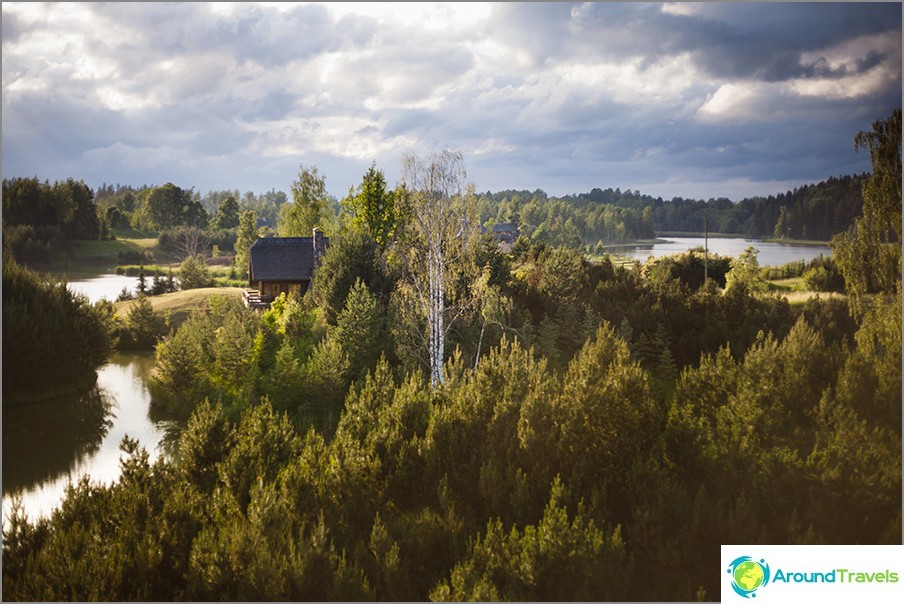 The landscape is the main thing that distinguishes Amatciems from all other villages visually. There are continuous hills, forests and lakes. The plots are designed in such a way that the neighboring houses are not visible as much as possible from one house. Each site without fail has access to the water - either to its own small lake, or to «common» To a large extent, when buying a house, part of the water is also purchased. By the way, they often ask if mosquitoes eat here, since there is so much water around - and so, at the dacha in the suburbs there are many times more of them. Not that there were no mosquitoes at all, but they do not interfere with life, you can sit quietly on the veranda in the evening without splashing with chemistry.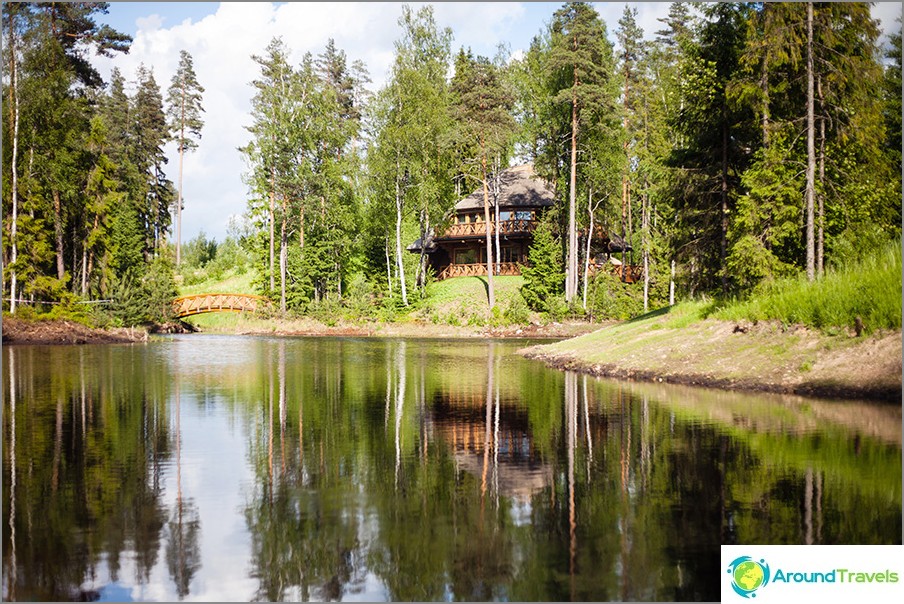 Our plot of 0.26 hectares (26 acres) is the smallest in the village. We spent a week walking the village up and down, figuring out the location of the house and the sun's rays on the bed in the future bedroom, and in the end we chose what we dreamed of - a small but cozy area between two mountains, with its own forest covered with soft moss. In the summer, we regularly find mushrooms there and pick berries. Most residents have much larger plots, there are several, the sizes of which are calculated in hectares.
Another rule - houses can only be wooden, only natural colors, with a roof of one of three types - red tiles, shingles and reeds. The idea of ​​our house violates this last rule a little, and now we will start negotiations with the construction committee to get approval. We want to make the first green roof in Amatciems, that is, grass roof. We cannot imagine yet how Chiris will react to this idea 🙂 He personally assures all house projects so that the general style of Amatciems is not violated. If everything suits him, according to the Latvian law, he will also need to obtain an official building permit, that is, to collect a lot of papers. So it's easier, of course, to buy a ready-made house in order to avoid all this bureaucratic red tape and save your nerves..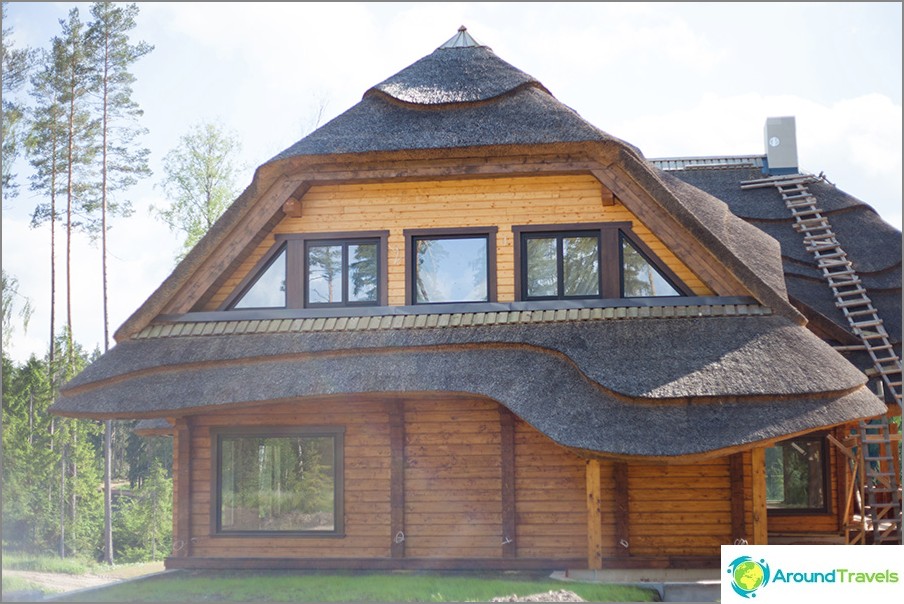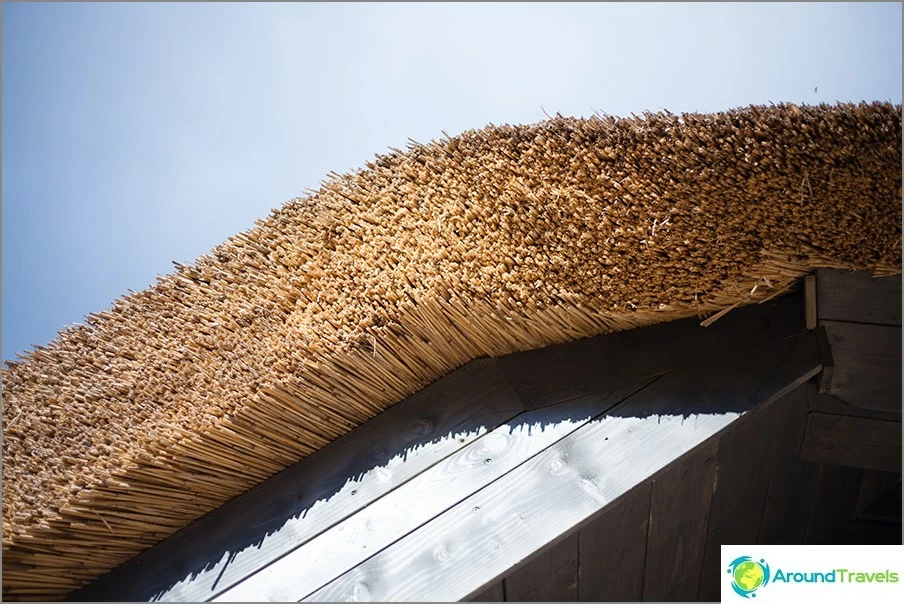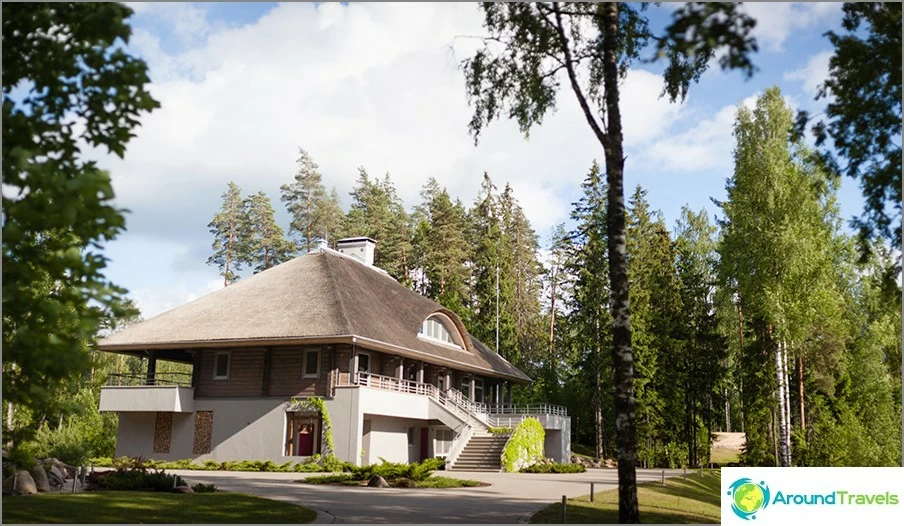 How much does it cost to build a house
We are often asked why we bought a plot, and not a finished house, because it is not only easier, but almost always more profitable. The fact is that I am very picky about interior design, I want to thoroughly plan the space, and only a frame house gives such flexibility in planning. At the same time, all houses for sale are made of timber, in Amatciems only this year they began to build frame houses, while there are two or three of them for the entire village. It was supposed that ours would be the first, but we delayed something a lot with the construction 🙂
A house made of timber dictates the interior - whether you like it or not, you get a wooden house not only outside, but also inside. Plasterboard walls are expensive and impractical to make. Wooden houses, for my taste, are wonderful if you spend your holidays in them, but they are not comfortable for me personally for permanent residence. Plus, houses here are not small - the average footage is from 300 meters. We originally planned a house of no more than 200, and now we do «cut» project on two floors and accommodated in 75 meters everything we need. Each extra meter is not only large sums for construction, it is also decoration, furnishings, heating, repairs, and, corny, cleaning.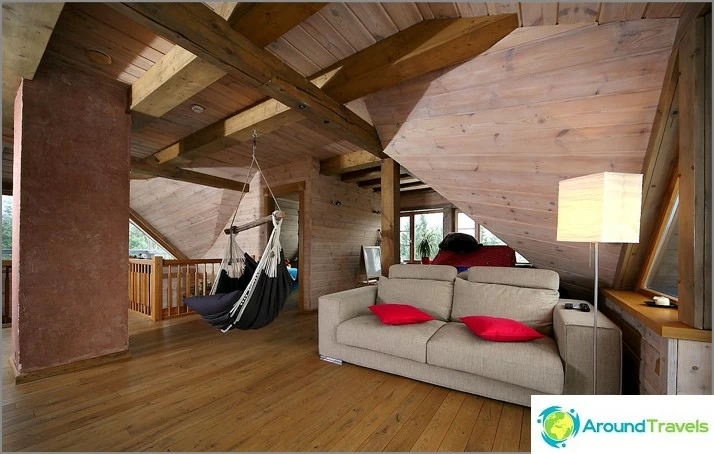 Regarding housing prices - on the Amatciems website there are real figures, there will be no additions and markups, they can be trusted. It also indicates whether only the plot is for sale, or whether there is already a foundation, foundation or a whole house. How much it will cost to build a house from scratch can only be said, well, very approximately - from 1,500 euros per square meter, if we are talking about a house made of timber, and from 1,000 euros, if we talk about a frame house. In our experience, I can say that these figures are the very minimum, they are calculated on the basis of a house that stands on a flat surface (and not on a slope, like many houses here), has a shingle or tile roof (reeds are much more expensive), without large and numerous windows, with a primitive heating system and minimal decoration. If you install a heat pump - a system that buries itself in the ground and, using the temperature difference, organizes heating or cooling of the house, you can add about 20,000 euros to the total amount, but in the future this will save on electricity. If you cover the roof with reeds, you can safely add the same amount, and so on. Amatciems is still a premium-class village, you shouldn't expect low prices here. On the other hand, for the amount for which you can build a good house here, in Moscow you can only buy a kopeck piece, somewhere not very close to the metro.
Residents of Amatciems - who are they?
For the most part, wealthy people buy real estate in Amatciems, for whom money is not the main issue, who just want to live in comfort, peace and quiet, let their children go cycling with peace of mind. You really feel very safe here. It is paradoxical, but there really is not the slightest fear of leaving, say, a bicycle at home, or going for a walk without locking the locks. And at night, when the real, village pitch darkness sets in, it is not at all scary to go for a walk or visit. However, just in case, all houses are connected to an alarm (fire and security), a car of one of the private security firms is on duty on the territory.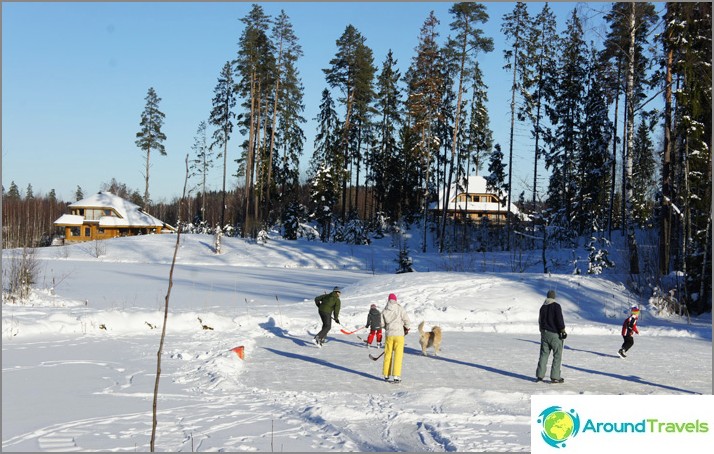 In Amatciems there is a guest house called Zeni, anyone can stay there, but most often the rooms are rented by those who either look after real estate in the village, or have already bought and are building a construction site. When we arrived, we always stayed there, now for the summer we rented a room in one of the houses, because in Zeni everything was already booked. And so often it happened - you go to cook dinner in the common kitchen, and there already someone is sitting, eating. They invite you to the table, sit down, talk - about nature, about ecology, about the ideology of Amatciems. People as one at such dinners came across open, pleasant, interesting. And then someone so completely sincerely, without any pretense to show off, just to continue the conversation, says: «Do you think we could build a helipad here? Let's discuss with Chiris if those who want to type». Or «I tried local beer here - I didn't like it, I decided to open my own brewery. I learned what and how, only 500 thousand are needed!» Whatever one may say, the environment influences us, and it is very motivating to be among the financially secure people who have independently grown their business..
Now in Amatciems about 110 plots have been sold, 100 of them have houses. At the same time, 19 families live in Amatciems constantly, that is, all year round - six of them are Russians, the rest are Latvians. Their life is no different from the life of people who live in a good cottage village. The houses have everything you need for life: heating, hot water, sewerage, internet, many houses have bathtubs or jacuzzis, saunas and other joys of civilization. People go to the nearest town of Cesis, 15 kilometers away, to buy food and to solve everyday problems. There is also a hospital, supermarkets, kindergarten, school.
Fruit, fish and medieval town
Cesis in itself is an absolutely wonderful town - quiet, medieval, with cobbled streets, beautiful and well-preserved architecture, and at the same time with everything you need for life. Soon a concert hall will open there, where they will give concerts of classical music, which is also written by our closest neighbor, a famous Latvian composer. The larger and more modern city - Sigulda - is 30 kilometers from Amatciems. There is a cinema, restaurants, sports entertainment, hypermarkets. And to the capital - 70 kilometers - it turns out an hour or less, depending on how to observe the speed limit 🙂 cars are inconvenient here.
We usually go to Cesis for cereals, oils and other long-lasting products, and we buy fresh vegetables, fruits, berries in a small market that comes to Amatciems every summer Saturday morning. Farmers gather there and personally grow organic products. In my opinion, it is very cool to buy potatoes from a person who personally planted, raised and collected them..
The funny thing is that all local natural fruits and vegetables, insanely fragrant, grown on living beds, saturated with the sun, are cheaper than in an ordinary Moscow supermarket. When I find myself after all this luxury in a Moscow store, tears welling up in my eyes - how can you eat these rubber tomatoes that don't even smell?
We take dairy products from a family of Latvian farmers living in the neighborhood, a liter of milk from a cow costs 50 eurocents (20-25 rubles, depending on the exchange rate). There is also a fish farm nearby, where sturgeon, salmon and trout are bred, but only trout are offered for sale - at a little over 4 euros per kilogram. The rest of the fish is released into the rivers to restore the population..
Many residents of Amatciems provide themselves with fish by catching it right at home. There is some amount that you need to pay for a fishing license, but usually, if the pond is small, it is entirely up to you to put the fish into it and then catch it. This is what the owners of the house in which we now rent a room do - they released trout, carp and someone else into the pond, whom we feed with barley every day. My husband and I tried to fish, but, having caught a carp, we realized that we felt too sorry for him, let go and promised not to take the fishing rod in our hands anymore..

Our lot is to pick mushrooms, which grow so much in the neighboring forests that as soon as the season begins, we stop going to the store. For lunch, mushroom soup, for dinner - potatoes with mushrooms or Italian pasta with them. Walked around the village - and a full basket is collected. By the Latvian law, by the way, you can pick mushrooms and berries on any, even private, territory. But according to the unspoken rules of Amatciems, picking mushrooms and berries in other people's plots is considered not very decent, so we go to harvest in a neighboring forest or to our own plot. Lingonberries and blueberries also grow there..
A city without wires, but with deer
Another distinctive feature of Amatciems is that all communications here are buried in the ground, so the wonderful views do not spoil the endless poles with electric wires, as is often the case even in the most beautiful places. Each house is supplied with sewerage, electricity, water supply. In a few years, Chiris plans to build his own electrical substation, while the question is being discussed whether it will be a hydroelectric power station, standing on the nearest river Amata, or wind turbines. Also, high-speed Internet is being brought to the village right now - they make a branch from some cable that goes either to Germany or from it. They say there will be the fastest internet in Latvia. This combination of the unique beauty of nature and modern technologies is what attracted us so much in Amatciems..
Imagine - you are sitting in your home office, working via high-speed Internet, and wild hares are grazing outside the window on the lawn ... An absolutely real picture! There are many animals here. We have seen more than once hares, which at first were mistaken (not to laugh) for deer - they turned out to be so huge, and in fact, the deer themselves. There are also foxes - our owners complained that if you dig the remains of fish under the bush to fertilize the plants, a fox will come at night and dig everything.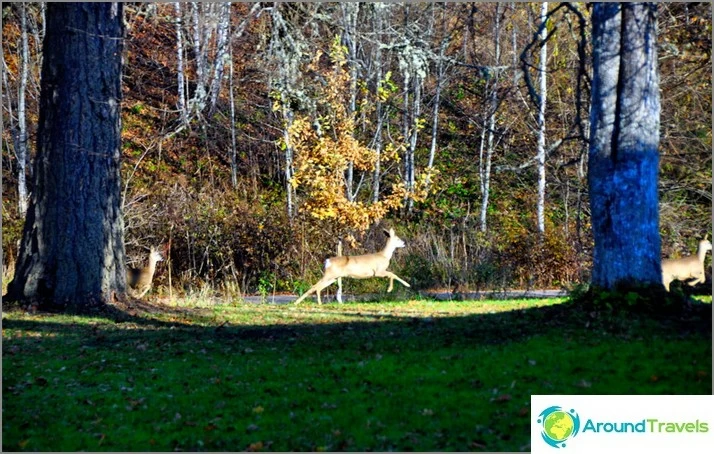 At some point, beavers settled in the largest lake. They were noticed when the village was photographed from the air. At first, they were delighted, because beavers live only in very clean water bodies. But then the beavers began to cut down trees and swiftly swamp the area - this is, after all, their essence - and they had to be resettled.
In order not to frighten local animals (and local residents), it is forbidden to leave pets on the street, dogs must be either under the control of the owner, or inside the house. This is also one of the rules of Amatciems.
Rule breakers - why aren't they here?
Sometimes on the Internet I came across comments, they say, what other rules, they are not written at the legislative level, who has the right to prohibit doing what you want on your own site? This position seems strange to me. If you are not satisfied with the local order, look for the place where everything will suit you, or where no one will forbid you anything, since there are the majority of them. In reality, there is no one in Amatciems who is trying to fight the locals. «the authorities» in the person of Chiris and break the rules. Probably all thanks to the preliminary «face control».
This, of course, is not like in nightclubs - no one looks at what you arrived and what you are wearing. Just before buying, all potential tenants must meet with Chiris. This does not look like some kind of formal interview, just a friendly conversation that allows you to understand whether new people will fit well in the existing environment. Now, those who want to erect a two-meter fence around the house and put a Caucasian Shepherd on a chain do not come here, they themselves already understand that they will be uncomfortable here. But there used to be a case.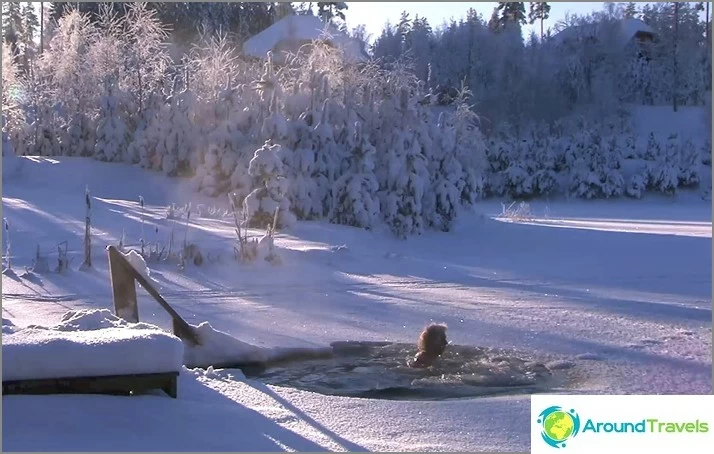 On our first visit, we were told a very revealing case. The project developed at a rapid pace, and at some stage it was necessary to attract external financing, that is, a loan from a bank. Lands were bought, loans were given, but then a crisis broke out - and sales froze. And so, on the eve of the next payment, when there was no free money, a man came to Amatciems who was ready to literally take packs out of his pockets - and acquire a considerable piece of land. Chiris went with him to look at the options. We stopped, went out. And then Chiris noticed that the man had parked his car right on the road. When asked to move something like «Nitsche, wait». Then it became obvious that this man did not suit Amatciems. Despite the financial interest, the person was explained that it was better for him to go to look for housing in the direction of Jurmala. And literally a few days later, another person showed up - with more correct thoughts about the world around him - and bought a plot even more than the first one was going to.
«And sell to us?» - then we timidly asked, not really seriously considering this option, we just came to see. «You - yes». My future husband and I were just starting to establish a joint life, we had not yet discussed the issue of joint real estate. But we were so hooked on this village that the puzzle began to take shape by itself - and about a year later we acquired a plot.
Unicorns, peppers and the president of Latvia
Our site is called «Vienraji», which in Latvian means «unicorns». All plots in Amatciems have names instead of numbers, and all names are somehow connected with nature and / or forest. The first sites were easy to name, but when the count went up to dozens, the sales office workers, who, in fact, deal with almost all issues, had to open a botanical dictionary - and look for natural names there. Therefore, everyone was very happy when we asked to name our site ourselves - we bought it on an unmarked territory, so it was possible. We did not know then, but in Amatciems everyone knows each other and is called not by name, but by the name of the plots. That is, we are not represented as Olga and Sergei, but they say something like «this is venraji». In our neighborhood there are Peppers, Nasturtium, Buttercups, and much more that the Google translator cannot handle. By the way, Chulpan Khamatova almost bought the house opposite, but in the end she chose some other plot.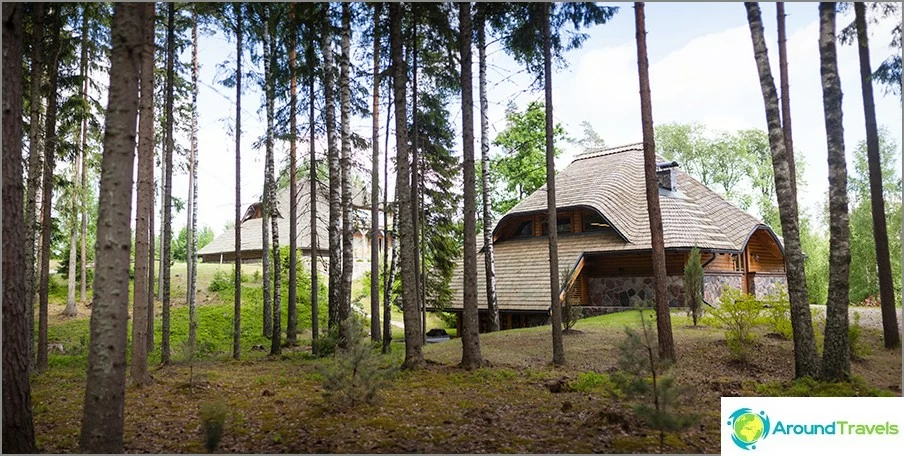 Famous people in Amatciems are not uncommon - last summer, for example, the President of Latvia came to visit. I don't know, he bought a plot here, but I wouldn't be surprised to meet him on an evening walk 🙂
If you have any questions, I will be happy to answer, but for now I will go to feed the fish and water the plants. Drinking tea brewed with freshly picked mint, thyme and sage is damn good!
Olga Zakharova - http://frequenttraveller.ru
Some of the photos are taken from the official website - http://www.amatciems.lv